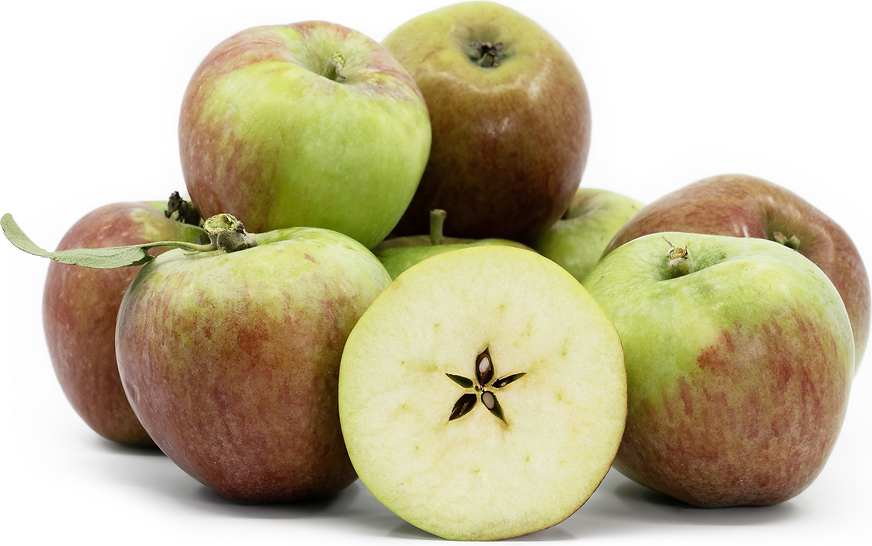 Newton Wonder Apples
Inventory, 1 Lb : 0
Description/Taste

Newton Wonder apples are a large varietal, averaging 10 to 11 centimeters in diameter, and have a bulbous, round to conical appearance with slightly flattened shoulders and a narrow base. The apple's stems are short, green-brown, and thick, and there is some light brown russet around the stem cavity. The skin is smooth, glossy, and semi-thin with a green-yellow base hue, covered in patches, striations, and striping of dark red-orange blush. There are also faint yellow lenticels scattered across the surface, and the skin develops a greasy texture with age. Underneath the surface, the ivory flesh is tinged with green and is dense and coarse with a firm, crisp consistency. The flesh also encases a small central core filled with tiny black-brown seeds. Newton Wonder apples are aromatic and contain less acidity than other cooking apples, contributing to a sharp but subtly sweet flavor. The apples are generally considered too sour to consume fresh when early in the season, but they develop a sweet-tart palatable taste if the fruits are left on the tree until later in the harvest.


Seasons/Availability

Newton Wonder apples are available in the late fall through early spring.


Current Facts

Newton Wonder apples, botanically classified as Malus domestica, are an heirloom English variety belonging to the Rosaceae family. The late-season apples are Victorian cooking apples favored for their sharp flavor and ability to be turned into a creamy puree. Newton Wonder apples are similar to the famous bramley cooking apple, but they contain lower acidity, developing a slightly sweeter taste. Many chefs like to combine bramley apples with Newton Wonder apples to create a more dynamic flavor in culinary recipes. Newton Wonder apples were once commercially cultivated, but in the modern-day, they have become localized to home gardens and private orchards. The variety is still available on a small scale through fresh markets, and the large apples are utilized for baked goods, purees, sauces, and juices.


Nutritional Value

Newton Wonder apples are a source of vitamin C to strengthen the immune system, fiber to regulate the digestive tract, and potassium to balance fluid levels within the body. The apples also provide some vitamin E to protect the cells against free radical damage, copper to develop connective tissues, vitamin A to maintain healthy organ functioning, and lower amounts of manganese, iron, calcium, phosphorus, and boron.


Applications

Newton Wonder apples have a sour flavor and crisp, dense flesh well suited for cooked preparations. When the apple's flesh is heated, it cooks down into a creamy, light puree and develops a tart but subtly sweet and pleasant flavor. Newton Wonder apple puree can be incorporated into cakes, turnovers, pies, and pastries, or it can be turned into a sauce as a savory-sweet side dish, simmered into chutney and jams, or served as an accompaniment to roasted meats. In addition to purees, Newton Wonder apples can be hollowed, filled with dried fruits and spices, and baked, or they can be caramelized to create a sweet topping over ice cream and fresh cream. The apples can also be finely chopped and mixed into stuffing, fruit bowls, or meat-based fillings. Beyond cooked preparations, Newton Wonder apples can be eaten raw when left on the tree until later in the season to absorb the most sugars. The apple will still have a sharp, tangy bite to it, but it will also evoke sweet nuances, complementing flavors of soft cheeses, savory salads, or grain bowls. The apples can also be used as a base flavoring for juices and ciders. Newton Wonder apples pair well with meats such as sausage, pork, beef, duck, turkey, and poultry, other fruits including pear, blueberries, blackberries, and quince, vanilla, caramel, and spices such as cinnamon, cloves, nutmeg, and ginger. Whole, unwashed Newton Wonder apples will keep for several weeks when stored in the refrigerator's crisper drawer. In professional cold storage, the apples will keep up to three months.


Ethnic/Cultural Info

Newton Wonder apples are a favored cooking apple for English mincemeat pies during the holiday season. The term mincemeat is derived from the Middle English word "mincen" or the Vulgar Latin word "minutiare," meaning "to mince" or "finely chop." The original mincemeat pies were a blend of meats combined with spices, dried fruit, and spirits. These pies were traditionally savory and were made for centuries in England to preserve meat without salting, drying, or smoking. Mincemeat pies were also labeled Christmas Pies during the Middle Ages and were a filling comfort food served annually at holiday dinner tables. The pies were so famous that even King Henry V served mincemeat pies at his coronation in 1413. Later in the 18th and 19th centuries, as fruit production increased in England during the Victorian Era, meat in the pies began to be replaced with fruits, especially apples, as a more hygienic and safe filling alternative. Spice levels were also increased, using warm ingredients such as allspice, cinnamon, nutmeg, mace, and cloves to create a sweeter, dessert-like variation. During the holiday season in Victorian England, mincemeat pies were customarily made on "stir-up Sunday," or the last Sunday before Advent. Local folklore recounts that stirring the mincemeat in a counterclockwise direction would bring bad luck for the next year, while clockwise stirring would grant the stirrer one wish. Family members would each take a turn stirring the mixture, making wishes for the year to come. Another superstition stated eating a mincemeat pie every day during the twelve days of Christmas would also bring good health and joy in the year to come.


Geography/History

Newton Wonder apples were discovered in 1870 in the county of Derbyshire, England. Legend has it that a seedling was found growing in the thatch of the Hardinge Arm Inn in the village of King's Newton in Derbyshire county. The innkeeper, Mr. William Taylor, took the seedling and planted it in his garden, where it continued to produce fruit well until the 1940s. Experts are unsure of the variety's parentage, but many pomologists believe the apples were developed from blenheim orange apples and dumelow's seedling. In 1887, Newton Wonder apples were first promoted commercially through Pearson & Co. of Nottingham and became a popular home garden cultivar, receiving a First Class Certificate, a prestigious acknowledgment of the fruit's quality and flavor, by the Royal Horticultural Society or RHS. The apples were also grown commercially in the 19th and 20th centuries. In 1993, Newton Wonder apples were also given the Award of Garden Merit by the RHS, a label showcasing the variety's ability to thrive in home gardens. Today Newton Wonder apples are not widely grown as they were during the Victorian Era, but the apples have remained a favored home garden variety among apple enthusiasts in the United Kingdom. When in season, Newton Wonder apples are found through farm stands, local markets, and select specialty grocers.