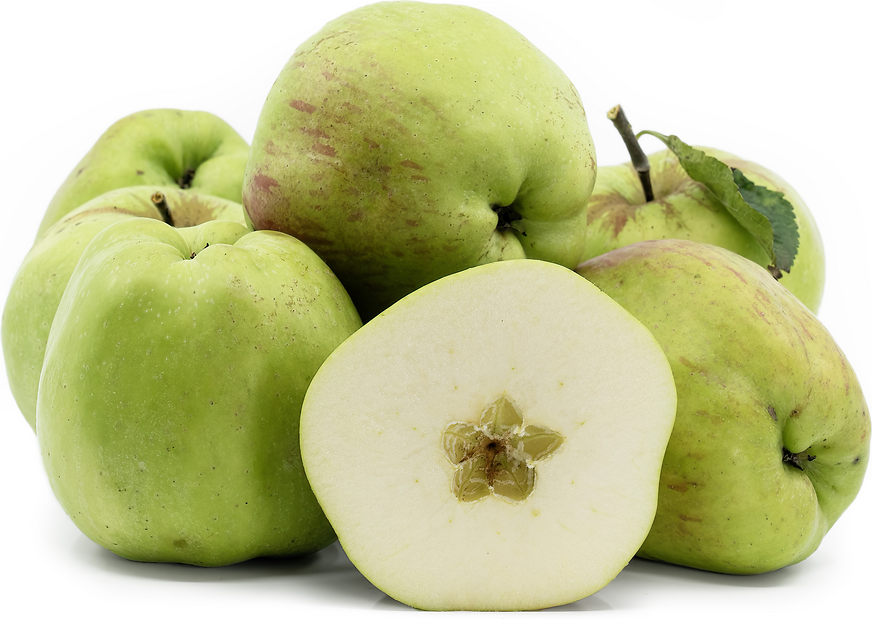 Sheep's Nose Apples
Inventory, 1 EA : 0
Description/Taste

Sheep's Nose apples are a small to medium-sized varietal, averaging 5 to 6 centimeters in diameter, and have an elongated, oblong to conical shape with flat shoulders tapering to a narrow base. The apples have a yellow-green coloring, covered in large patches of saturated dark red to brick red blush. The waxy surface is also covered in orange-red striations and showcases prominent ribbing, lenticels, and streaks of russet. Underneath the surface, the ivory to white flesh is tinged with green and has a fine-grained, crisp, and airy consistency. The flesh is moderately juicy, but some older apples may develop a drier texture. The apples also contain a central, fibrous core filled with dark brown, tear-drop-shaped seeds. Sheep's Nose apples have an aromatic aroma with sweet, floral, and cider-like notes. The flesh has a mild, sweet, and tangy flavor with subtly fruity, vegetal, and floral nuances.


Seasons/Availability

Sheep's Nose apples are available in the early fall through winter.


Current Facts

Sheep's Nose apples, botanically classified as Malus domestica, are a rare variety belonging to the Rosaceae family. The heirloom cultivar is a cold-hardy variety selected for its unusual shape, distinct aroma, and sweet flavor, planted in private orchards and home gardens. Sheep's Nose apples are sometimes known as Sheepnose apples or Black Sheepnose apples and are a somewhat mysterious variety as their history is mostly unknown. Experts believe the apples were traditionally used in Victorian times as a cooking apple, as the flesh creates a flavorful sauce, puree, or filling for baked goods. Over time, the variety became favored for its unique shape, leading apple enthusiasts to serve the apples fresh to showcase their elongated appearance. In the modern-day, Sheep's Nose apples are not commercially cultivated and are a boutique variety grown on a small-scale through select orchards and home gardens in England and the United States.


Nutritional Value

Sheep's Nose apples are a good source of vitamins, including vitamin C to strengthen the immune system, vitamin E to protect the cells against free radical damage, and vitamin K to assist the body with faster wound healing. The apples also provide antioxidants to reduce inflammation, fiber to regulate the digestive tract, potassium to balance fluid levels within the body, and lower amounts of zinc, phosphorus, calcium, copper, and iron.


Applications

Sheep's Nose apples have a sweet, floral aroma and crisp flesh suited for fresh and cooked preparations. The apples bear an unusual shape, making them a popular choice to display in fruit bowls and consumed straight, out of hand. The fruits can also be sliced and shown on cheese boards, chopped and mixed into salads, slaws, and fruit bowls, or dipped into caramel, nut butter, or chocolate as a sweet snack. In addition to fresh preparations, Sheep's Nose apples develop a spice-filled, rich flavor when combined with brown sugar, spices, and dried nuts in baked dishes. The apples can be baked on their own, chopped and sauteed to develop a caramelized nature, or incorporated into muffins, cakes, pies, tarts, crumbles, and crisps. In England, Sheep's Nose apples can be used to make mincemeat pies, a traditional comfort food dish comprised of dried fruits and spices that are often served at holiday celebrations in the winter. Sheep's Nose apples can also be simmered into sauces, cooked into jellies and jam, pressed into juice to flavor natural ciders, or dried into apple rings for extended use. Sheep's Nose apples pair well with spices such as coriander, cinnamon, ginger, nutmeg, mace, allspice, and cloves, brown sugar, brandy, lemon juice, dried fruits such as figs, cherries, raisins, and cranberries, and nuts including pecans, walnuts, and hazelnut. Whole, unwashed Sheep's Nose apples will keep for several months when stored in a cold cellar or in the crisper drawer of the refrigerator.


Ethnic/Cultural Info

Sheep's Nose apples earned their animal moniker from their conical, tapered appearance, similar to the shape and slope of a sheep's head. If the apples are turned sideways, the tapered portion of the base of the apple resembles the nose of a sheep, while the broader shoulders of the apple are said to resemble the central part of a sheep's head. Some apple enthusiasts also claim that the apple's crown occasionally resembles a sheep's nose. Throughout history, at least six apple varieties in England and the United States have been labeled under the name Sheep's Nose or Sheepnose due to their elongated, tapered shape. This has been somewhat problematic for pomologists, causing the history of many of these varieties to be unknown or muddled with other cultivars. The most common reference to Sheep's Nose refers to an apple also known as the Black Gilliflower apple. Gilliflower is a term for apples that emit an aroma reminiscent of the scent of cloves.


Geography/History

Sheep's Nose apples are an heirloom variety that has been cultivated for its shape, flavor, and aroma. The variety's parentage is unknown, and there is debate surrounding the apple's origins, with some experts claiming the variety is from England, while others trace it to Connecticut. Regardless of the variety's exact origins, Sheep's Nose apples were present in New England before the Revolutionary War and were commonly cultivated in home gardens and private orchards. Over time, a few growers produced the variety on a small commercial scale for its novelty. In England, the National Fruit Collection, located at Brogdale Farm near Faversham, Kent, received Sheep's Nose apples from a source in 1951. Today Sheep's Nose apples are a rare variety found through apple enthusiasts and select growers in the Eastern United States and England.