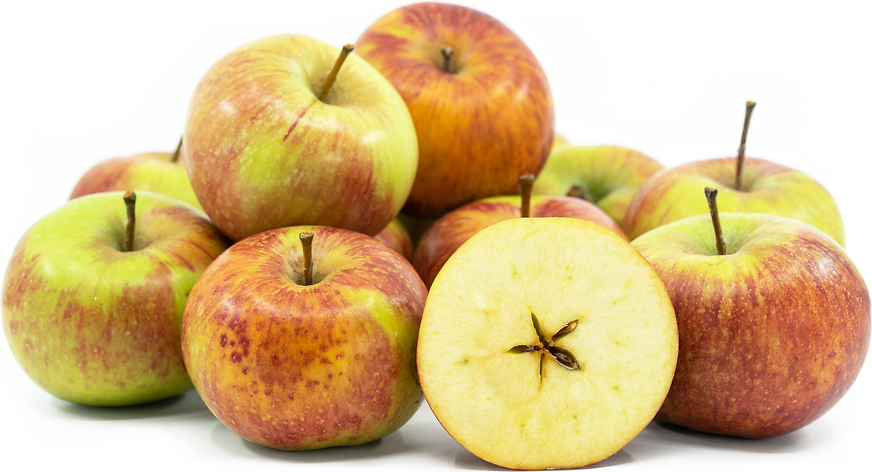 Tydeman's Early Apples
Inventory, lb : 0
Description/Taste
Tydeman's Early apples are a small to medium-sized varietal, averaging 5 to 6 centimeters in diameter, and have an ovate to round appearance with lopsided, often slanted bases or shoulders with light ribbing. The apple's skin is semi-glossy, lightly greasy, thin, smooth, and taut, showcasing a golden yellow and light green hue. The surface is covered in solid to translucent patches of dark red, scarlet blush, and broken red striping and speckling is often overlayed on the blush. Yellow lenticels are faintly scattered across the surface, and the stem is woody, thin, dark brown, and slender. Underneath the skin, the white to pale yellow flesh is occasionally tinged with green highlights and has a crisp but soft, fine-grained, and aqueous consistency. The flesh also encases a moderately-sized central core filled with tiny dark brown-black tear-drop-shaped, tapered seeds. Tydeman's Early apples release a faint honeyed sweetness when sliced open, and the flesh has an initially sweet, subtly astringent taste with fruity and floral nuances reminiscent of the sweetness in strawberries, cider, and the warmth in spices.
Seasons/Availability
Tydeman's Early apples are harvested in the late summer through early fall.
Current Facts
Tydeman's Early apples, botanically classified as Malus domestica, are an English variety belonging to the Rosaceae family. The apples were created in the 20th century to meet the increasing demand for an early-season, fresh eating variety with a delicate, sweet flavor. Tydeman's Early apples are named after their breeder, H.M. Tydeman. The variety is also known as Tydeman's Early Worcester, Tydeman's Early Red, Early Worcester, Tydeman's Early Red, and Tydeman's Red. Initially, Tydeman's Early apples saw commercial success in the early to mid-20th century as they were one of the earliest ripening apples in Europe and the United Kingdom, appearing several weeks before their parent varieties. The apple was cultivated in private and commercial orchards for several years, but Tydeman's Early apples never achieved widespread commercial success due to its short shelf life. The variety was later overshadowed by newer early-season apple varieties that had improved storage capabilities, leading Tydeman's Early apples to become a rare, specialty variety.
Nutritional Value
Tydeman's Early apples have not been studied for their nutritional properties. Like other apples, the variety is a source of fiber to regulate the digestive tract and potassium to balance fluid levels within the body. Tydeman's Early apples also provide lower amounts of vitamin C to strengthen the immune system, vitamin E to reduce inflammation, antioxidants to protect the cells against the damage caused by free radicals, and other nutrients, including copper, zinc, B vitamins, calcium, manganese, and iron.
Applications
Tydeman's Early apples have a mild, sweet flavor suited for fresh preparations. The variety was historically consumed as a dessert cultivar, eaten straight out of hand as an early-season apple. Tydeman's Early apples were designed for fresh eating, and they have a short shelf, preventing them from being stored for long periods. The apples were meant to be enjoyed at the moment and were savored for their sweetness and juicy nature. In the modern day, Tydeman's Early apples are still mainly eaten raw and can be incorporated into contemporary preparations, including salads, fruit bowls, porridge, and oatmeal. The apples can also be sliced and served with dips, caramel, and nut butter, minced and stuffed into dates, or thinly sliced and layered in sandwiches and on top of toast. While less common, Tydeman's Early apples are sometimes cooked into applesauce as a side dish to savory mains. They can also be pressed into juice and added to cider blends. Tydeman's Early apples pair well with herbs such as mint, parsley, and thyme, spices including cinnamon, nutmeg, ginger, allspice, and cardamom, and other fruits such as strawberries, blueberries, grapes, and stone fruits. Whole, unwashed Tydeman's Early apples will keep for a few weeks after harvest when stored in the refrigerator's crisper drawer. The apples have a short shelf life and are recommended to be eaten immediately after harvest for the best quality and flavor.
Ethnic/Cultural Info
Specialty apple varieties in England are being preserved through the implementation of Apple Days. The multi-day event is held throughout England each fall and is a celebration of the local heritage fruits typically found outside commercial markets. The concept of Apple Days was created through Common Ground, an arts and environmental charity established in 1983 through the ideas of Roger Deakin, Angela King, and Sue Clifford. Common Ground sought to protect the local customs of regions across England. It implemented a new type of environmentalism to promote renewed interest against the loss of culinary traditions and food traceability. The first Apple Day was held on October 21st, 1990, at the old Apple Market in London's Convent Garden to raise awareness of the importance of fruit diversity. Thousands of apple enthusiasts, pomologists, writers, researchers, and growers attended the event, and the inaugural celebration launched Apple Days into the spotlight. Consumers became aware of the need to protect unique apple varieties, inspiring Common Ground to expand Apple Days as a hyperlocal event for individual villages and communities. By 1999, over 600 Apple Day events were being hosted across England, and the apple had become a symbol of diversity. During Apple Day celebrations, various growers allow guests to pick apples from their orchards, and there are tables adorned with tastings, elaborate apple displays, and homemade gifts and snacks. There is also a fruit identification station, where home gardeners can bring their unknown apples and have an expert help them determine what variety it is. Apple Days occur throughout the fall season in England, and several regional Apple Days held in September and early October showcase Tydeman's Early apples. Tydeman's Early apples were once an important early-season cultivar and have developed a following for their unique flavoring.
Geography/History
Tydeman's Early apples were developed in 1929 at the East Malling Research Station in Maidstone, a town within the county of Kent in southeastern England. The variety was created by well-known apple breeder Henry M. Tydeman and was bred through a cross between McIntosh apples and Worcester Pearmain apples. Both parent varieties were favored dessert varieties of the 20th century, and Tydeman's Early apples inherited most of Worcester Pearmain's flavor and McIntosh's juiciness and sweetness. Tydeman's Early apples were created to fill the gap in the apple market for an early-season dessert apple. After its creation, the variety was released to growers across England and was introduced into Europe, especially in the Netherlands and France, where it saw brief commercial success. The apples were also planted in Canada and the United States around 1945 and heavily marketed to growers in 1963. The success surrounding Tydeman's Early apples was short-lived, as the variety receded from production when new early-season apple varieties were introduced with improved storage qualities. Today Tydeman's Early apples are a rare variety only available for a short season. The apples are primarily localized to private orchards and home gardens in the United Kingdom, Europe, Canada, and the United States. The Tydeman's Early apples featured in the photograph above were sourced from Brogdale Farm in Faversham, Kent, England.
Recipe Ideas
Recipes that include Tydeman's Early Apples. One

is easiest, three is harder.