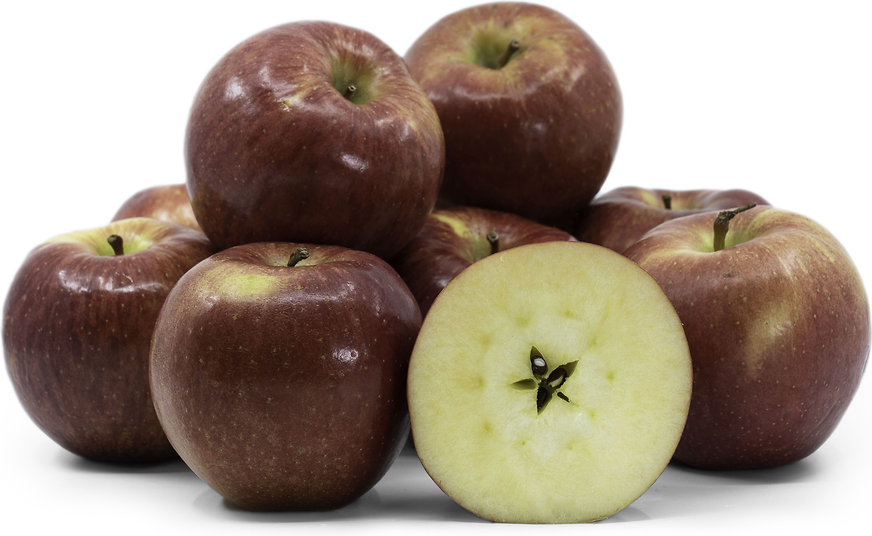 WildTwist® Apples
Inventory, lb : 0
Description/Taste

WildTwist® apples are a medium to large varietal, averaging 6 to 8 centimeters in diameter, and have a variable, conical to round, moderately ribbed appearance tapering to a narrow base. The apples often feature sloped or slanted shoulders and sometimes have a flattened nature, and the brown, fibrous stems are thin, tough, and woody. The skin is thin, brittle, smooth, taut, glossy, and firm, showcasing a yellow-green base almost entirely enveloped in a light to dark red, variegated blush. The blush ranges from saturated to translucent with some visible streaking, and prominent small tan lenticels are scattered across the surface. The lenticels have a raised texture, and they are larger and more spread out in the center of the fruit, while the spots cluster and become concentrated around the base and stem cavity. Underneath the surface, the pale yellow flesh is dense, aqueous, a snappy with a breaking, crisp, and crunchy consistency. The flesh does oxidize somewhat quickly, turning brown approximately 10 to 15 minutes after slicing, and the flesh has a medium-coarse mouthfeel, encasing a small central core filled with tiny, black-brown seeds. WildTwist® apples release a faintly fruity, apple cider-like aroma and have a balanced, sweet-tart flavor. The flesh contains around 14.7 Brix, a measurement of sugar, combined with acidity, to create tangy, fruity, and subtly floral notes followed by a lingering sweetness.


Seasons/Availability

WildTwist® apples are harvested in the late fall through early winter. After a period of storage to develop their flavors, the variety is typically sold from January through June.


Current Facts

WildTwist® apples, botanically classified as Malus domestica, are an American variety belonging to the Rosaceae family. The late-season cultivar was developed in the early 21st century as a modern, improved variety and was selected for commercial cultivation for its flavor and texture. WildTwist® apples are the product of a natural, non-GMO cross-pollination between Cripps Pink and Honeycrisp apples, two internationally famous cultivars. The variety acquired its breaking, crisp, and juicy flesh from its Honeycrisp parent and its sweet-tart flavor from Cripps Pink. WildTwist® apples also arrive in commercial markets during a period when other popular apple cultivars are mostly absent, allowing them to be promoted and sold in a less competitive environment. Growers favor the managed variety, also known as a club apple, for its hardiness and heavy crop, which are harvested from wide-spreading trees reaching 3 to 4 meters in height. Once the apples are picked, they are stored for a few months as their flavor improves with time. WildTwist® apples are marketed as a dessert cultivar, meaning they are mainly eaten fresh, but the variety is versatile and can act as a cooking apple.


Nutritional Value

WildTwist® apples are a source of vitamin C to strengthen the immune system, fiber to regulate the digestive tract, vitamin K to assist in faster wound healing, calcium to build strong bones and teeth, and vitamin A to maintain healthy organ functioning. The variety also provides potassium to balance fluid levels within the body, magnesium to support optimal nerve functioning, copper to produce connective tissues, and other nutrients, including manganese, zinc, phosphorus, and vitamin E. The vibrant red hues within the skin indicate the presence of anthocyanins, pigmented compounds with antioxidant-like properties to protect the cells against the damage and oxidative stress caused by free radicals.


Applications

WildTwist® apples have a balanced, sweet-tart flavor suited for fresh and cooked preparations. The variety is primarily consumed straight out of hand and is served as a snack or refreshing, crunchy dessert. WildTwist® apples can also be chopped into salads, shredded into slaws, or used as a raw topping over grain bowls and breakfast items such as porridge, parfaits, and pancakes. The apple's crunchy nature adds texture to sandwiches, burgers, and melts, and the fruits can be simply sliced and served with fresh cheeses, nuts, and dried fruits on charcuterie boards. In addition to raw preparations, WildTwist® apples hold their shape well when heated, allowing them to be used in sweet or savory cooked dishes. WildTwist® apples can be simmered into sauces, chutney, and jams, or they can be incorporated into stuffing, roasted side dishes, and casseroles. The variety can also be hollowed, stuffed, and baked, sliced, and caramelized in browned butter and spices or added to bread, muffins, tarts, pies, crisps, and cakes. WildTwist® apples pair well with herbs such as parsley, mint, and basil, cheeses such as parmesan, cheddar, brie, and goat, nuts including almonds, walnuts, and pistachios, and meats such as pork, poultry, and beef. Whole, unwashed WildTwist® apples will keep for several weeks when stored in a cool, dry, and dark place or the refrigerator's crisper drawer. In professional cold storage, the variety will keep up to six months.


Ethnic/Cultural Info

The name WildTwist® is a brand name developed for the apple variety known as Regal 10-45. The variety's real name combines its breeder's name, Regal Fruit, with an identification number. Once the variety was selected for commercial cultivation, it was initially branded Sweet Cheeks in the early 21st century. Sweet Cheeks was used in markets throughout the East Coast of the United States for several years, but after seasons of evaluating the brand's impact and listening to partner retailers, it was determined that the name was not showcasing the variety's unique parentage. Sweet Cheeks apples were rebranded once again to WildTwist® apples in February 2020. An entirely new marketing campaign was developed for the rebranding, and the Hess Brothers team decided to center the campaign around the variety's famous parentage. The name WildTwist® highlights the variety's mixed nature, taking traits from both of its parents, Cripps Pink and Honeycrisp. WildTwist® is often partnered with the slogan "A twist on your favorite apple," insinuating that consumers will be enticed to try the new variety as they recognize and already like the apple's famous parents.


Geography/History

WildTwist® apples were developed by Regal Fruit International, an apple breeding company based in Washington State. The variety was created from a cross in 2002 between Cripps Pink apples, the male parent, and Honeycrisp apples, the female parent. After the original cross was made, the variety labeled as Regal 10-45 was budded onto several types of rootstocks and was planted and evaluated for over seven years before they were released as a new cultivar. In 2009, the Hess Brothers chose Regal 10-45 apples as a new release. The Hess Brothers are a third-generation family-owned and operated fruit packer and marketer based in Lancaster County, Pennsylvania. According to the company's history, growers that partnered with the company were seeking a managed or club apple to produce on the east coast to compete with the club apples grown in the Pacific Northwest. Regal 10-45 was planted among the growers in 2009, and Fred and Jerry Hess, the second generation of Hess Brothers leaders, tried the first crop of the apples in 2011. Regal 10-45 apples were branded under the name Sweet Cheeks when they were first released to commercial markets. Later in 2020, after years of retail evaluations, Hess Brothers rebranded the variety under the name WildTwist® for improved consumer appeal. Today WildTwist® apples are cultivated through partners of Hess Brothers in Maryland, Virginia, Pennsylvania, and New York and are released to grocers and distributors throughout the Eastern United States. Hess Brothers also recently partnered with Rainier Fruit in Yakima, Washington, to introduce the variety to retailers in the Western United States. The WildTwist® apples featured in the photograph above were sourced from a market in Miami, Florida.