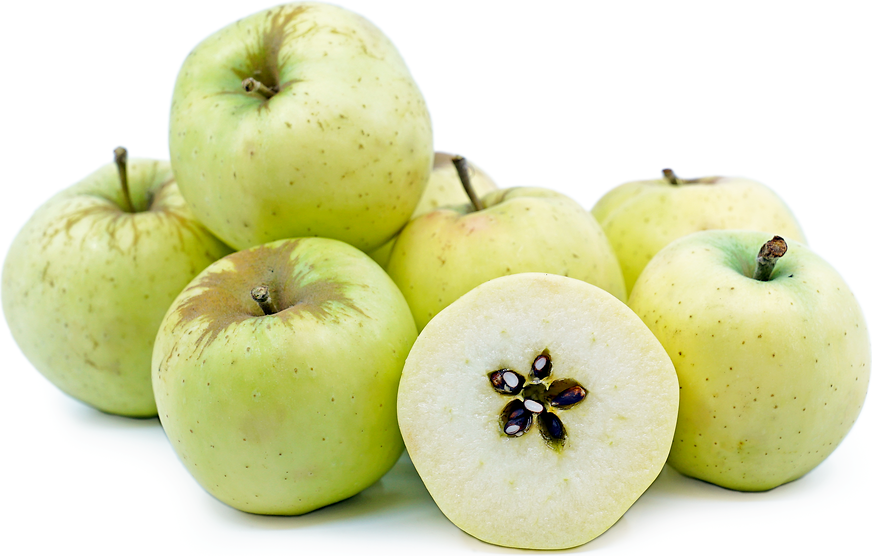 Yellow Bellflower Apples
Inventory, lb : 0
Description/Taste

Yellow Bellflower apples are variable in size but are primarily medium to large fruits, averaging 7 to 8 centimeters in diameter. The apples exhibit an oblong, round, to conical shape and typically have broad, flat shoulders that taper to a narrow base. Yellow Bellflower apples are heavily ribbed, giving them an angular, bumpy appearance and the stems are slender, short, and of moderate thickness. The apple's skin is smooth, taut, and thin, bruising easily, and is covered in raised brown russet dots and white lenticels. The skin also ripens from green to a pale yellow hue, often featuring a faint red-brown to red-orange blush when exposed to direct sun. Underneath the semi-chewy skin, the white-to-ivory flesh is dense, firm, fine-grained, and aqueous with a tender, crisp consistency. The flesh also encases a central fibrous core filled with black-brown seeds. Yellow Bellflower apples are initially tart and acidic, mellowing to a balanced, sweet, and tangy taste with subtle nuances of spice after a period of storage.


Seasons/Availability

Yellow Bellflower apples are harvested in the fall and are kept in professional cold storage through the early spring. The variety's peak season for commercial sale is in January and February after the apple's flavor has mellowed for a few months in storage.


Current Facts

Yellow Bellflower apples, botanically classified as Malus domestica, are an heirloom variety belonging to the Rosaceae family. The mid to late-season apples were first discovered in the late 18th century in the Eastern United States and were cultivated in orchards as a cider and culinary variety. Yellow Bellflower apples are a rare variety that is no longer commercially produced. Over time, the heritage variety was replaced with modern cultivars in commercial orchards and has become a specialty apple localized to home and private orchards. Yellow Bellflower apples were also later introduced to European markets, where they became intertwined and mistaken for another apple variety called Belle-Fleur. It is unknown if these two apples are related, and in some regions of Europe and North America, Bellflower may be used as a general term for a group of related apples. In the present day, Yellow Bellflower apples are favored as a seasonal delicacy used for purees, pies, and ciders in the United States. The apples are also kept in storage for a few months after harvest to develop a balanced sweet-tart flavor for fresh eating.


Nutritional Value

Yellow Bellflower apples are a source of calcium to build strong bones and teeth, potassium to balance fluid levels within the body, fiber to regulate the digestive tract, and vitamin C to strengthen the immune system while reducing inflammation. The apples also provide small amounts of copper to develop connective tissues, magnesium to control nerve functioning, iron to develop the protein hemoglobin for oxygen transport through the bloodstream, and other nutrients, including zinc, vitamin K, and vitamin E.


Applications

Yellow Bellflower apples have a sweet-tart flavor suited for fresh and cooked preparations. The variety is traditionally harvested and stored for a period to allow the tart nature of the flesh to lessen, creating a more balanced, sweet, and tangy taste. Yellow Bellflower apples can also be chopped into slaws, tossed into salads, layered into sandwiches, or sliced and topped over parfaits, porridge, grain bowls, and waffles. The variety can be served with cheeses, dried fruits, and nuts on appetizer platters or dipped in caramel, Nutella, other chocolate sauces, or nut butter as a snack. In the Eastern United States, Yellow Bellflower apples were historically used to favor cider blends. The apples can also be blended into smoothies, juices, and cocktails. In addition to fresh preparations, Yellow Bellflower apples are popularly baked into pies, tarts, crisps, and turnovers. They can also be baked whole, stuffed with spices and nuts, or pureed into a flavorful applesauce. Try simmering Yellow Bellflower apples into compotes, jellies, jams, and chutneys. The variety can also be dried for extended use and eaten as a chewy snack or chopped and added to baked goods, granola, trail mix, and desserts. Yellow Bellflower apples pair well with spices such as nutmeg, cinnamon, ginger, and allspice, caramel, maple syrup, brown sugar, nuts including walnuts, pecans, and cashews, and raisins. Whole, unwashed Yellow Bellflower apples will keep for 2 to 5 months when stored in a cool, dry, and dark location.


Ethnic/Cultural Info

Yellow Bellflower apples are rumored to have been named for their bell-like shape and coloring. The origins of the variety's name are unknown, but the heirloom apples have a bulbous, tapering shape, resembling a bell hanging on a tree. There are also species of flowers known as bellflowers, and these blooms have a bell-like shape similar to the apples. Some experts believe the apples were named after the popular flowers. The fruit's pale yellow coloring also reminds apple enthusiasts of bells made from gold or copper, another hypothesis for the variety's name.


Geography/History

Yellow Bellflower apples were discovered on a tree growing on a farm in Crosswicks, a community in Burlington County, New Jersey. The variety was thought to have arisen in the mid-1700s, and the first written record of the apples was documented in 1817 through William Coxe in his book, "A View of the Cultivation of Fruit Trees and the Management of Orchards and Cider." Coxe mentioned that the mother tree of Yellow Bellflower apples was still alive and growing on a farm in Crosswicks. In the 1850s, Yellow Bellflower apples were widely cultivated across New Jersey and eventually spread to New England and Oregon in 1847. The variety was also planted in Europe during the 19th century and was grown in France and the Netherlands. Today, Yellow Bellflower apples are one of the oldest apple varieties in New Jersey and are grown as a specialty cultivar in the Pacific Northwest, California, and Eastern United States and in select regions of Europe. The variety is not commercially cultivated and is rarely seen in farmer's markets.