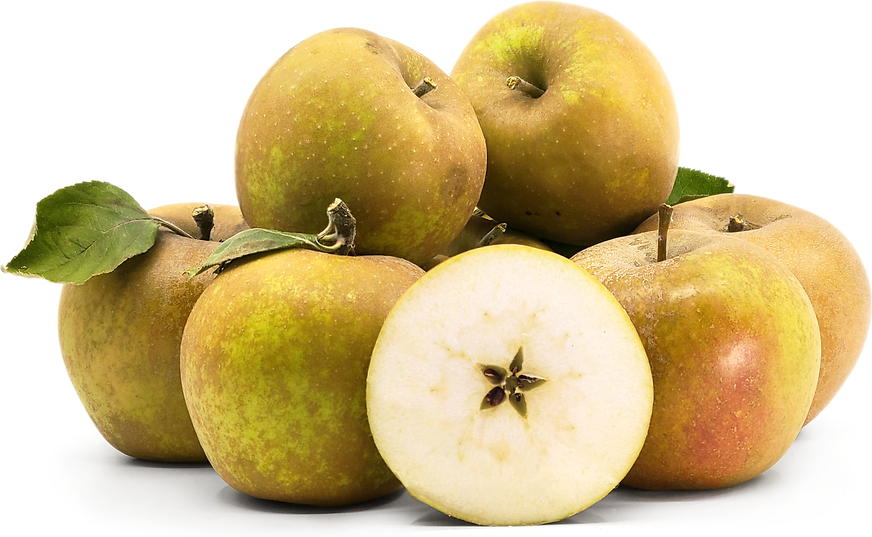 Zabergau Reinette Apples
Inventory, lb : 0
Description/Taste

Zabergau Reinette apples are a medium to large varietal, averaging 7.5 to 8 centimeters in diameter, and have a round to conical shape with a sometimes lopsided, blocky, or flattened appearance. The apple's skin showcases some ribbing on a golden yellow-green base, lightly touched with a pale red blush on portions of the skin most exposed to the sun. The skin is also covered in lenticels and a coppery, golden-brown raised russet that spills from the stem cavity over the surface, giving the apples a textured, rough, and sandy feel. Underneath the surface, the white to ivory flesh is fine-grained, crisp, and aqueous with a dense and chewy consistency. The flesh also encases a small central core filled with tiny black-brown seeds. Zabergau Reinette apples are aromatic and have a sweet and tart flavor with fruity, nutty, and subtly astringent undertones. When the apples are freshly harvested, they will have a much sharper, acidic taste with a faint nettle-like green flavor. As the fruits are stored, their taste sweetens and mellows, enhancing the nutty nuances.


Seasons/Availability

Zabergau Reinette apples are harvested in the fall and can be stored through the winter.


Current Facts

Zabergau Reinette apples, botanically classified as Malus domestica, are an heirloom variety belonging to the Rosaceae family. The russet apple is native to Germany and was discovered growing from a planted seed in the late 19th century. The name Zabergau refers to the region where the apple was found, and the original apple tree of the variety was rumored to have been growing near the Zaber River. The second descriptor in the name, Reinette, is a heavily debated term, but in general, it is used to describe apple varieties that have a robust flavor with a delicate, fine-grained texture. Zabergau Reinette apples are also known as Graue Renette Von Zabergau, Reinette Zabergau, and Hausener Graue Renette. The variety is favored as a multi-purpose apple, eaten fresh as a dessert cultivar, utilized for its dense flesh in cooked preparations, or pressed into cider for added complexity and flavoring. Zabergau Reinette apples were somewhat popular in the early 20th century, but the variety was eventually overshadowed by modern commercial cultivars and was displaced due to its russet skin. Despite their rarity in the modern day, Zabergau Reinette apples are still seen in some home gardens, private orchards, and preservation collections, cultivated for the fruit's flavor and extended storage capabilities along with the tree's productivity and disease resistance.


Nutritional Value

Zabergau Reinette apples have not been studied for their nutritional properties. Like other heirloom apples, the variety is a source of vitamin C to strengthen the immune system while boosting collagen production, vitamin A to maintain healthy organ functioning, and potassium to balance fluid levels within the body. The apples also provide fiber to regulate the digestive tract, antioxidants to protect the cells against the damage caused by free radicals, and other nutrients, including calcium, phosphorus, vitamin E, vitamin K, manganese, copper, boron, and zinc.


Applications

Zabergau Reinette apples have a brisk, sharp, and sweet flavor suited for fresh and cooked preparations. The apples are traditionally consumed straight out of hand, and their flavor will vary depending on if the fruit was taken directly off the tree or kept for a few weeks in storage. Zabergau Reinette apples can be sliced and served on cheese boards, chopped into salads, shredded into slaws, or cut and mixed as a topping in oatmeal, porridge, or overnight oats. The apples can also be layered into sandwiches, blended into smoothies, dipped whole into caramel or chocolate, or chopped and stirred into creamy spreads and dips. In addition to raw recipes, Zabergau Reinette apples are frequently used for their dense flesh and incorporated into cakes, crisps, tarts, pies, crumbles, and bars. Try using the variety in recipes for German apple cakes, apple charlottes, or apple strudels. Zabergau Reinette apples can also be simmered into sauces, sauteed and served with pork or bacon, or cooked in brown butter as a decadent topping for ice cream, pies, or other desserts. Beyond culinary preparations, Zabergau Reinette apples can be pressed into juice and mixed into cider blends. Zabergau Reinette apples pair well with other fruits such as pears, apricots, cranberries, and citrus, nuts including walnuts, chestnuts, hazelnuts, and almonds, and herbs such as rosemary, parsley, and mint. Whole, unwashed Zabergau Reinette apples will keep up to four months when stored in a cool, dry, and dark location. It is important to note that the flesh remains juicy for about a month after harvest. After one month, it begins to dry out, becoming slightly leathery and chewy.


Ethnic/Cultural Info

Apples were depicted in baskets in the arms of ancient deities known as mother goddesses. Carvings of the mother goddesses were found throughout Germany and other northwestern European countries, dating from the 1st through 5th centuries CE. The mother goddesses were also known as matres, the Latin name for mother, and the deities were typically depicted in groupings of three. Apples were a symbol of life, and the basket of fruits shown with the mother goddesses supported their reputations as the rulers of the life-giving forces, especially in relation to fertility and nature. According to some of the carvings and shrines, apples were also seen as a fruit of the underworld, highlighting the mother goddess's other role as an usher for souls from life to the afterlife. Throughout history, mother goddesses appeared in stories and rituals across Europe, and variations of the goddesses were created, changing with varying cultural norms and beliefs. One variation of the three mother goddesses was Nehalennia, a famous goddess depicted with a basket of apples and a dog sitting at her feet. Legend has it the dog is her companion in helping souls cross from life into the afterlife.


Geography/History

Zabergau Reinette apples are native to Germany and were discovered in the late 19th century. Apple seeds of unknown parentage were planted in Hausen near the Zaber River, a town in the region of Zabergau in Baden-Wurttemberg, southwestern Germany. As the tree matured and began bearing fruit, the apples were favored and selected for propagation. Zabergau Reinette apples were released throughout Germany after their discovery, and by 1926, they were a prevalent variety found in home gardens. Over time, Zabergau Reinette apples were also introduced as a dual-purpose variety in other regions of Europe and the New World, but the variety was never produced on a mass commercial scale. Today Zabergau Reinette apples thrive in temperate climates and are a rare variety found through private orchards and specialty growers in continental Europe, the United Kingdom, and the United States.