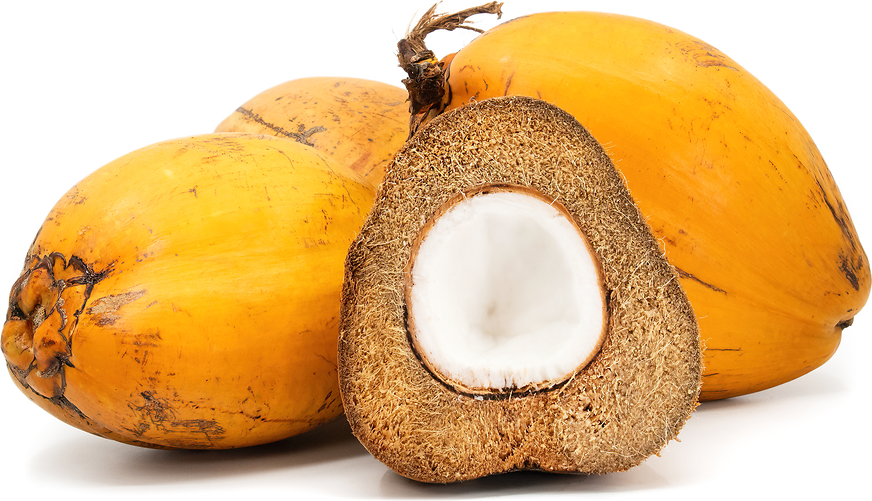 Coco Enano Coconuts
Inventory, lb : 0
Description/Taste

Coco Enano is a descriptor for several varieties that generally produce small to medium-sized drupes, averaging 15 to 31 centimeters in length, and have an oval, round, to ovoid shape. The fruits have a broad, curved center tapering to pointed, generally blunt ends and weigh around 85 grams at maturity, depending on the specific variety. The exterior surface or exocarp remains green in some cultivars or ripens from green to golden yellow-orange and is smooth, hard, and firm. Depending on age and growing environment, the exocarp may also showcase dark brown markings. Underneath the outer layers, the mesocarp or fibrous husk is woody, rough, and textured, covering a thin, hard shell known as the endocarp. Cocos Enanos are known for their sweet flesh, also called the endosperm, and depending on the age of the coconut, the flesh may house nutrient-rich water in a center chamber. The flesh also envelops a high oil content. Cocos Enanos have a white, semi-firm, slippery, crunchy, and aqueous consistency with a crisp mouthfeel. The flesh is subtly sweet, mild, and nutty.


Seasons/Availability

Cocos Enanos are available year-round.


Current Facts

Cocos Enanos, botanically classified as Cocos nucifera, are a category of palm species belonging to the Arecaceae family. The name Coco Enano translates from Spanish to mean "Dwarf Coconut" and is a descriptor given to several varieties of coconut-producing palms. Dwarf coconut trees are specific types of palms that begin bearing fruit relatively quickly, approximately 3 to 5 years after planting, while standard palms can take 8 to 10 years. Dwarf palms also have a shorter fruit production lifespan, lasting between 30 to 40 years, compared to standard palms, which range above 60 to 90 years. It is important to note that "dwarf" refers to the tree's ability to produce fruits within a short timeframe after planting, not the tree's full-grown size. Most Dwarf palms are smaller in stature, reaching 4 to 6 meters in height, but some varieties may grow taller. Several Dwarf varieties exist worldwide, including Pugai, Pumila, Chowghat Dwarf Green and Orange, Equatorial Guinea Green and Yellow Dwarf, Maldives Dwarf, Malayan Dwarf, Fiji Dwarf, Ghana Yellow Dwarf, Macapuno, Ebumea, Cocoino, Cameroon Red Dwarf, and Gangabondam. Malayan Dwarf palms are considered one of the most important dwarf varieties worldwide as they resist Lethal Yellowing disease. In the modern day, Cocos Enanos are commercially cultivated worldwide and are grown in home gardens, plantations, along coastlines, and in landscapes as a multi-purpose species.


Nutritional Value

Cocos Enanos, in general, are a source of fiber to regulate the digestive tract, vitamin C to boost the immune system, and calcium to build strong bones and teeth. The variety also provides vitamin E to protect the cells against the damage caused by free radicals, potassium to balance fluid levels, iron to develop the protein hemoglobin for oxygen transport through the bloodstream, phosphorus to generate genetic material such as DNA and RNA, and other nutrients, including magnesium, copper, vitamin K, folate, niacin, thiamine, and riboflavin. Beyond vitamins and minerals, coconut oil is used in the hair and on the skin as a moisturizer. Coconut water is also a source of electrolytes to prevent the body from dehydrating on warm days or in humid climates. Various species of Dwarf coconuts have been utilized in natural medicines to strengthen bone health, soothe intestinal issues, reduce inflammation, and fight against fatigue.


Applications

Cocos Enanos have a mild, sweet, nutty, and subtly savory taste suited for fresh and cooked preparations. The flesh, oil, and water within the fruits are used in various recipes worldwide, and the smaller coconuts are favored for their ability to be used quickly. Cocos Enanos are mixed into fruit salads, blended into agua frescas, smoothies, and shakes, or served in rice-based dishes. The fruits can also be added to curries, pureed into sauces for roasted meats, or included in slaws and salsas as a topping for seafood and tacos. In addition to savory preparations, Cocos Enanos can be incorporated into puddings, jellies, cookies, macarons, cakes, and muffins, or they can be added to mochi, pies, ice cream, and bars. Cocos Enanos can be used in recipes calling for regular coconut. The fruits can also be mixed into cocktail flavorings, cooked into syrups, or mixed with rich ingredients to make a cream. Cocos Enanos pair well with spices such as cinnamon, ginger, and allspice, aromatics including ginger, garlic, chile peppers, and onions, lime juice, herbs such as mint, cilantro, and lemongrass, and nuts such as peanuts, pistachios, or cashews. Whole, unopened Cocos Enanos will keep for several months. Once opened, fresh coconuts will keep for 4 to 5 days.


Ethnic/Cultural Info

In Kerala, India, a curious folktale explains the creation of the coconut tree and how the fruits acquired their face-like appearance. Legend has it that a young fisherman was struggling to catch fish and was being judged by the members of his village. One day, the fisherman was hungry but could not afford to buy food, so he visited the home of a magician who taught him to remove his head from his body. The fisherman began diving into the water at night without his head, and the fish would swim near his body as they were curious about where his head went. Some of the fish would even swim into his body. The fisherman would capture the fish and swim ashore, reattaching his head. The villagers, especially a young village boy, were surprised at the fisherman's sudden ability to catch fish. The young boy secretly followed the fisherman to the beach to see what he was doing differently. When he saw the fisherman remove his head from his body, the young boy emerged from his hiding place and tossed the head into the bush. The fisherman could not find his head when he returned from the water, and as his magic was running low, the fisherman dove back into the water, where his body was transformed into a fish. After the fisherman disappeared into the sea, the young boy brought the villagers to the spot where he hid the head. To their amazement, they found that a palm tree had sprouted and bore hard, woody fruits. The fruits were dotted with three holes, resembling two eyes and a mouth, and the villagers assumed the fruit's face was created from the fisherman's magical head.


Geography/History

Cocos Enanos varieties are native to Southeast Asia and have been growing wild since ancient times. Coconuts spread naturally via ocean currents, and eventually, they were carried by civilizations along ancient trade routes and migratory paths as a natural water source. The history of Cocos Enanos, or Dwarf coconuts, is unknown, but some experts believe it may have developed from mutations of standard coconut palms in Java or Malaysia. Over time, dwarf varieties were spread worldwide and were planted throughout South and Central America, where they became commercially cultivated for retail markets. Today, Cocos Enanos are grown in well-drained soils in full sun and thrive in tropical to subtropical climates. There are several varieties of Coco Enano palms, and the various types are found worldwide in Asia, Southeast Asia, the South Pacific, Australia, the Caribbean, Africa, and the Americas.