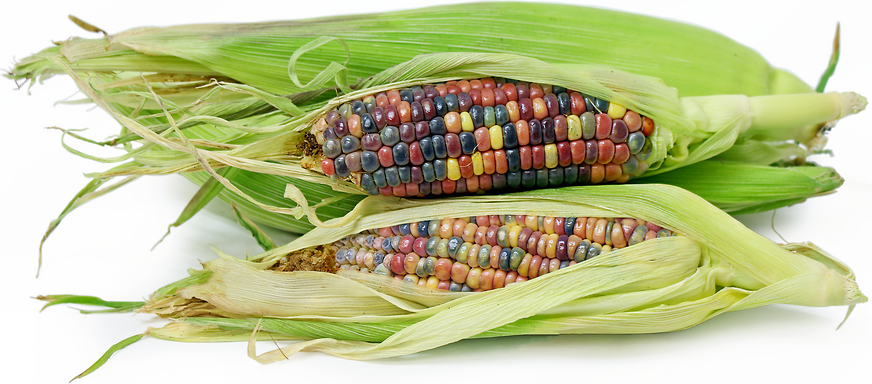 Glass Gem Corn
Inventory, ea : 0
Description/Taste
Glass Gem corn is smaller than commercial corn varieties, averaging 5 to 20 centimeters in length, and has a cylindrical, straight shape. The cobs are encased in several layers of a textured, semi-rough husk, and when young, the husk has a pliable feel with green hues, darkening and drying into a papery, brown, and brittle covering once ready for harvest. When the husk layers are peeled back, the narrow cob is revealed, covered in oval to oblong, plump kernels. Each cob will be unique in coloring, and the kernels can be found in translucent shades of emerald, bright green, ruby, dark blue, amethyst, pink, white, and yellow. The kernels also contain a hard outer layer to protect the soft interior, creating a firm and chewy consistency. Glass Gem corn has an opalescent quality with high starch content. The kernels are not commonly consumed fresh and are primarily dried. When processed, they contain a neutral, unsweetened, starchy taste.
Seasons/Availability
Glass Gem corn is available in the early fall.
Current Facts
Glass Gem corn, botanically classified as Zea mays, is a rare, multi-colored variety belonging to the Poaceae family. The vibrant kernels are not genetically modified and were developed through years of selective breeding using ancient corn varieties mixed with traditional open-pollination techniques. Glass Gem corn grows on stalks that can reach up to two meters in height, and the cobs are harvested approximately 110 to 120 days after planting. The variety is a type of flint corn, known for the kernel's tough outer layer, and is primarily utilized in processed preparations as the kernels are deemed inedible when fresh. In addition to culinary applications, Glass Gem corn is valued by home gardeners for its ornamental appeal and is a favorite fall decoration.
Nutritional Value
Glass Gem corn has not been studied for its nutritional value, but the variety is a type of flint corn, which typically provides a good source of fiber to stimulate the digestive tract. The kernels also contain some magnesium to regulate nerve functions, phosphorus to strengthen bones and teeth, copper to maintain metabolism, and are a lower source of zinc, B vitamins, and iron.
Applications
Glass Gem corn is a type of flint corn best suited for processed preparations. Flint corn varieties have a hard outer shell encasing each kernel, making them unpleasant to consume raw, off the cob. The kernels also contain higher starch levels, contributing to a blander, unsweetened flavor. Glass Gem corn can be dried and ground into cornmeal for use as a thickener in grits, pancakes, bread, and polenta. The cornmeal can also be incorporated into tortillas, used as a coating for fried foods, mixed into quiches, or combined into desserts such as cobbler. In addition to grinding into cornmeal, Glass Gem corn can be dried and used for popcorn, or boiled, hulled, and made into hominy to develop a chewy texture. Hominy is frequently used in empanadas, tamales, and casseroles. In Mexico, hominy is popularly stirred into posole, a traditional soup comprised of aromatic spices, vegetables, legumes, and herbs. It is important to note that the colorful hues of the kernels will remain when the kernels are dried, but they will be lost through the cooking process. Dried Glass Gem corn will keep for many years stored in a sealed container in a cool, dry, and dark place away from direct sunlight.
Ethnic/Cultural Info
Glass Gem corn received worldwide recognition in 2012 when a photo of the multi-colored cob went viral through social media platforms. Many people who saw the photo had polarizing opinions, claiming the corn was photoshopped, a product of GMO, or just wasn't real, but others viewed the corn as an inspiration story. Glass Gem corn was the natural product of years of traditional seed saving. The variety's story was released to the public after the photo went viral, encouraging gardeners worldwide to practice seed saving to promote diversity. Many gardeners and seed savers took an interest in the cultivar, creating a Facebook page to discuss Glass Gem corn-related topics. The Facebook page currently has over 20,000 followers. Besides using social media to connect with other corn growers, gardeners have become enthralled with cultivating the variety as each cob is unique. When the cobs are growing, they send out hundreds of slender, silk stigmas, which are individually fertilized by pollen in the wind. Each stigma represents one of the kernels inside the cob, and once pollinated, the kernel will develop a distinct set of genes, determining appearance. As a result, opening the husks of Glass Gem corn is often likened to opening a present, the coloring will be different each time.
Geography/History
Glass Gem corn was created through years of natural selection and traditional breeding practices. Carl "White Eagle" Barnes, a farmer in Oklahoma, became interested in growing heirloom corn varieties from a desire to preserve the traditions and cultural identity of his Cherokee ancestors. Barnes collected many ancient corn varieties that were treasured among Native American tribes and began growing, preserving, and breeding. Each season, Barnes would select his favorite seeds, typically kernels with a translucent, colored appearance, and continued to crossbreed the corn to showcase improved traits. Experts believe Barnes created Glass Gem corn from multiple crosses of osage, pawnee, and Cherokee corn varieties. Barnes eventually retired in the late 20th century and gave his seed collection to Greg Schoen, a fellow seed saver and colored corn enthusiast. Schoen grew colored corn varieties in small amounts for several years, but when he moved to a larger property in New Mexico in 2005, he began to cultivate the corn extensively. Schoen created many different colored corn varieties with varying color patterns and decided to name the corn Glass Gem in 2007. In 2009, Schoen gifted seeds from several of his colored corn varieties to Bill McDorman, the former Executive Director of Native Seeds. McDorman was amazed by the corn, and the seeds of the unique variety were promoted and mailed worldwide. Glass Gem corn widely increased in popularity when a photo of the corn went viral in 2012. After the online publicity, Glass Gem corn seeds were sold out with a waiting list of gardeners who wanted the seeds. Today Glass Gem corn is available worldwide through online seed companies and has been cultivated in the United States, Mexico, India, Israel, and Africa. The colorful cobs are not produced commercially and are mainly sold as ornamental decoration. Glass Gem corn is also occasionally found through farmer's markets and specialty distributors.
Recipe Ideas
Recipes that include Glass Gem Corn. One

is easiest, three is harder.