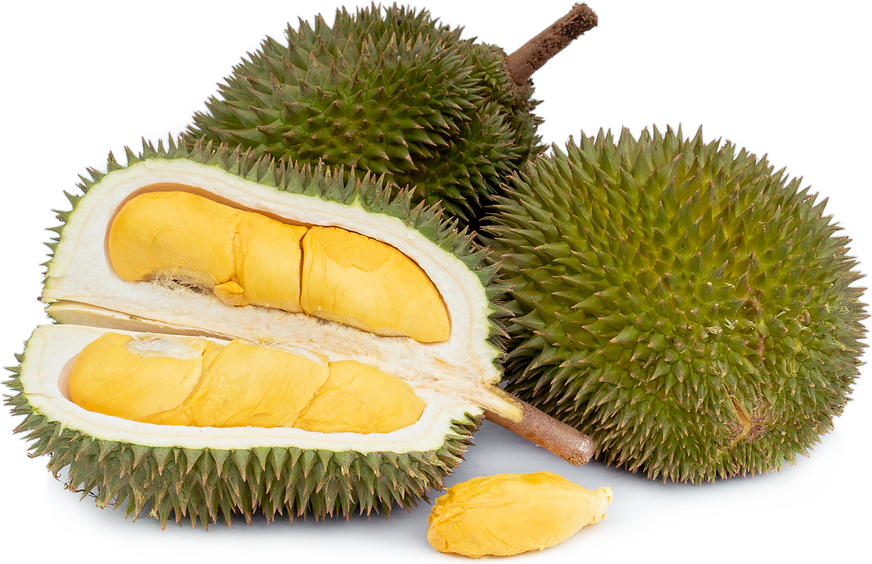 101 Durian
Inventory, ea : 0
Description/Taste

101 durians are a medium to large varietal, averaging 2 to 3 kilograms in weight, and have a bulbous, oblong, to round shape with five distinct seams. The husk is covered in long, conical, pointed spines and each spine is sharp, angled in all directions across the fruit. The husk is dark green, showcasing brown tips, and there is a small star-like pattern at the base of the durian. The stem is also dark brown, fibrous, and stalky. Underneath the sharp exterior, there is a thick layer of spongy white pith that encases several chambers of fleshy lobes. There are 2 to 3 lobes in each chamber, and the lobes are golden yellow, sometimes mixed with shades of orange. The flesh is enveloped in a thin, taut, and easily punctured membrane, and once opened, smooth, creamy, and custard-like pulp will spill out. The pulp is soft, tender, and paste-like without being watery, and the brown seed in the center ranges in size from small to somewhat large. 101 durians have a subtle aroma and a blend of sweet, vanilla-like flavors. The initial sweetness is not overpowering and is followed by subtly bitter, sometimes sour nuances, leaving a lingering sweet and bitter taste on the palate.


Seasons/Availability

101 durians are generally available during the southwest monsoon season in Malaysia, spanning from May through early August.


Current Facts

101 durians, botanically classified as Durio zibethinus, are a sweet, subtly bitter variety belonging to the Malvaceae family. The creamy durian cultivar is believed to be a Malaysian variety and is one of the most common durians sold throughout the country. 101 durians are considered an affordable but flavorful cultivar sold as an everyday durian, widely found through local markets throughout Malaysia. The durians are also often regarded as a more budget-friendly alternative to the premium Mao Shan Wang durian and share a similar flavor profile. 101 durians are offered domestically and exported internationally, advertised as a mild, sweet, and creamy cultivar. Many durian vendors promote 101 durians as an introductory durian to new consumers. The variety has also increased in popularity throughout Southeast Asia among durian enthusiasts, where it has become a staple cultivar for fresh eating.


Nutritional Value

101 durians are a source of vitamin C to strengthen the immune system while reducing inflammation, potassium to balance fluid levels within the body, and fiber to regulate the digestive tract. The durians also provide phosphorus to build strong bones and teeth, vitamin A to maintain healthy organ functioning, iron to develop the protein hemoglobin for oxygen transport through the bloodstream, and contains other nutrients, including manganese, zinc, copper, B vitamins, calcium, and magnesium.


Applications

101 durians have a sweet, subtly bitter aftertaste suited for fresh and cooked preparations. The durian variety is traditionally consumed straight out of hand and is savored as a delicacy when fresh for its custard-like consistency. 101 durians are also valued for their mild, sweet flavoring and vary in bitterness depending on the durian's maturity. Beyond eating the flesh raw, 101 durians can be used to flavor desserts such as cream puffs, pancakes, custards, panna cotta, and cakes. 101 durians can also be incorporated into ice cream, served with sticky rice, added to candies, or blended into milkshakes or smoothies. 101 durians pair well with condensed milk, vanilla, caramel, and fruits such as mango, coconut, jackfruit, and mangosteen. Whole, unopened 101 durians should be immediately consumed when ripe for the best quality and flavor.


Ethnic/Cultural Info

Durians are known for producing heat within the body, and "heatiness" is often used when describing a durian-eating experience. In Malaysia, it is important for durian consumers to balance out that heat to maintain a healthy mindset, and the locals practice drinking water out of the durian husks to reduce heatiness. The custom of drinking water from the husk dates back to ancient times, and saltwater or plain water can be used, depending on preference. Medical professionals have recently studied this folkloric practice, and some experts attribute drinking salt water from the husk to helping reduce sulfuric compounds, which in turn reduces toxins and heat built up within the body. Durian husks also help to eliminate durian odors absorbed into the skin. Many Malays practice scrubbing their fingers against the spongy interior of the husk to activate a compound called 5-hydroxy-methyl-furfural that acts as a deodorizer to neutralize the pungent durian smell on the skin.


Geography/History

101 durians are a heavily disputed variety as the name 101 has been used for multiple durian cultivars. Initially, there was a durian known as D101, a variety also labeled Bangkok Tree 16, registered in 1970. This durian is said to be somewhat rare and harder to track down but still present in Malaysia. There was also a durian known as D168 that was registered in 1989 from the Muar district of Johor in Malaysia. D168 was locally known as Johor Mas, Johor Gold, and at some point, experts believe locals began calling it IOI, a name that transitioned into 101. Despite its mysterious nature with various historical discrepancies, 101 durians are a popular cultivar throughout Malaysia. 101 durians are also grown in other regions of Southeast Asia, including the Philippines, and durians from Malaysia are exported to countries including Singapore and China. The 101 durians featured in the photograph above were sourced from the Wonderful Durian Shop in the Geylang Serai district of Singapore.