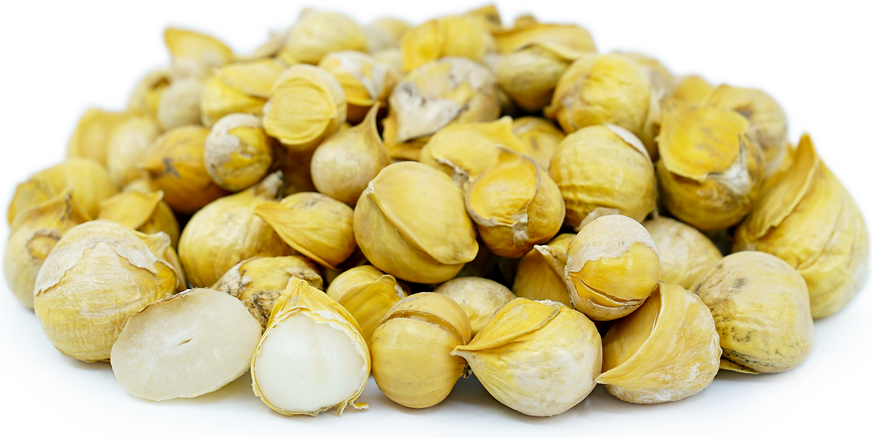 Kashmiri Garlic
Inventory, lb : 0
Description/Taste

Kashmiri garlic has a hard, golden-brown husk and looks like an individual clove of garlic. It has a rounded, bulbous shape with a stiff, flattened portion on one side coming to a point at the tail end of the clove. The small, single cloves measure 1.5 to 4 centimeters in diameter. The hardened outer layers form a protective husk for the bulb while it develops in sub-zero degree temperatures. The clove beneath is a bright white to creamy-white color and offers a strong, pungent garlic flavor without the acidity present in other varieties.


Seasons/Availability

Kashmiri garlic is available year-round with a peak season in the spring months.


Current Facts

Kashmiri garlic, also known in India as Himalayan or Jammu garlic, is a rare, single-clove variety of Allium sativum. Known as Snow Mountain garlic and Ek Pothi Lahsun in Hindi, it is only harvested once a year from the high altitudes of the Himalayas and is well-known throughout India for its health benefits. Research has shown Kashmiri garlic to be seven times more potent than commercial garlic, in terms of beneficial compounds and properties.


Nutritional Value

Kashmiri garlic is a good source of manganese, vitamins B6 and C, as well as copper, selenium, and phosphorus. It is also a source of calcium and vitamin B1. Garlic contains the enzymes alliin and alliinase and combine to form the compound allicin when the cloves are crushed or minced. Allicin is the compound that gives garlic its pungent smell as well as its health benefits. It has anti-inflammatory, antioxidant and anti-bacterial properties.


Applications

Kashmiri garlic can be used both raw and cooked. To maximize the beneficial properties in the garlic, crush or mince before using. In India, Kashmiri garlic is most commonly consumed raw for the health benefits. The so-called 'pearls' are crushed and then swallowed, followed by drinking two glasses of cool water. Use Kashmiri garlic in any recipe calling for garlic. Use in pesto and other sauces or dips. Add minced cloves to risotto, pasta, or sautéed vegetables. To avoid mold or spoilage, store Kashmiri garlic in a cool, dry, well-ventilated place. It will keep for up to two months.


Ethnic/Cultural Info

Mountaineers climbing in the Himalayan mountains of northern India during ancient times consumed Kashmiri garlic to help maintain blood circulation, increase oxygen capacity and raise energy levels. The single-clove variety is renowned in Ayurvedic practices and is prescribed for people suffering from diabetes, heart disease, high blood pressure, and the common cold.


Geography/History

Kashmiri garlic is native to the Himalayan mountains, in what is today Jammu and Kashmir. The region is sandwiched between the countries of Pakistan to the west and Tibet and China to the east and is the northernmost state in India. Kashmiri garlic is grown at 1,800 meters above sea level in a climate with extremely low oxygen levels and harsh, snowy conditions. It is one of the few plants that will survive the cold, high-altitude environment. Garlic originated not too far from this region, in what is today Kyrgyzstan, Tajikistan, Turkmenistan and Uzbekistan. Kashmiri garlic is said to be one of the purest varieties due to the region where it is grown and the lack of industrial pollutants in the soil. It is most commonly found through online sellers and in stores specializing in Indian and Ayurvedic products.