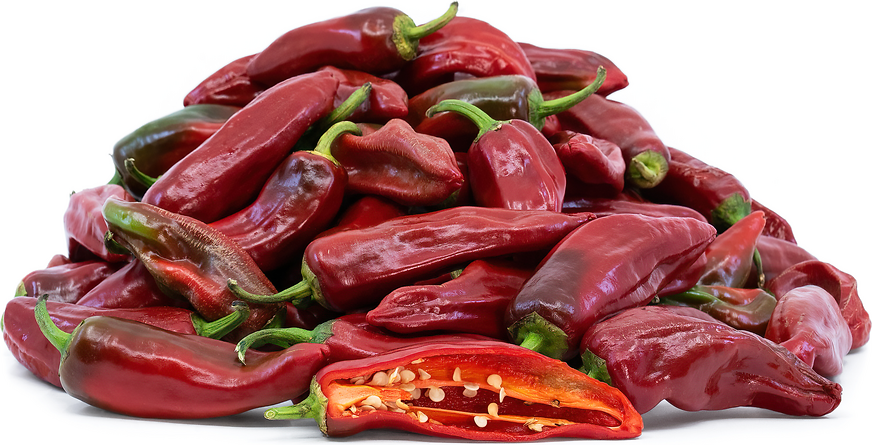 Espelette Chile Peppers
Inventory, lb : 0
Description/Taste

Espelette chile peppers are long and narrow pods, averaging 15 to 17 centimeters in length, and have a conical shape with slight tapering to a point on the non-stem end. The pods can be straight to curved, and the skin is glossy, smooth, and lightly wrinkled, ripening from green to bright red when mature. Underneath the thin skin, the flesh is semi-thick, pale red, and crisp, encasing a central cavity filled with round and flat, cream-colored seeds. Espelette chile peppers have a bright and fruity flavor with nuances of tomato and citrus mixed with a mild to medium level of spice.


Seasons/Availability

Espelette chile peppers are available in the late summer through late fall.


Current Facts

Espelette chile peppers, botanically classified as Capsicum annuum, are a rare, specialty variety that belongs to the Solanaceae or nightshade family. Also known as Ezpeletako Biperra in Basque and Piment d'Espelette in French, Espelette chile peppers are primarily cultivated in the commune of Espelette in Pyrénées-Atlantiques, which is located in the Basque region of France. As of 2002, Espelette chile peppers were granted a protected designation of origin, also known as the French certification AOC or Appellation d'origine contrôlée, and AOP or Appellation d'origine protégée. This certification safeguards the unique flavor of the pepper, which stems from the slightly acidic soil of the Basque region. Espelette chile peppers can vary in heat from being mild to moderately spicy, depending on growing conditions, and range 500 to 4,000 SHU on the Scoville scale. The peppers are rare to find fresh outside of the Basque region and are more commonly found in powder form or blended into a cooking paste.


Nutritional Value

Espelette chile peppers are an excellent source of vitamins A and C, which are antioxidants that can help boost collagen production and prevent vision loss. The peppers also contain iron, vitamins B6 and K, potassium, and fiber.


Applications

Espelette chile peppers are best suited for both raw and cooked applications such as roasting, baking, and sautéing. When fresh, the peppers can be diced into sauces, salsa, and relish, or they can be chopped and tossed into salads. Fresh Espelette chile peppers can also be cooked down to make savory pepper jellies, jams, and paste. When cooked, the peppers can be added to stir-fries, pasta, roasted vegetables, soups, chilis, and stews. The peppers are also added to piperade, which is a well-known Basque sauce that cooks the Espelette pepper with onions and tomatoes. Espelette chile peppers are somewhat rare to find fresh and are more commonly found dried and ground into a powder. Through the drying process, the pepper develops a smoky flavor similar to paprika and can be used to flavor everyday dishes. In France, dried Espelette chile powder is used in basquaise, which is a sauce made from peppers and tomatoes and served with vegetables, seafood, or cooked meats. Dried Espelette chile peppers can also be used to infuse oils and sea salt. Espelette chile peppers pair well with meats such as duck, ham, beef, lamb, and poultry, foie gras, eggs, mushrooms, tomatoes, green beans, leafy greens, goat cheese, and dark chocolate. Fresh Espelette chile peppers will keep 1-2 weeks when loosely stored whole and unwashed in a plastic bag in the refrigerator.


Ethnic/Cultural Info

On the last weekend in October, the Basque region of France celebrates an Espelette Pepper Festival to honor the beloved pepper. During this weekend, over twenty-thousand visitors attend the festival, and many of the towns decorate the streets with garlands or festoons of Espelette peppers. The peppers are traditionally harvested and strung onto cords consisting of at least twenty peppers with the specific dates of harvest noted on the cord. Once constructed, the cords are hung from the facades and balconies as well as in households and restaurants, pulled from the threads and used when needed. The festival was started in 1967, and as part of the festivities, peppers and other regional products are sold in the markets, and local restaurants feature the pepper on their menus in signature dishes. There are also live concerts, traditional Basque folk dances, parades, and games, all celebrating the local pepper as an emblem of the Basque culture.


Geography/History

Espelette chile peppers are descendants of peppers native to Central and South America that were brought back to Europe via Spanish and Portuguese explorers in the 15th and 16th centuries. It is believed that Gonzalo Percaztegi, a Basque navigator sailing with Christopher Columbus, first introduced the pepper to the Basque region, planting them along with corn in the Nive Valley. Today Espelette chile peppers are predominately grown in the Basque region of France in the communes of Espelette, Ainhoa, Cambo-Les-Bains, Halsou, Itxassou, Jatxou, Larressore, Saint-Pée-sur-Nivelle, Souraïde, and Ustaritz. Outside of France, the pepper is most commonly found in the form of powders or pastes.