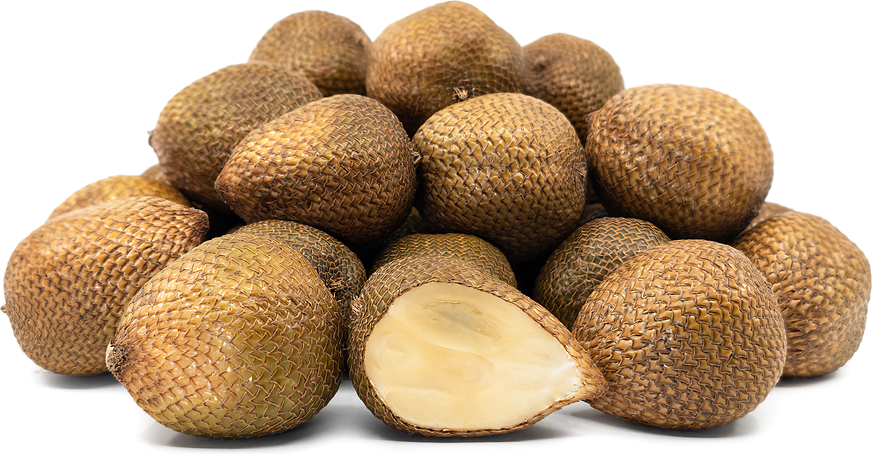 Ivory Salak
Inventory, lb : 0
Description/Taste

Ivory Salak is small to medium in size, averaging 5-7 centimeters in diameter, and is oval to globose in shape tapering to a distinct point at one end. The thin skin is smooth with many small, scale-like patterns and these scales may have a sharp point on each end. The skin ranges in color from pale brown-gold, light yellow, to almost white and is easily removed from the flesh when torn from the tip. Once peeled, the cream-colored flesh is divided into three lobes and is crisp, dense, thick, and somewhat dry, similar to the texture of raw garlic cloves. Within each segment, there is also a black, firm, inedible seed that should be removed. Ivory Salak has a strong aroma that many liken to pineapple and has a pungent, sweet-sour taste with notes of banana, apple, and pineapple.


Seasons/Availability

Ivory Salak is available year-round in Southeast Asia, with peak seasons in the early summer and winter.


Current Facts

Ivory Salak, botanically classified as Salacca zalacca, are fruits that grow in tightly compact clusters on a short palm tree that reaches up to six meters in height and is a member of the Arecaceae, or palm family. Known as Snake fruit due to its scaly, snake-like skin, Ivory Salak is also found under the name Pondoh Gading and is one of three variations of the cultivar salak pondoh, which is grown in the city of Yogyakarta on the island of Java in Indonesia. Ivory Salak is primarily localized to Southeast Asia and is favored by both locals and tourists for its unique coloring, crunchy flesh, and sweet-sour flavor.


Nutritional Value

Ivory Salak is an excellent source of vitamin C, fiber, and potassium, and also contains iron, calcium, manganese, beta-carotene, and phosphorus.


Applications

Ivory Salak is best suited for raw applications as its crunchy flesh and sweet-sour flavor is showcased when consumed fresh, out-of-hand. The skin of the fruit can be easily peeled by grasping the tip and slowly removing it in strips and large sections. There is also a white membrane or film that covers the segmented flesh that should be removed before eating. Ivory Salak is most commonly consumed as a snack or is sliced and tossed into fruit salads and rujak. It can also be canned in sweet syrups, cooked into jams or pies, pickled for extended use, or candied. Ivory Salak pairs well with cucumber, mango, pineapple, jackfruit, jambu air apples, sweet potatoes, cayenne pepper, tamarind, and peanuts. The fruits will keep up to one week at room temperature and 1-3 weeks when stored in the refrigerator.


Ethnic/Cultural Info

In the District of Sleman, a province in Yogyakarta in Java, Salak has increased in cultivation as it has become a popular souvenir and food for tourists. The fruit's unique skin, sweet taste, and limited availability outside of Southeast Asia has created an economic demand for smaller farms to cultivate and produce the tropical palm fruit. The fruits are wrapped in banana leaves to help protect the skin from damage and are stored in bamboo boxes to allow for air circulation. In addition to market sales, Salak palms are used by locals to create property borders and the spines and thorns covering the palm help to keep unwanted animals out. The sharp palm leaves are also used to build larger fences. In traditional medicine, the Sleman people believe that salak is effective in reducing symptoms associated with gout and gastrointestinal issues.


Geography/History

Ivory Salak is native to the District of Sleman in Yogyakarta, which is a city on the island of Java in Indonesia. The fruit has become increasingly popular across Southeast Asia and may also be found growing in home gardens, small farms, and sold at local markets in Sumatra, Malaysia, Indonesia, the Philippines, New Guinea, and Thailand.