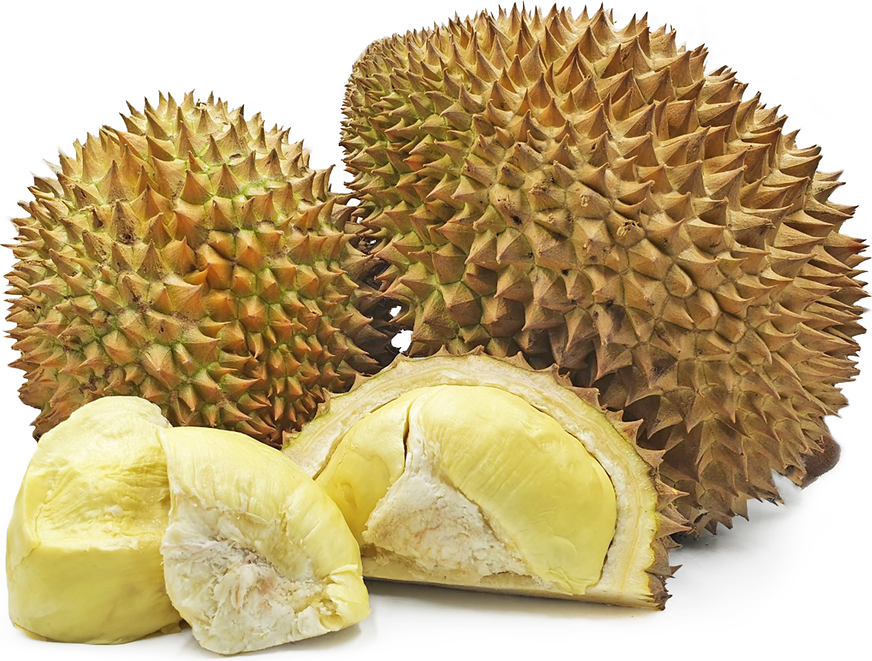 Montong Durian
Inventory, 1 EA : 0
Description/Taste
Monthong durians are large fruits, averaging 3 to 5 kilograms, and generally have an oval to cylindrical, tapered shape, sometimes found with irregular bumps, creating a heart-like appearance. The fruit's surface is covered in pointed, densely packed triangular spikes and ranges in color from pale green, light brown, to golden-brown. Underneath the spiny surface, there is a white, spongy interior with multiple chambers encasing lobes of flesh. Each flesh lobe has a semi-firm surface, revealing a thick, creamy, and buttery-soft interior with small, hard seeds. Monthong durians have a mild aroma compared to other durian varieties and a rich, sweet, warm, and complex flavoring described as a blend of vanilla, caramel, pepper, and sulfur notes.
Seasons/Availability
Monthong durians are available during Thailand's hot season, with a peak harvest between April and August.
Current Facts
Monthong durians, botanically classified as Durio zibethinus, are a large Thai variety belonging to the Malvaceae family. Thailand is one of the top producers and exporters of durian, and there are over 234 cultivars found within the country, with only a few varieties grown for commercial use. Monthong durians account for over half of the total durian production within Thailand and are also the top exported cultivar as the fruit can be stored for approximately twenty days without spoiling. The name Monthong translates from Thai to mean "golden pillow," a reflection of the variety's thick, soft flesh, and when in season, the cultivar is widely found through street vendors, local markets, and trucks driving through neighborhoods hawking the fruits over megaphones. Thai durians are traditionally harvested before they are fully ripe, a process believed to extend the fruit's shelf life, and this method also develops a firm but soft consistency within the fruit with a mild, sweet flavor. In the present day, there is intense competition between Thailand and Malaysia for durian production, and the Monthong durian is the signature variety marketed and exported from Thailand to neighboring markets.
Nutritional Value
Monthong durians are an excellent source of vitamin C, an antioxidant that strengthens the immune system, boosts collagen production, and reduces inflammation. The fruits are also a good source of potassium to balance fluid levels within the body, magnesium to regulate blood pressure, fiber to stimulate the digestive tract, manganese to assist with protein digestion, and contain lower amounts of phosphorus, iron, copper, and zinc.
Applications
Monthong durians can be used at multiple stages of maturity for both raw and cooked preparations, including frying and boiling. When young, the flesh has a dense, firm consistency and is primarily sliced and fried as chips, chopped and mixed into curry, or thinly cut and mixed into fresh salads. In Thailand, Monthong durians are incorporated into massaman curry to add rich, umami flavors, and they are also sometimes prepared as a som tom, a raw, crunchy side salad made with aromatics, fish sauce, and unripe fruits. As Monthong durians mature, the flesh is primarily consumed straight, out-of-hand, pureed into salad dressings, or blended into pastes and used as a flavoring in ice cream, fruit rolls, and pastries. The flesh can also be mixed with sticky rice, stirred into coffee, or cooked with syrup to create a sweet dessert. Monthong durians pair well with tropical fruits, including mangosteen, rambutan, snake fruit, mango, and coconut, aromatics such as garlic, shallots, lemongrass, and galangal, chocolate, vanilla, and herbs such as coriander, cumin, mint, and curry powder. Whole, uncut Monthong durians will keep for a couple of days at room temperature, but the length of time will significantly depend on the fruit's maturity when harvested. Once ripe, the fruits should be immediately consumed for the best flavor and texture. Sections of the flesh can be stored in an air-tight container for 2 to 5 days. Monthong durians can also be frozen and exported to markets worldwide.
Ethnic/Cultural Info
Monthong durians are one of the main durian varieties featured at the Chanthaburi Fruit Festival in the province of Chanthaburi in Southeastern Thailand. Chanthaburi is known as the "tropical fruit bowl of Thailand," and the ten-day, annual festival in May focuses on local crops grown in the region, including durian. During the festival, Monthong durians are displayed in large piles on tables, sold whole or pre-sliced, and for a brief time in the day, they are also sampled for free, allowing visitors to taste the different varieties. Durians are also sold in cooked preparations throughout the festival, including fried chips, curries, candies, drinks, and desserts. Beyond durian, the fruit festival is nationally known for its handcrafted wood furniture, handmade goods, and other local tropical fruits such as mangosteen and snakefruit. These local fruits are combined with durians to decorate large floats and sculptures as a festival art exhibition. One of the most popular events of the festival is a speed-eating competition, where participants compete to eat the most amount of fruit in the shortest amount of time, winning a cash prize.
Geography/History
Durians are believed to be native to regions of Sumatra, Peninsular Malaysia, and Borneo and have been growing wild since ancient times. The fruits were spread across Southeast Asia in the early ages and were planted in regions of Thailand. Durian cultivation remained relatively low in Thailand for many centuries until the early 19th century, when an influx of Chinese immigrants began growing durians for commercial use. Chinese immigrants were not required to work on yearly projects for the king of Thailand as native Thai residents were mandated to, allowing the immigrants to construct and develop large durian farms. By the late 19th century, many new durian varieties had been created in Thailand for full-scale commercial cultivation. In the mid 20th century, the Thai government offered land incentives for farmers to leave the riverbanks of Bangkok for remote agricultural provinces such as Chanthaburi to expand durian cultivation, eventually leading to the production sites still used in the modern-day. The history of Monthong durians is mostly unknown, with experts tracing the variety back to Thailand in the late 20th century. Today Monthong durians account for the majority of the durians produced in Thailand and are grown in the provinces of Rayong, Chumpon, and Chanthaburi. Monthong durians are also exported fresh and frozen worldwide.
Recipe Ideas
Recipes that include Montong Durian. One

is easiest, three is harder.