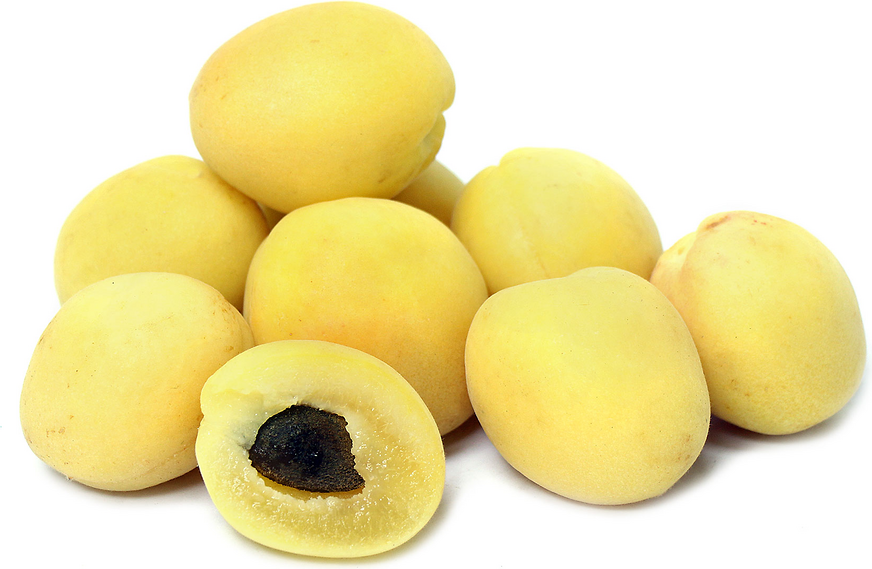 Angelcots®
Inventory, 16 ct : 0
Podcasts
| | |
| --- | --- |
| Food Buzz: History of Apricots | Your browser does not support the audio element. |
| Food Fable: Apricots | Your browser does not support the audio element. |
Description/Taste
Angelcots® are a small apricot variety with a somewhat uniform, round to oval shape, sometimes showcasing a small point at the bottom of the fruit opposite the stem end. The fruit's skin is thin, delicate, smooth, and pale yellow to cream-colored, accented with light pink to peach blush and covered in a fine, velvety fuzz. Underneath the surface, the pale-yellow flesh is dense, aqueous, and semi-firm with a tender consistency. The flesh also contains 12 to 24% Brix, a higher sugar ratio than other apricots, generally containing 12 to 14% Brix. In the center of the flesh, there is an inedible black-brown pit. Angelcots® have a floral, fruity, and honeyed aroma, and the surface will give slightly when pressed, an indication of ripeness. The fruits are known for containing a balanced sweet and tangy, tropical taste with a subtly tart finish.
Seasons/Availability
Angelcots® are available for a few weeks in the early summer.
Current Facts
Angelcots® are a proprietary, white-fleshed apricot belonging to the Rosaceae family. The sweet, juicy cultivar was developed in the late 20th century in California and was selected for its unusual flavor, pleasant texture, and light-hued appearance. Angelcots® are only available for 3 to 6 weeks in the early summer and are exclusively grown by a farm in Brentwood, Northern California. The variety is a hybrid of Moroccan and Iranian apricots and is considered rare as the fruits are sold in limited quantities, depending on annual growing conditions. Angelcots® contain a prominent flavor with an aqueous texture, distinguishing the variety from common apricots that are often known for bearing a dry, sometimes mealy consistency. The fruits are also lightly blushed, an unusual characteristic for apricots. There are several varieties of Angelcots®, each with a themed name, including Heavenly, Saintly, and Pearly Gates, and while these names are not traditionally used in commercial markets, they were created as a part of a themed marketing strategy.
Nutritional Value
Angelcots® are an excellent source of vitamins A and C to boost collagen production within the skin, reduce inflammation, and strengthen the immune system. The fruits are also a source of fiber to regulate the digestive tract and antioxidants to protect the cells from free radical damage, which helps the body fight off illness and contributes to a healthy heart.
Applications
Angelcots® are a sweet, subtly tangy variety well suited for fresh and cooked preparations, including baking, roasting, and grilling. The limited-edition fruits are favored for eating straight, out of hand as they are grown and harvested as a premium, fresh-eating cultivar. Angelcots® can be cut in half and consumed as a snack, sliced and tossed into green salads and fruit bowls, or stirred into oatmeal and yogurt. The fruits can also be drizzled with honey as a dessert, served over cheeses such as ricotta or brie as an appetizer, or blended into juices and smoothies. In addition to fresh preparations, Angelcots® can be incorporated into recipes calling for standard apricots, baked into pies, tarts, bars, crisps, and rich syrups, or they can be simmered into jams, jellies, and compotes. The fruits can also be cooked into sauces for roasted meats, grilled to develop a savory, smokey flavor, or roasted with savory main dishes to add a sweet and tangy element. Angelcots® pair well with spices such as cinnamon, cardamom, and ginger, other stone fruits including plums, peaches, and nectarines, coconut milk, yogurt, honey, vanilla, meats such as pork, lamb, and poultry, nuts including almonds, pistachios, and walnuts, fennel, and arugula. Whole, unwashed Angelcots® can be kept at room temperature or in a brown paper bag on the counter to ripen. Once ripe and ready to eat, the fruits will keep 1 to 3 days when stored in the refrigerator.
Ethnic/Cultural Info
Angelcots® are exclusively cultivated by Marty Maggiore on his family farm, Maggiore Ranch, in Brentwood, Northern California. The fruits are grown in a small area with a specific microclimate and are a specialty variety affectionately referred to as "Marty's angels." Angelcots® are extensively monitored and studied throughout the season to ensure the small crops are cultivated with optimum flavor, texture, and appearance. Workers also wear cotton gloves when handpicking the fruits to protect the delicate skin. Angelcots® are packed in specially designed clamshells to protect the fruit's appearance from surface bruising, and the clamshell's transparent nature is used to promote the variety's unique, rose-hued blush.
Geography/History
Angelcots® were created by Ross Sanborn in Brentwood, California, in the late 1970s. Sanborn received white apricot seeds from his friend working as a World Bank Farm Adviser in Iran. The seeds were said to have been commonly grown by residents of Iran and Morocco, and Sanborn sought to create a hybrid of the two varieties. The apricot seeds were planted in Sanborn's backyard and were eventually grafted onto different apricot trees, crossing the seeds from the Moroccan white apricot with the tilton Iranian apricot. Sanborn selected specimens with favored traits to promote sweetness, texture, transportability, and blush color for attractiveness, and it took him several years before he became satisfied with the first type of Angelcots®. In 2002, Monty Maggiore took over the growing rights for Angelcots® and cultivated the variety on his farm, Maggiore Ranch, also in Northern California. Today Angelcots® are exclusively sold through Frieda's Produce, a marketer and distributor in Los Angeles County that has been promoting Angelcots® since 2007.
Recipe Ideas
Recipes that include Angelcots®. One

is easiest, three is harder.