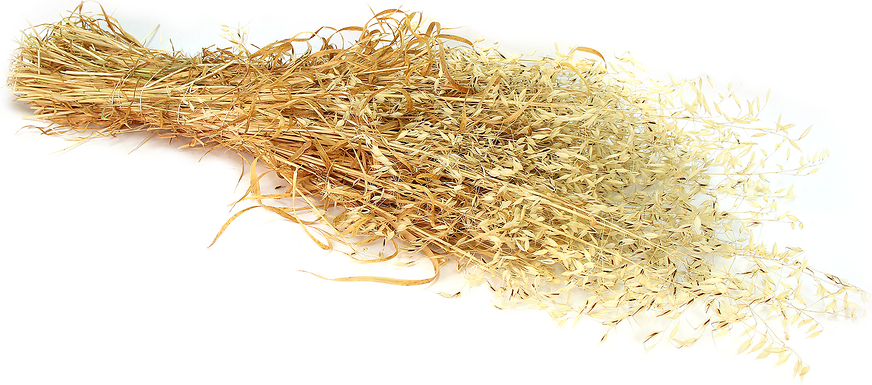 Foraged Wild Oats
Inventory, bunch : 0
Description/Taste

Wild oat plants resemble the domestic variety but they produce smaller seeds in less abundance. Mature plants reach heights of approximately 1.2 meters with long flat blade shaped leaves. The stems are round and smooth with a few soft hairs that sprout at the base of the leaves. The grass turns a golden brown at the end of its growing season just as the seeds ripen. The seeds may be foraged in late summer and are typically dried for long term storage. Wild oat seeds are a mere 3 millimeters across and encased in spikey sheaths, clustered along the grass' tips. They have a floury texture when ground and when eaten whole offer a mild, somewhat creamy flavor with a nutty finish.


Seasons/Availability

Wild oat seeds may be foraged in late summer. The dried grassy stalks are available soon thereafter.


Current Facts

Wild oat is a winter annual grass that is botanically classified as Avena fatua. It is a common agricultural weed found among commercial wheat and barley fields, and although considered an invasive species it may be foraged as a valuable crop all its own. It produces shafts of grass that may be dried and used in similar culinary applications as hay, as well as seeds that can be sprouted, ground into flour or cooked like common oats.


Nutritional Value

Wild oats are a good source of dietary fiber, protein, magnesium and iron.


Applications

Wild oats may be used in either savory or sweet dishes. The seeds can be cooked whole or ground into a flour and used just as domestic oats are used. They may be prepared as a porridge or added into recipes for baked goods like biscuits, muffins and breads. The seed can also be sprouted and eaten raw in salads or as a snack. The roasted seed is also a coffee substitute. The dried grass itself may be used to roast meats, stuff poultry, or smoke fish. More unconventional uses include applications in stocks and sauces or topping desserts with infused whipped cream and yogurts. To infuse broth, cream or yogurt with the flavors of Wild oat, add a handful of the dried grass and steep in the liquid overnight.


Geography/History

Wild oats are native to the Mediterranean and areas of Europe and Asia, and have since been naturalized in most temperate climates around the world. Wild oats may be found growing in grasslands, crop fields, orchards, vineyards, gardens, roadsides, and other disturbed sites. They can survive in most soil types that have adequate drainage, but cannot grow in the shade. Wild oats are often eradicated from commercial grain fields because they deplete the soils and cause soil dryness, providing favorable conditions for diseases and pests.