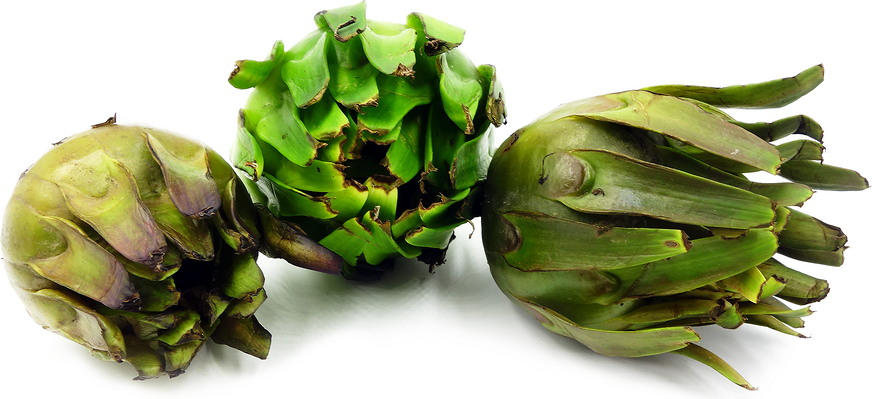 Water Lily Fruit
Inventory, lb : 0
Description/Taste

Water Lily fruits are generally small and have a round to oval appearance with a curved base covered in leaf-like layers on one end. The exterior green layers are peeled and discarded, revealing a rounded, ball-like fruit. The fruit's surface is smooth, semi-glossy, taut, and hard, ranging in color from light green, yellow-green, to olive green. When broken open, the fruits encase spongy chambers filled with seeds. Depending on the species, some fruits may contain a few larger seeds around the size of peas, while others envelop thousands of tiny seeds similar in size and appearance to chia seeds or mustard seeds. Fruits with smaller seeds can contain over 2,000 seeds less than 1 millimeter in diameter, and the seeds are firm, crunchy, and chewy. Water Lily seeds are the portion of the fruits consumed, and the seeds vary in color from brown, ivory-tan, to dark brown, almost appearing black. The seeds can be consumed raw or cooked and have an earthy, nutty, musky, and peppery taste reminiscent of a combination of barley, white pepper, and black pepper.


Seasons/Availability

Water Lily fruits appear after the flowers in the late spring through summer in temperate climates. In tropical climates, the plants can fruit at various times year-round.


Current Facts

Water Lily is a general descriptor for several species of flowering aquatic plants belonging to the Nymphaeaceae family. These various species grow wild worldwide and are valued for their aesthetic beauty, featuring floating circular leaves and flowers that arise from the water. When the flowers appear, they open in the morning and close in the afternoon, containing a pool of fragrant nectar to attract insects, ensuring pollination. The blooms are fleeting, only lasting for 3 to 4 days, and once pollinated, the flowers shut while the stalks bend the closed flowers down, dropping them underwater to develop the fruits. The fruits appear approximately 15 to 20 days after pollination in smaller flower varieties, while larger species may take as long as 28 to 45 days to mature. Water temperature and climate may also determine the length of maturation. Water Lily fruits are harvested for their edible seeds. In the modern day, the seeds are primarily consumed as a foraged ingredient in Southern Asia and tropical Africa and are consumed fresh or dried, roasted, and popped as a crunchy culinary ingredient.


Nutritional Value

Water Lily fruits have not been extensively studied for their nutritional properties. The seeds within the fruit are said to contain fiber to regulate the digestive tract, calcium to build strong bones and teeth, and magnesium to control optimal nerve functioning. The seeds are also said to provide some potassium to balance fluid levels within the body, iron to develop the protein hemoglobin for oxygen transport through the bloodstream, and other nutrients, including manganese, copper, amino acids, and phosphorus. In Ghana and Nigeria, Water Lily seeds are a natural remedy to lower fevers and soothe eczema flare-ups. In India, the seeds are consumed to regulate blood sugar and improve overall cardiovascular health.


Applications

Water Lily fruits are traditionally opened to reveal the seeds, the main portion of the fruit consumed. The seeds have an earthy, peppery, and subtly nutty taste suited for fresh and cooked preparations. When raw, the seeds can be eaten directly from the fruits, discarding the spongy outer layer of the fruits. The seeds are also popularly extracted from the fruits, laid in the sun to dry for 4 to 5 days, and stored as dried seeds. Once dried, the seeds have extended storage properties and can be roasted and popped into a crunchy snack. In Bangladesh, Water Lily seeds are roasted in oil, ghee, or baked over hot sand until they pop. Once the seeds are popped and puffed, they are stirred into melted jaggery sugar and rolled into balls. The sticky balls cool and become a chewy, crunchy snack. In other regions of Southern Asia, dried Water Lily seeds can be ground into a powder and mixed with wheat flour to make cookies, muffins, bread, and other baked goods. The flour can also be incorporated into noodles and porridge. In India, there is a type of Water Lily known as Euryale ferox or Prickly Water Lily, which has larger, pea-like seeds roasted into popcorn-like puffs. These puffs are commonly coated in spices, eaten as a snack, or mixed into curries.


Ethnic/Cultural Info

Water Lily flowers are frequently interwoven into the mythology of cultures worldwide, but the Egyptian Water Lily, known as Seshen or Sesen, has remained a steadfast symbol in Egyptian history since the first dynasty. Legend has it that the Water Lily was one of the first plants to come into existence. Creation stories depict the multi-layered bloom arising from the waters of chaos and slowly unfurling to reveal a young god, later known as Nefertem. The young god represented the first rays of sunlight each morning to banish the turmoil brought onto the world from darkness. One of the distinct features of the Water Lily was the flower's ability to open in the morning and close in the afternoon each day, a cyclical rhythm considered sacred to the Egyptians as it mirrored the rise and setting of the sun, a connection to the gods and rebirth. Water Lilies, especially blue blossoms, were drawn in the artwork on the walls of tombs and temples in Upper Egypt, and the flowers were often seen worn around women's necks as a colorful and aromatic adornment at parties. Later in history, around the fourth dynasty, Water Lilies became associated with Hathor, the divine mother goddess, and were used in healing rituals. The flowers were carried as bouquets so women could smell the bloom's sweet scent throughout the day, and the fragrance was incorporated into perfumes and topical ointments or lotions as a cleansing, healing ingredient.


Geography/History

Water Lilies are ancient plants that have been naturally growing in the wild for millions of years, according to fossil evidence. Within the Nymphaeaceae family, there are over 70 species with varying appearances and characteristics, and these species grow in tropical to temperate regions worldwide. The plants thrive in ponds, lakes, streams, and other areas of slow-moving water, and throughout history, Water Lily plants have been foraged as a food and medicinal ingredient. Water Lily flowers have been chosen as the national blooms of several countries, including Sri Lanka, Bangladesh, and Iran, and the flower's prominence in cultural legends has cemented the blossoms as important flora. Water Lily fruits are less known than the plant's famous flowers, and the seeds have been used as a food source among select cultures, mainly in Africa and Asia. Today Water Lilies are still found growing wild and are cultivated in tropical to temperate regions worldwide, especially in North America, South America, Europe, Asia, and Australia. When available, Water Lily fruits are sold in fresh markets. The seeds are also dried and sold in local markets and through online retailers.