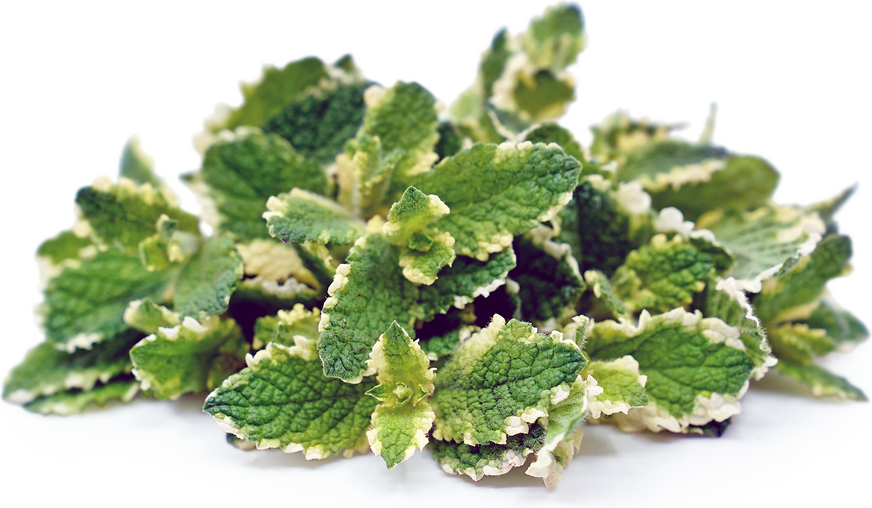 Pineapple Mint
Inventory, 4 oz : 0
This item was last sold on : 07/13/23
Description/Taste
Pineapple mint is a perennial herb that can grow 60 to 90 centimeters tall and easily spread just as wide. The plant produces tightly clustered spikes of white to light pink cylindrical flowers and has oval to oblong leaves that grow opposite along square stems, characteristic of the mint family, reaching 2 to 5 centimeters in length. The variegated leaves are bright green, often lighter than other mint varieties, and are distinguished by their white to cream-colored edges and markings. They have toothed edges, deep veins, and a wrinkled, fuzzy texture thanks to a layer of fine hairs that cover both sides. Pineapple mint offers a mild, tropical, menthol aroma with a hint of pineapple and a subtle, sweet, fruity, and minty flavor.
Seasons/Availability
Pineapple mint is available year-round, with peak season in the spring through summer.
Current Facts
Pineapple mint is botanically classified as Mentha suaveolens 'Variegata,' and is a member of the Lamiaceae, or mint family. It is a variety of apple mint and is distinguished by its variegated leaves, ranging from all-white to all-green. Believe it or not, if the vigorous all-green leaves are not pruned away, they will take over the entire plant, transforming the Pineapple mint back into its parent, the all-green apple mint. On the other side of its color spectrum, the rare all-white leaves tend to die out as they are susceptible to sunburn and lack chlorophyll, which is not only responsible for green pigmentation but also for the ability to synthesize energy for growth. Although Pineapple mint can be used in cooking, it is popularly grown as an ornamental in containers and hanging baskets or as a fragrant and attractive groundcover.
Nutritional Value
Pineapple mint offers good amounts of vitamins A and C and contains some minerals like iron and calcium. It is rich in essential oils with antiseptic and antioxidant properties thanks to components like eucalyptol, and it has a long history of medicinal use in treating inflammatory diseases like arthritis, relieving indigestion or nausea, aiding respiratory issues like asthma, and easing mental sluggishness or agitation.
Applications
Pineapple mint is most often used fresh as its delicate aroma is lost when cooked. Use the young, tender leaves to garnish ice cream and other desserts or impart a light, fruity yet minty flavor in fruit salads, jams, smoothies, salsas, or chutneys. Use larger, coarser leaves to infuse oils, vinaigrettes, sauces, beverages like hot or iced tea, or simple syrup, which can even be used to glaze ham. Pineapple mint can also be muddled in pina coladas or mojitos, dried for making tea or potpourri, and just like apple mint, it is a favorite for making mint jelly. It pairs well with lamb, chicken, mango, or other tropical fruits, and cottage or cream cheese, and it works well in Caribbean, Polynesian, and Mediterranean cooking. To store, trim the ends and place the Pineapple mint in a glass with about 3 to 5 centimeters of water and keep it at room temperature for about a week, or cover the leaves with a loose-fitting plastic bag and refrigerate for a couple of weeks. You can also wrap mint leaves in slightly damp paper towels, place them in a zip-top bag without fully sealing it, or put them in an airtight container and refrigerate for up to 2 or 3 weeks.
Ethnic/Cultural Info
Pineapple mint is a variant of apple mint, which was often grown in monastery gardens, and is still commonly found growing wild on the ruins of old monasteries, which were also infirmaries. The monks employed apple mint in treating epileptic seizures as it was beneficial in combating the mental fatigue that followed the fits and was said to be refreshing for the brain. Apple mint has also historically been used as a strewing herb in temples, markets, and other buildings to naturally freshen the air and repel any pests as it was crushed under the feet of people passing through, releasing its sweet, pleasant aroma.
Geography/History
The parent species of Pineapple mint is native to southwestern Europe and the Mediterranean, though it can be found growing wild in other parts of Europe and has naturalized in temperate regions of North America and Australia. Like other mints, Pineapple mint spreads aggressively by horizontal underground stems, and can quickly overtake other plants, hence it is recommended for growing in containers. Pineapple mint can be found at specialty stores or farmer's markets.
Podcast