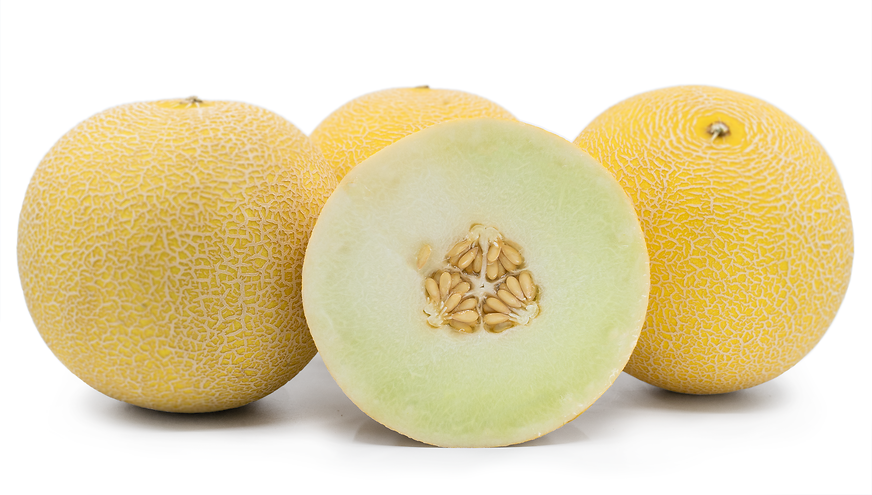 Galia Melon
Inventory, 18 lbs : 0
Description/Taste
Galia melons are a small varietal, averaging 2 to 3 pounds in weight, and have a round, uniform, and curved appearance. The melon's rind is hard and thick with a yellow to orange base coloring, covered in a rough, corky, tan netting. It is important to note that the rind's color will deepen from pale green to a golden yellow-orange hue when ripe, an indication of a higher sugar content. Underneath the surface, the flesh ranges in color from light green to white and is dense, aqueous, and firm with a smooth, succulent consistency. There is also a central cavity encasing ivory, oval seeds suspended with delicate white fibers in a slippery liquid. Galia melons emit a perfumed and musky, honeyed aroma when ripe, and their maturity should be determined by scent and rind coloring, not tenderness surrounding the stem end. Galia melons range from 13 to 15 Brix, a measurement of the sugar content within the flesh, signifying that the melon has a very sweet flavor with tropical fruity nuances.
Seasons/Availability
Galia melons are available year-round, grown in both hemispheres, and exported worldwide. The melons have a peak season in the spring through mid-fall.
Current Facts
Galia melons, botanically classified as Cucumis melo var. reticulatus, are a hybrid variety belonging to the Cucurbitaceae family. The specialty melons were created in the late 20th century in Israel and are a cross between a smooth-skinned cantaloupensis variety and a netted Russian reticulatus melon. Galia melons are highly favored for their sweet, aromatic flesh. The melons are primarily consumed as a dessert cultivar, utilized in fresh preparations to savor the fruit's firm texture and tropical, fruity flavor. Experts believe approximately 300,000 to 500,000 tons of Galia melons are produced annually, and the melons have expanded to worldwide cultivation, grown in both hemispheres for year-round production.
Nutritional Value
Galia melons are an excellent source of vitamin C to strengthen the immune system, vitamin A to maintain healthy organ functioning, and fiber to regulate the digestive tract. The melons also provide potassium to balance fluid levels within the body, calcium to protect bones and teeth, magnesium to regulate energy production, and other amounts of iron, vitamin K, zinc, and manganese.
Applications
Galia melons have a sweet, rich flavor well suited for fresh preparations. The rind of the melon should be washed before cutting, and once sliced, the seeds, fibers, and rind should be discarded. Galia melons are primarily consumed straight, out of hand as a refreshing snack, or the flesh is blended into smoothies, shakes, and fruit juices. The melons can also be tossed into green salads, fruit mixes, and grain bowls, or they can be used as a fresh topping over cereal, yogurt, pancakes, crepes, and waffles. When serving slices of the melon, the flesh can be sprinkled with salt, chile powder, ginger, black pepper, or lime or lemon juice for added flavor. Galia melons are popularly sliced and wrapped in cured meats as an appetizer, cut and served with roasted meats, or pureed and frozen into sorbet, granitas, or popsicles. Galia melons pair well with fruits such as kiwi, grapes, strawberries, and coconut, ginger, herbs such as mint, cilantro, and parsley, honey, soft cheeses, edible flowers, and peanuts. Whole, unwashed Galia melons should be ripened at room temperature. The melons have a short shelf life and will keep 1 to 2 weeks after harvest. Once mature, the melons should be used immediately for the best quality and flavor. Sliced melon pieces will keep for 2 to 3 days when stored in the refrigerator in a sealed container.
Ethnic/Cultural Info
Galia melons were named after breeder Dr. Zvi Karchi's daughter. Karchi chose his daughter's name, Galia, for the variety, and the name Galia translates from Hebrew to mean "God's wave" or "born in waves." Galia melons were significant to Israeli agriculture in the 20th century as the hybrid melons were created to adapt to the country's challenging arid and dry climate. The melons were bred to produce high yields of sweet fruits in hot, desert regions, and the melons also responded well to the agricultural practices that were being instated at the time through Jewish communities in Israel. With the success of Galia melons through improved fertilization and irrigation techniques, Israel began to view agriculture as an additional source of income, and the country shifted investments to focus on the new profit sector. Galia melons were so revered in Israel throughout the 20th century that they were also given as gifts in business transactions. Lee Miller, a reporter in San Francisco, once received Galia melon seeds from his neighbor in 1986, who acquired the seeds from the bank where he worked. The seeds were sent to the bank as a thank you business gift from Israel, and the seeds were mailed in vacuum-sealed cans. Miller and his neighbor planted the seeds in personal gardens near Stockton, California, and grew the specialty melon for their community.
Geography/History
Galia melons were developed in the 1960s and 1970s at the Newe Ya'ar Research Center of the Agricultural Research Organization in Israel. The melons were the first Israeli hybrid melon and were created from a cross between the smooth-skinned melon, Ha-Ogen, and a netted Russian variety known as Krymka. Breeder Dr. Zvi Karchi released Galia melons for commercial production in 1973, and within ten years, the variety grew to be such a popular market melon that its distribution had already spanned across Western Europe. The melons were later introduced into the United States in the early 1990s. Today Galia melons are a specialty variety cultivated worldwide. The melons favor warm and dry desert climates and warm, humid regions with abundant sunlight and can be found growing in Morocco, Turkey, Spain, Costa Rica, Algeria, Greece, Egypt, Panama, Portugal, Brazil, Honduras, Guatemala, and Israel. Galia melons are highly valued as a luxury melon throughout Asia, Europe, and South America and are almost offered year-round in commercial markets due to imports from growing regions in the northern and southern hemispheres. In the United States, Galia melons are primarily imported from South America, but they are also grown on a small scale in California and northern Florida using greenhouse technology.
Recipe Ideas
Recipes that include Galia Melon. One

is easiest, three is harder.