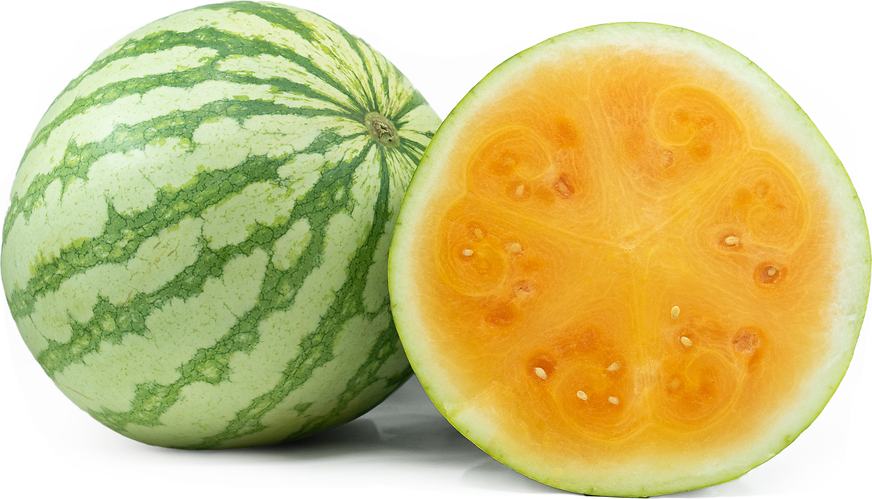 Orange Watermelon
Inventory, lb : 0
Description/Taste
Orange watermelons vary in size, depending on the specific variety, and generally average 10 to 30 pounds in weight. The melons range in shape from round, oblong, to oval and have a thick, smooth, and hard pale green rind covered in dark green mottling and striping. Underneath the surface, the rind fades from green to white and is crisp, vegetal, subtly bitter, and mild. The orange flesh is succulent, aqueous, crisp, and dense, sometimes containing prominent brown-black seeds or being found entirely seedless. Orange watermelons should feel heavy for their size when ripe. The fruits may also have a yellow spot on the underside of the watermelon, known as the belly. If the fruit is immature, the spot will be white, but if it is mature, it will have a yellow tone. Orange watermelons have a delicate, mildly sweet flavor with subtle tropical, honeyed nuances.
Seasons/Availability
Orange watermelons are available in the summer.
Current Facts
Orange watermelons, botanically classified as Citrullus lanatus, are a specialty type of melon belonging to the Cucurbitaceae family. There are several types of Orange watermelons, including seeded and seedless varieties, and the colored fruits are valued for their unique flesh tones, sweet flavor, and aqueous nature. It is important to note that Orange watermelons are not genetically modified and have been cultivated for thousands of years through seed collection and natural crossbreeding techniques. The sweet fruits are similar to red-fleshed watermelons in consistency and outward appearance, but they lack the antioxidant known as lycopene, which gives the red-fleshed varieties their pigmented hue. In the modern-day, Orange watermelons have continued to be selectively bred to have improved flavor. Popular cultivars include seedless varieties such as Orange Crisp and Orange Sunshine and seeded varieties such as Tendersweet Orange, Orangeglo, Desert King, New Orchid, New Queen, and Orange Krush. Despite their longstanding history, Orange watermelons are challenging to locate in commercial markets and are mostly found through specialty growers. The pigmented fruits are still overshadowed by their red-fleshed relatives but have been slowly increasing in popularity for their novelty and productive nature.
Nutritional Value
Orange watermelons are a source of vitamin A to maintain healthy organ functioning, vitamin C to strengthen the immune system while reducing inflammation, and potassium to balance fluid levels within the body. The fruits also contain magnesium to help control blood pressure and fiber to regulate the digestive tract.
Applications
Orange watermelons have a mild and sweet flavor suited for fresh and cooked preparations. The fruits are most popularly sliced and consumed straight out of hand, and the flesh can be cut into wedges, cubes, or balled for enhanced presentation. Their unique coloring lends well to green salads, fruit bowls, chopped into salsa or displayed on appetizer platters with fresh cheeses, nuts, and jams. Try creating a watermelon salad combining red, orange, and yellow watermelons for a festive summer dish. The flesh can also be sprinkled with citrus juice, ginger, or salt for added flavor, blended frozen into sorbet or skewered onto kabobs. Beyond slicing the flesh, Orange watermelons can be incorporated into smoothies, pressed into juices, mixed into cocktails, or used in syrups. Orange watermelons can also be grilled or seared in a hot pan, caramelizing their natural sugars, or they can be braised as a savory-sweet dish. In addition to the flesh, Orange watermelon rind can be pickled, boiled, stir-fried, or stewed. Orange watermelon pairs well with herbs such as basil, mint, cilantro, and parsley, fruits including coconut, figs, citrus, and berries, cheeses such as feta, goat, and mozzarella, tomatoes, cucumber, arugula, garlic, and ginger. Whole Orange watermelons can be stored in a cool, dry, and dark place for 1 to 4 weeks, depending on ripeness. Once sliced, the watermelon pieces should be wrapped in plastic and stored in the refrigerator for up to one week.
Ethnic/Cultural Info
One of the most popular Orange watermelon varieties in the United States is the Orangeglo watermelon. This home garden favorite has a very sweet taste, and some consumers note it also carries a subtle tropical undertone. Orangeglo watermelons were created as an improved Orange watermelon variety and were developed by Willhite Seed Co. in Poolville, Texas, sometime before 1965. Willhite Seed Co. was established by T.A. Willhite in the early 1900s, and the seed company was initially created around the sales of watermelon seeds. The company received national recognition when one of its watermelons won first prize at the World's Fair in St. Louis, Missouri, in 1904. Over time, the seed company flourished, and Willhite Seed Co. continued to release improved watermelon varieties to meet changing market demands. Despite releasing Orangeglo watermelons to consumer markets, Willhite Seed Co. does not currently offer the variety. Orangeglo watermelons are an heirloom cultivar found through seed-saving websites and specialty online retailers.
Geography/History
Orange watermelons are believed to be native to Africa and have been cultivated since ancient times. Remnants of watermelon seeds have been found in excavation sites in Libya that date back to over 5,000 years, and paintings in ancient Egypt depict that watermelons were cultivated as a water source. Between 400 BCE and 500 CE, the fruits were introduced through trade routes into the Mediterranean and continued to travel along routes into the Middle East and Asia. Over time, watermelons were selectively bred for improved flavor, and in 425 CE, a yellow-orange fleshed watermelon was showcased in a mosaic in Israel. Historically, Yellow and Orange watermelons were the main types of watermelons in existence for many years, and red watermelons were a rare mutation. Watermelons were not widely accepted in Europe until the 17th century. Once cultivation of watermelons increased, new varieties of Orange watermelons were created to meet improved flavor, texture, and growth requirements. Today Orange watermelons are considered a specialty type of melon found through local farmer's markets and select grocers in Asia, Africa, Europe, Australia, North America, and South America. The fruits are also grown in home gardens in warm climates worldwide, including Africa, Mexico, and Southern California.
Recipe Ideas
Recipes that include Orange Watermelon. One

is easiest, three is harder.