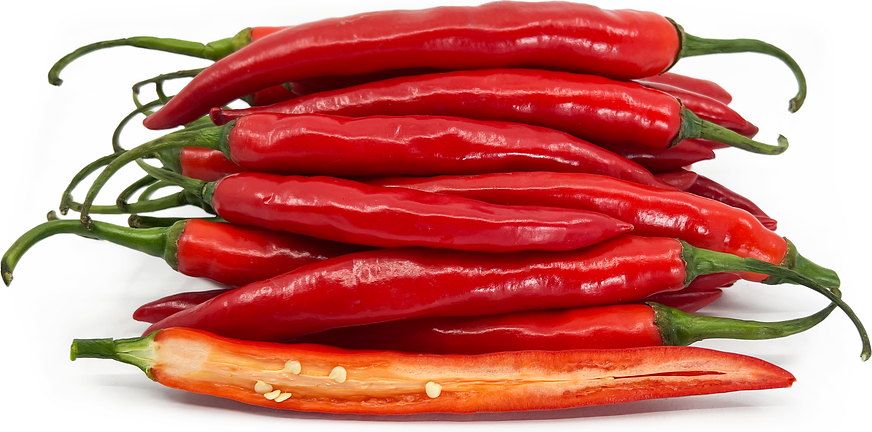 Red Chile Peppers
Inventory, lb : 0
Description/Taste

Red chile peppers widely vary in size and shape depending on the variety and environment the pepper is grown in. The pods can be small to large, elongated to short, and have a conical and tapered to multi-lobed, creased, and gnarled shape. The skin may be smooth or wrinkled, waxy, glossy, and taut, transitioning through shades of green, ivory, yellow, orange, purple, and red depending on the variety. Underneath the skin, the thin to thick flesh is aqueous and crisp, encasing a central cavity filled with membranes and round and flat, cream-colored seeds. Red chile peppers may have earthy, sweet, fruity, or smoky flavors, and the spice levels will vary dramatically between cultivars ranging from mild, moderate, to scorching.


Seasons/Availability

Red chile peppers are available year-round, with a peak season in the summer through fall.


Current Facts

Red chile peppers, botanically a part of the Capsicum genus, are pods classified as fruits that belong to the Solanaceae or nightshade family. There are thousands of varieties of Red chile peppers found around the world with varying shapes, sizes, flavors, and spice levels. Red chile peppers are often considered "the universal spice" as they are used in almost every cuisine. Originally from Central and South America, the history of Red chile peppers has evolved with the expansion of global trade routes and was one of the spices that revolutionized the culinary industry. Red chile peppers are the mature versions of peppers that have been harvested once the pods are fully developed, and the flavors are at their peak intensity. Each variety of Red chile pepper has varying spice levels, and depending on the amount of stress that was placed on the pods during development, each pod on a singular plant may have differing levels of intensity.


Nutritional Value

Red chile peppers are a good source of vitamins A, C, B, and E, potassium, and calcium. Some varieties of Red chile peppers also contain capsaicin, which is a chemical compound that triggers the brain to feel the sensation of heat or spice and has been shown to help stimulate the circulatory system and contain anti-inflammatory properties.


Applications

Red chile peppers are best suited for both raw or cooked applications such as sautéing, roasting, frying, simmering, stir-frying, or baking. When utilized fresh, the seeds and inner ribs should be removed to help manage the spice levels depending on the variety being used, and the peppers can then be sliced and tossed into salads, chopped for appetizer plates, or stirred into soups, stews, chilis, and casseroles. Red chile peppers are also popularly incorporated into Asian cuisine, including stir-fries, curries, or noodle dishes, and in Mexican cuisine, they are used to flavor enchiladas, dry-rubs for grilled meats, or bean dishes. For larger and sweeter varieties, Red chile peppers can be stuffed and baked, roasted as a savory side dish, or blended into pasta sauces. In addition to being used fresh in culinary applications, the peppers can be dried and ground into a spice for meats, grains, and vegetables, baked into cheesy pasta dishes, whisked into egg dishes, blended into hot sauce, or mixed into burger patties for extra heat. Red chile peppers pair well with eggs, meats such as beef, pork, poultry, lamb, and fish, other seafood, aromatics such as onions, garlic, and ginger, tomatoes, potatoes, herbs such as cilantro, basil, oregano, and thyme, and fruits such as orange, mango, and pineapple. The peppers will keep 1-2 weeks when loosely stored whole and unwashed in a plastic or paper bag in the refrigerator.


Ethnic/Cultural Info

In India, Red chile peppers are an integral part of the national cuisine, culture, and economy. There are many different varieties of Red chile peppers that are grown in India for both local and international use, providing a large source of income through exporting, and some of the world's hottest pepper varieties were first discovered growing wild in the humid, tropical jungles. Red chile peppers represent intense flavoring that has been a part of Indian cuisine for hundreds of years, and specific varieties are often considered a symbol of prestige and status. The peppers can be used in traditional dishes such as curries, dals, chutney, and a sauce-like paste made from peppers blended with white wine vinegar and salt. The sauce is primarily consumed with roti, also known as flatbread, and paratha, which is a flakier, layered, fried bread. Another traditional Indian dish is stuffed Red chile pickle, where the peppers are washed, dried, left to sit in the sun for an hour, and then split down one side and stuffed entirely with spices. In addition to cooked applications, Red chile pepper deterrents have been used in India for hundreds of years and were primarily rubbed on property fences to keep wild elephants from entering into farmland. The Indian military is also utilizing the high amount of capsaicin found in peppers for pepper sprays, pepper balls, and smoke bombs as an alternative to tear gas to help control violence.


Geography/History

Red chile peppers are native to Central and South America and have been growing wild since ancient times. The peppers were spread throughout the Americas via migrating peoples and tribes, and then in the 15th and 16th centuries, the peppers were introduced to Europe and Asia via Spanish and Portuguese explorers. Through the explorers, the peppers were transported across spice routes and rapidly grew in popularity as a culinary ingredient and ornamental home garden plant. Today Red chile peppers are available through specialty grocers, farmer's markets, and through online seed catalogs for home garden use in Asia, Europe, Australia, North America, Central America, South America, Africa, and the Caribbean.