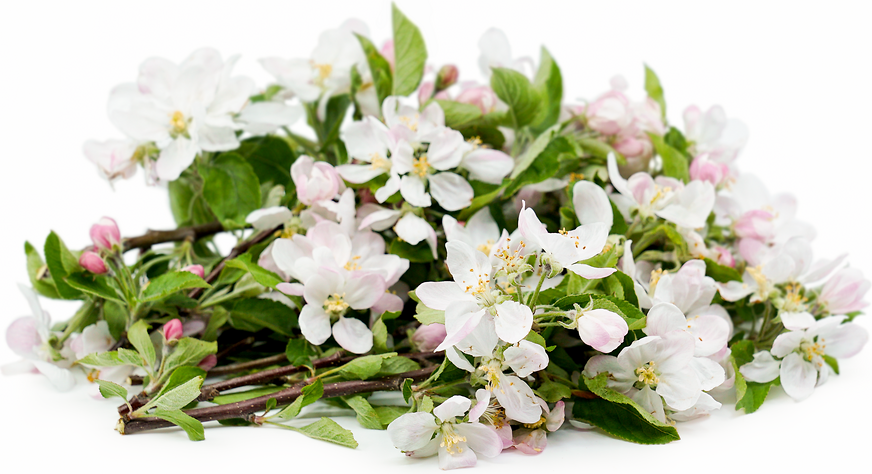 Apple Blossoms
Inventory, lb : 0
Description/Taste
Apple blossoms are small to medium-sized flowers, averaging 3 to 5 centimeters in diameter, and are comprised of five ovate petals. The petals are arranged in a single layer, surrounding long, wispy yellow stamens. Apple blossoms grow in clusters of 4 to 6 buds attached to spindly branches with small lanceolate leaves. The center bud is known as the king bloom. This bloom is the largest in the cluster, opens first, and usually grows the largest fruit. The delicate buds showcase light to bright pink hues and open into mostly white petals that can be blushed light pink. As the buds mature, their soft pink hues fade to white. Apple blossoms are highly fragrant with a sweet, floral aroma. They also have a sweet and floral flavor with a mild honeysuckle quality and smooth texture.
Seasons/Availability
Apple blossoms are available from early to mid-spring, depending on the apple variety. The season is very brief, lasting only a few weeks.
Current Facts
Apple blossoms form along the newly awakened branches of apple trees, a deciduous tree belonging to the rose family, botanically classified as Malus domestica. Apple buds appear for only ten days during spring before withering and falling away. There are over 7,500 varieties of apples grown worldwide, with more than 100 varieties grown commercially in the United States. Apple trees go dormant in the winter and, depending on the variety, require a certain number of dormancy hours with temperatures between 0 and 7 degrees celsius before blooming. These chill hours range from 400 to 1000. Based on this dormancy period, apple cultivars can be classified into four groups: early flowering, mid-season flowering, late-season flowering, and very late-season flowering. Late-season bloomers can be successfully grown in colder climates, whereas early-season bloomers are best in more temperate climates, protecting the buds from late spring frost. To fruit, apple trees need to cross-pollinate, so understanding when apple trees will bloom is vital for crop production. If trees planted near each other do not bloom during the same period, cross-pollination cannot occur, and fruit will not form. Apple blossoms form in clusters. It is common practice in apple orchards to thin some or all of the smaller flowers in these clusters to increase apple size and crop yield. These thinned blossoms can be used for various culinary applications or combined with other seasonal flowers like jasmine, rose, and lily of the valley to produce perfume. The Apple blossom is the state flower in Michigan and Arkansas, and the delicate, sweet-smelling bloom is celebrated during many festivals in the United States, Canada, and Europe.
Nutritional Value
Apple blossoms are high in antioxidants, which help protect the body's cells from damage caused by free radicals. Free radicals cause oxidative stress that has been linked to heart disease, cancer, and other diseases. Apple blossoms have been used in traditional medicines as a tonic to relieve stress. The flowers are used as a treatment for acne and to aid in digestion. Apple blossoms and leaves contain small amounts of hydrocyanic acid. This acid can release during digestion and become cyanide. However, it is important to note that apple blossoms are safe to consume in small to moderate amounts.
Applications
Apple blossoms can be utilized fresh or dried and are highly aromatic with a sweet and floral flavor, making them ideal for various culinary applications. The blooms can be placed whole on top of cakes, main dishes, or appetizers to create a stunning garnish. The petals can be separated and scattered over dishes, adding texture, flavor, and visual appeal to salads, rice and grain dishes, and different meats. The flowers can also be pressed into cheeses, bread, and cookies, layered into spring rolls, or incorporated into beverages and ice cubes as a decorative touch. Apple blossoms are an ideal garnish for confections. They can easily be added to custards, cakes, ice cream, and puddings, enhancing the flavors of recipes utilizing apples, lemons, vanilla, and warm spices like cinnamon and clove. The flowers can be dried and brewed into tea. Combine Apple blossom tea with sugar and pectin to make a delicious Apple blossom jelly. Apple flowers can be added to liqueurs, simple syrups, and vinegar to infuse a floral, sweet, and apple flavor. Apple blossoms should be harvested in the morning when they are at their peak color and the petals are firm. They should remain attached to branches and in water until they are ready to be plated to avoid wilting and browning of the petals.
Ethnic/Cultural Info
The Michigan legislature chose the Apple blossom as the state flower in 1897. The specific variety chosen was the Pyrus coroniara, a crab apple blossom native to the region. Since then, Michigan has become the third largest grower of apples in the United States, producing over one billion pounds of apples each year, grown in the Southwest corner of the state, where the rich sandy soil and cool air from Lake Michigan combine to create the ideal climate for the trees. The arrival of Apple blossoms in Michigan is celebrated with the annual Blossomtime Festival, the longest-running, multi-community festival in Michigan. As early as 1891, hundreds of visitors crossed the lake each year to tour the apple orchards, taking in the intoxicating beauty and aroma of the blossoms during the first days of spring. The first official Blossomtime Festival occurred in 1906 when Reverend W.J. Cady delivered a sermon in the orchard where he labeled the flowers as "symbols of life renewed." In 1923, the festival grew to include a floral parade promoting local business. This first precession included thirty floats, two marching bands, and a hundred automobiles. Today, the Blossomtime Festival Parade includes over 120 entries, consisting of floats decorated with ornate and showing flowers, bands, clowns, performers, and automobiles that travel over two miles through the city. The parade attracts over 200,000 spectators annually and is broadcast live to surrounding areas. The Blossomtime Festival also features a pageant where local queens compete to become Miss Spirit of Blossomtime Pageant and a charity 5K run that raises money for the foundation's scholarship program. Visitors to the festival still enjoy tours through the apple orchards and take in the sweet scent of the state's official flower.
Geography/History
The domestic apple is descended from wild apples that grew throughout the forests of Kazakhstan, east of the Caspian Sea. By 1500 BCE, birds and traders spread seeds from these wild apples through Europe and Asia. Apples were first domesticated in Ancient Greece and Rome. The Romans are responsible for bringing seeds and saplings to the British Isles. The trees thrived in England and Europe, resulting in thousands of varieties of domesticated apples. Some varieties of crab apples and wild apples are also native to North America. When colonizers arrived on the continent, they brought European apples, which eventually cross-pollinated with domestic wild apples, resulting in hundreds of new varieties. Today, the top apple-producing countries include China, the United States, and Poland. Apple Blossoms are available for a short season wherever apple trees grow. The flowers may be found at local festivals in the spring or harvested directly at the orchard and at farmers markets.
Recipe Ideas
Recipes that include Apple Blossoms. One

is easiest, three is harder.