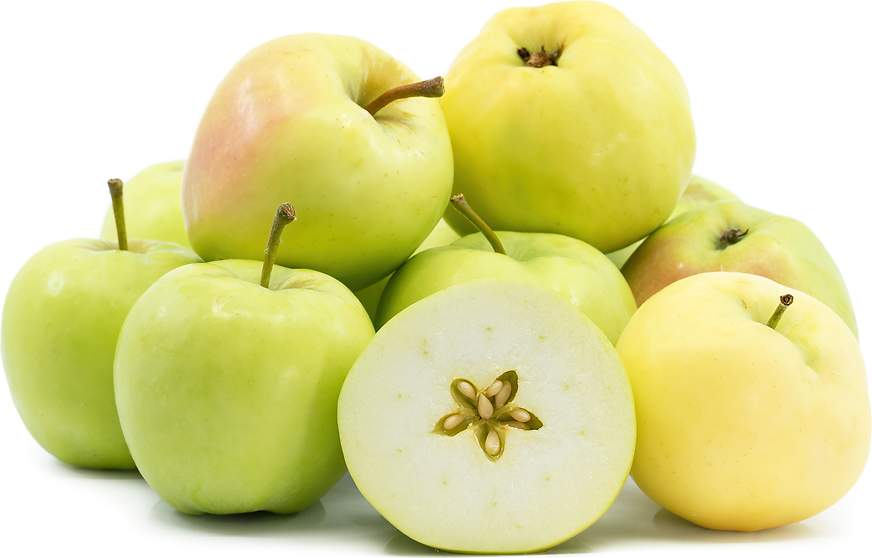 Golden Supreme Apples
Inventory, lb : 0
This item was last sold on : 08/29/23
Description/Taste

Golden Supreme apples are a medium to large varietal with a conical, oblate, to slightly flattened shape, depending on the tree and growing conditions. The variety is adorned with long, slender, and narrow dark brown-green stems, and the fruit's skin is semi-thin, taut, glossy, and smooth. The skin ripens from green to a pale golden yellow and occasionally features a faint red, orange, or pink blush. The surface is also enveloped in scattered and raised dark brown to grey lenticels and russeting in the stem cavity. Underneath the skin, the cream-colored flesh is firm, coarse, and aqueous with a tender, crisp, and crunchy consistency. The flesh also encases a central fibrous core filled with tear-drop-shaped seeds. Golden Supreme apples are consumed ripe and can be eaten fresh or cooked. Ripe Golden Supreme apples have a light, mild, and sweet taste with mellow honey, cider, and pear nuances.


Seasons/Availability

Golden Supreme apples are harvested in the late summer through fall. The variety can be kept for extended periods in professional cold storage, but it is recommended to consume the apples by late winter for the best quality and flavor.


Current Facts

Golden Supreme apples, botanically classified as Malus domestica, are an American variety belonging to the Rosaceae family. The early-season apples grow on deciduous trees and were discovered as chance seedlings, selected for commercial cultivation for their yellow hue. Golden Supreme apples mature approximately two weeks before Golden Delicious apples, providing a yellow fruit in early apple markets to meet consumer demand. The variety is also favored for its all-purpose nature, able to be utilized fresh or cooked for its mild, sweet, and mellow character. In some markets, Golden Supreme apples can be labeled Early Golden or Mullins Yellow Seedling, but caution should be taken with Mullins Yellow or Mullins Gold seedling monikers, as this is also a name for Golden Delicious. In the modern day, Golden Supreme apples are still grown by some American farmers, but the variety is a lesser-known specialty cultivar harvested in small quantities as a seasonal apple for fresh and cooked culinary preparations.


Nutritional Value

Golden Supreme apples are a source of potassium to balance fluid levels within the body, fiber to regulate the digestive tract, and vitamin C to boost the immune system while reducing inflammation. The apples also provide small amounts of copper to develop connective tissues, magnesium to control optimal nerve functioning, and other nutrients, including iron, vitamin K, vitamin E, calcium, phosphorus, vitamin A, and zinc.


Applications

Golden Supreme apples have a sweet taste suited for fresh and cooked preparations. The variety is primarily consumed straight out of hand and is enjoyed for its tender, crisp consistency. Golden Supreme apples oxidize slowly once sliced, allowing them to be tossed into salads, sliced for sandwiches, shredded into slaws, or added to crostini. Golden Supreme apples can also be chopped fresh over grain bowls, used as a topping over breakfast dishes, or sliced and served on cheese plates. In the United States, Golden Supreme apples are known for their use in ciders. Cidermakers believe the variety's sugar content helps to balance acidic and sharp flavors in ciders and adds a faint honey-like quality. In addition to fresh preparations, Golden Supreme apples can be baked into pies, crisps, muffins, cakes, turnovers, and dumplings. The apples are also simmered into jams, jellies, and other preserves or cooked into apple sauce as a side dish. For more unusual dishes, try drying apples and chopping them into bowls, bars, and granola or adding the chewy pieces to stuffing. Golden Supreme apples pair well with cheeses such as brie, camembert, and gruyere, nuts including pecans, hazelnuts, almonds, and walnuts, vanilla, chocolate, maple syrup, honey, and brown sugar. Whole, unwashed Golden Supreme apples will keep for several weeks when stored in a cool, dry, or dark place. The apples will last for three to six months in professional cold storage.


Ethnic/Cultural Info

In the 20th century, Golden Supreme apples were customarily dried in the United States for culinary preparations throughout the winter. Drying fruits is one of the oldest methods worldwide of preserving food, and families in the Southeastern United States would dry apples into rings and slices to use up excess apple crops. Golden Supreme apples were favored for their concentrated sweet taste when dried, and the preserved pieces could be eaten as is or rehydrated for use in desserts and baked goods. Historically, apples were peeled, sliced, and hung in the air or placed on ventilated wire racks to promote air circulation to dehydrate the fruits. It took several days for the sun to remove moisture from the apples, and the dried fruits were light and compact, making them easy to store. Dried apples were also an important source of income, as families would sell dehydrated goods in local markets. Some dried apples were even shipped from the United States to Europe as a valuable culinary ingredient. Dried apples were mostly made using tarter varieties, but Golden Supreme was a rare, luxury variety dehydrated to preserve fall crops. One of the most popular uses of dried apples was rehydrating the fruits to make apple pies.


Geography/History

Golden Supreme apples are native to the United States and were discovered in the late 19th to early 20th centuries. The exact origins of Golden Supreme apples are unknown, but there are two leading theories as to its history. The first theory connects the variety to an orchard in Clay County, West Virginia, in 1890. It is thought Golden Supreme was discovered a year before Golden Delicious on J.M. Mullin's family farm. Both cultivars were said to have arisen as chance seedlings and were selected by the Mullins family for their yellow coloring and sweet taste. This theory explains why Mullins Yellow Seedling is another name used for both Golden Supreme and Golden Delicious apples. The second theory points to the variety being discovered as a chance seedling on a farm in Idaho in 1960. Regardless of the apple's true origins, Golden Supreme apples were a commercially grown variety in the United States in the 20th century. Over time, the variety was replaced by Golden Delicious and became a cultivar localized to specialty growers and select home gardens. Today, Golden Supreme apples are seasonally available in farmer's markets, direct through growers, and distributors in the United States.