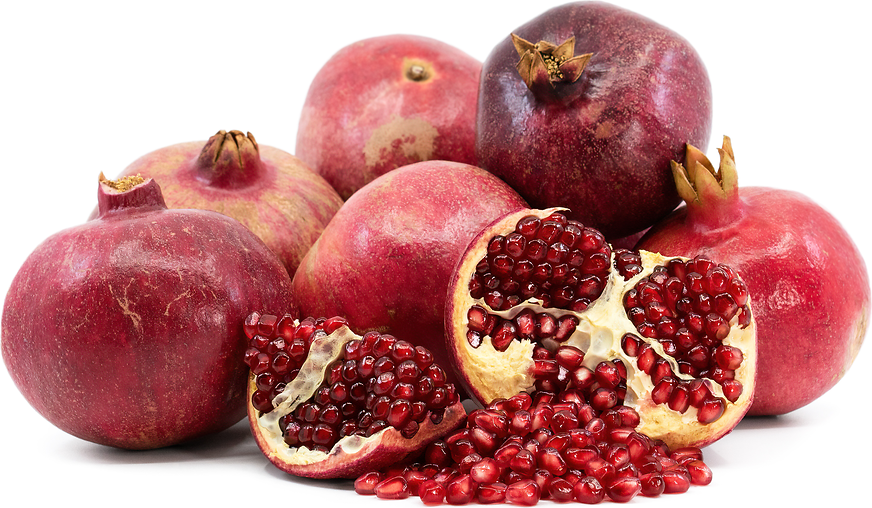 Pomegranates
Inventory, 25 lbs : 50.15
This item was last sold on : 12/04/23
Description/Taste
Pomegranates are small to medium-sized fruits, averaging 6 to 13 centimeters in diameter, and have a round, block-like appearance with faintly squared shoulders and a multi-pointed calyx at the top of the fruit. The skin, also known as the exocarp, is firm, leathery, tough, thick, and shiny, ranging in color from dark red, white, yellow, pink to dark purple, almost black. Underneath the surface, thick, spongy, and fibrous white membranes, or the mesocarp, encase many small, tightly compacted seeds into multiple chambers. Each seed is generally red or white, angular, and hard or soft, contributing a crunchy consistency, and is enveloped in a translucent, fleshy coating known as the aril. The translucent aril is lightly pigmented with a red, white, or pale pink hue, depending on the variety, and contains flavorful juice. Pomegranates should feel heavy for their size, and the surface can be easily scratched when ripe. The seeds and arils are the only portions of the fruit consumed, contributing a sweet-tart taste with tangy, fruity, and mildly acidic notes combined with rhubarb, cranberry, grape, and red currant nuances.
Seasons/Availability
Pomegranates are available in late fall through winter.
Current Facts
Pomegranates, botanically classified as Punica granatum, are ancient, sweet-tart fruits belonging to the Lythraceae family. The name Pomegranate is derived from the Latin words "pomum granatum," meaning "apple with many seeds," and is a descriptor used to showcase the fruit's unique edible seeds. Pomegranates grow on small trees or shrubs ranging from 6 to 10 meters in height, and there are over 500 different cultivars grown worldwide. Red Pomegranates are the most recognized and commercially cultivated types, but Pomegranates can also be found in pink, white, yellow, and purple hues. Throughout history, Pomegranates have been used as a nutritious food and hydration source and are deeply intertwined into the cultural practices of many civilizations, seen as a symbol of life, fertility, sanctity, and vitality. In the modern-day, the seeds are consumed worldwide in both fresh and cooked preparations, favored for their sweet and tangy flavor and pigmented juice. Each Pomegranate can contain anywhere from 200 to 1,400 seeds.
Nutritional Value
Pomegranates are an excellent source of vitamin K to assist in faster wound healing, vitamin C to strengthen the immune system, fiber to regulate the digestive tract, and folate to develop red blood cells. The fruits also contain potassium to balance fluid levels within the body, manganese to maintain a healthy nervous system, and antioxidants, including punicalagin, that protect the cells against free radical damage and reduce inflammation.
Applications
Pomegranate seeds are entirely edible, well suited for both fresh and cooked preparations. The seeds can be extracted from the fibrous rind by slicing and breaking the fruit into 4 to 5 pieces. Once broken, the pieces can be submerged in water, separating the seeds from the bitter membranes, or the seeds can be collected by hand over a bowl. It is important to note that the pigmented juice will stain clothing, hands, and some countertop surfaces. Pomegranate seeds can be consumed straight, out of hand, or the seeds can be tossed into salads, sprinkled over grain bowls, stirred into yogurt, or used as an edible garnish over soups, roasted meats, and desserts. The seeds can also be blended into smoothies, pureed into salsa, dips, and relishes, or pressed into fresh juice. In addition to consuming the juice straight, Pomegranate juice can be used to flavor sauces for roasted meats, salad dressings, or desserts such as cheesecake, parfaits, tarts, crisps, mousses, and brownies. The juice can also be simmered into jelly or stirred into cocktails, sangria, sparkling beverages, and juice blends. Grenadine syrup is often flavored with Pomegranate juice, and the liquid is sometimes reduced to make Pomegranate vinegar or Pomegranate molasses. Pomegranate seeds pair well with nuts such as walnuts, hazelnuts, almonds, and cashews, meats including lamb, pork, and poultry, spices such as cardamom, ginger, cinnamon, and clove, parsley, fruits including apples, pears, grapefruits, oranges, coconuts, and lemons, dark chocolate, and feta cheese. Whole Pomegranates can be kept at room temperature for a couple of days, or they can be stored in a plastic bag in the refrigerator for 1 to 3 months. Once opened, the seeds should be stored in a sealed container for 3 to 5 days. The fruits can also be frozen for extended use.
Ethnic/Cultural Info
Pomegranates are one of the seven species mentioned by Moses in the Land of Israel. The story was recorded in the book of Deuteronomy and recounted Moses speaking to the Israelites stating that the seven species are meant to be a reminder of God's faithfulness and the coming redemption. The seven species include Pomegranates, figs, barley, wheat, vines, honey, and olive trees. These species are important as they traditionally fruit or flower around Shavuot and Passover, a period believed by the Jewish community to represent opposing forces and seasons, creating a time for giving thanks. Pomegranates were also used as a visually artistic representation of faithfulness and abundance, stamped on ancient Jewish coins, chiseled onto temple walls, and woven into the patterns on high priest's robes. In the modern-day, Pomegranates are used as table decorations during Jewish holidays as a symbolic reminder and to act as an attractive, colorful display.
Geography/History
Pomegranates are believed by experts to be native to a region extending across present-day Iran into Northern India and have been in existence since around 4000 BCE. The fruits were brought to the Mediterranean, Northern Africa, and China in ancient times through trade routes, where they were cultivated for commercial and culinary use. Pomegranates were also widely consumed and recorded in Ancient Greek and Roman texts. The fruits were later brought to Indonesia in the early 15th century and were introduced into the New World in the 17th and 18th centuries through Spanish explorers. In 1769, settlers carried Pomegranate seeds to California, and the seeds were planted at the Spanish missions along the coast. Today Pomegranates are grown worldwide in mild temperate to tropical climates, with concentrated production in the Middle East, the Caucasus regions, Central Asia, the Mediterranean, and Northern Africa. Pomegranates are also cultivated in the United States, the Bahamas, Central and South America, and Australia. When in season, the fruits can be found through local markets, distributors, and supermarkets.
Featured Restaurants
Restaurants currently purchasing this product as an ingredient for their menu.
the other 59...
| | | |
| --- | --- | --- |
| Park Commons - ARE | San Diego CA | 619-295-3172 |
| Cal A Vie | Vista CA | 760-945-2055 |
| Claire's on Cedros - SKSB | Solana Beach CA | 858-259-8597 |
| West Brew | Del Mar CA | 858-412-4364 |
| Toast Catering | San Diego CA | 858-208-9422 |
| Tribute Pizza | San Diego CA | 858-220-0030 |
| Catania La Jolla | La Jolla CA | 858-551-5105 |
| Bridges at Rancho Santa Fe | Rancho Santa Fe CA | 858-759-6063 |
| Il Sogno Italiano | San Diego CA | 619-380-2652 |
| Deeply Nourished | San Diego CA | 808-489-7366 |
| SB Kitchen | Solana Beach CA | 610-717-7217 |
| Izakaya Maize/Rabih Sus | La Mesa CA | 619-395-6383 |
| Rancho Valencia | Del Mar CA | 858-756-1123 |
| The Flavor Chef (Catering) | Vista CA | 619-295-3172 |
| Pacifica Del Mar | Del Mar CA | 858-792-0505 |
| Viejas Casino Grove Steakhouse | Alpine CA | 800-295-3172 |
| C 2 C | San Diego CA | 619-972-9345 |
| Seasoned Catering and Events | San Diego CA | 619-246-4909 |
| Carte Hotel | San Diego CA | 619-365-1858 |
| Shorehouse Kitchen Carlsbad | Carlsbad CA | 858-663-9916 |
| The Plot | Oceanside CA | 422-266-8200 |
| US Grant Hotel Main | San Diego CA | 619-232-3121 |
| Relic Bageri LLC | San Diego CA | 619-335-6328 |
| Copper Kings | San Marcos CA | 323-810-1662 |
| Coco Maya by Miss Bs | San Diego CA | 858-245-3780 |
| Harvest Kitchen | Vista CA | 619-709-0938 |
| San Diego Yacht Club | San Diego CA | 619-758-6334 |
| University Club | San Diego CA | 619-234-5200 |
| Sheldons Service Station | La Mesa CA | 619-741-8577 |
| Great Maple Hillcrest | San Diego CA | 619-255-2282 |
| KI's | Encinitas CA | 760-586-8289 |
| Urban Kitchen Catering | San Diego CA | 619-276-8803 |
| Craft House Fashion Valley | San Diego CA | 619-948-4458 |
| Mister A's | San Diego CA | 619-239-1377 |
| Vista Valley | Vista CA | 760-758-2800 |
| Park & Rec | San Diego CA | 619-717-3925 |
| Cove House | La Jolla CA | 858-999-0034 |
| Solare Ristorante Lounge | San Diego CA | 619-270-9670 |
| Secret Sister | San Diego CA | 619-281-0718 |
| The Compass | Carlsbad CA | 760-434-1900 |
| US Grant Hotel Grill | San Diego CA | 619-232-3121 |
| Barbarella La Jolla | La Jolla CA | 858-454-7373 |
| Monarch | Del Mar CA | 619-308-6500 |
| The Bier Garden | Encinitas CA | 760-632-2437 |
| Chef Drew Mc Partlin | San Diego CA | 619-990-9201 |
| Alila Marea Beach Resort | Encinitas CA | 805-539-9719 |
| Claytons Bakery & Bistro | Coronado CA | 619-435-5425 |
| The Farm Golf Club | Rancho Santa Fe CA | 858-756-5585 |
| Hive Sushi Lounge | San Diego CA | 619-218-4000 |
| Carte Hotel (Bar) | San Diego CA | 619-365-1858 |
| Shorehouse Kitchen | La Jolla CA | 858-459-3300 |
| The Go Go Truck | San Diego CA | 401-837-1740 |
| Bekker's Catering | San Diego CA | 619-287-9027 |
| Heavy Hitter Gastroshack | San Diego CA | 619-865-1468 |
| Il Giardino di Lilli | La Jolla CA | 619-467-9897 |
| Kettner Exchange | San Diego CA | 909-915-9877 |
| Herb & Sea | Encinitas CA | 858-587-6601 |
| Georges at the Cove | San Diego CA | 858-454-4244 |
| The Guild Kitchen | San Diego CA | 619-573-0289 |
Recipe Ideas
Recipes that include Pomegranates. One

is easiest, three is harder.
the other 43...
| | | |
| --- | --- | --- |
| The Cookie Rookie | | Pomegranate Champagne Sorbet |
| A Few Shortcuts | | Pomegranate Orange Scones |
| Use Real Butter | | Pomegranate Chocolate Dessert |
| A Spicy Perspective | | Pomegranate Crusted Cheese Ball |
| Joy of Kosher | | Roasted Eggplant with Tahini & Pomegranate |
| Mother Thyme | | Pomegranate Walnut Brie Crostini |
| Kitchen Sanctuary | | Ricotta Oat Pancakes with Creamy Lemon Sauce |
| Art From My Table | | Chia Breakfast Pudding |
| Julia's Album | | Balsamic Braised, Caramelized Shallots with Pomegranate Seeds |
| Cooking Classy | | Winter Fruit Salad with Lemon Poppy Seed Dressing |
| The Busy Baker | | Pomegranate Granola Parfaits |
| Mother Thyme | | Pomegranate and Goat Cheese Rice Balls |
| 101 Cookbooks | | Bulgur, Celery and Pomegranate Salad |
| Treat a Week | | Pomegranate Couscous |
| Boys Ahoy | | Winter Pomegranate Citrus Smoothie |
| The Merry Gourmet | | Pomegranate Gelato |
| Food Faith Fitness | | Stuffed Chicken Breast with Goat Cheese, Pomegranates and Balsamic Reduction |
| A Cookie Named Desire | | Pomegranate Curd |
| Cooking Classy | | Pear, Pomegranate and Spinach Salad |
| Minimalist Baker | | Easy Vegan Breakfast Tacos |
| Honest &Tasty | | Salted Pomegranate Chocolate Fudge |
| Zen and Spice | | Smoked Cheddar and Pomegranate Beer Dip |
| Kevin is Cooking | | Jordanian Roasted Chicken with Pomegranate Molasses |
| Six Sisters Stuff | | Pomegranate Salsa |
| With Food and Love | | Pomegranate Brownies with Cacao Nibs + Sea Salt |
| Not Enough Cinnamon | | Warm Quinoa, Sweet Potato And Kale Salad |
| Hungry Foodies Pharmacy | | Homemade Pomegranate Jelly |
| Creme de la Crumb | | Mango Pomegranate Guacamole |
| Sprinkles and Sprouts | | Pear and Pomegranate Panna Cotta |
| My New Roots | | Poppy Seed-Crusted Butternut Squash with Kale and Pomegranates |
| Iowa Girl Eats | | Honey, Pomegranate, Pecan Chicken Salad Lettuce Wraps |
| Cafe Fernando | | Pomegranate Jam |
| Mostly Foodstuffs | | Mizuna, Melon and Pomegranate Salad |
| Closet Cooking | | Maple Roasted Carrots in Tahini Sauce with Pomegranate and Pistachios |
| Not Enough Cinnamon | | Pomegranate Hummus |
| Emily Bites | | Pomegranate and Pistachio Frozen Yogurt Bark |
| Cooking Books | | Eggplant with Pomegranate Sauce |
| Viet World Kitchen | | Jackfruit, Toddy Palm Seed, Pomegranate and Coconut Sweet Soup |
| Our Salty Kitchen | | Pomegranate Chicken |
| Giraffes Can Bake | | Clementine and Pomegranate Muffins |
| Food For My Family | | Sautéed Bacon and Blue Brussels Sprouts with Pomegranate |
| Oh My Veggies | | Roasted Sweet Potato, Pomegranate, and Massaged Kale Salad |
| Healthy Seasonal Recipes | | Easy Holiday Slaw with Apples and Pomegranate |