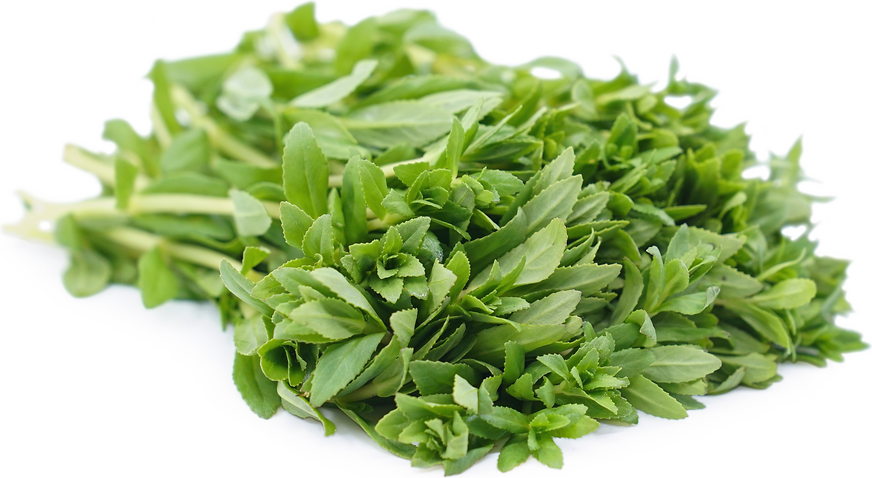 Rice Paddy Herb (Ngo Om)
Inventory, bunch : 0
Description/Taste

Ngo Om is a branching herb comprised of straight, hollow stems and elongated lanceolate to elliptical leaves that grow in an opposite formation around the cylindrical stems. The leaves are slender, tapering to a point, and average 2 to 6 centimeters in length and .5 to 1 centimeter in width. The grey-green leaves are also smooth to the touch, thin, and pliable with finely serrated edges. The stems are thick in appearance but have a hollow center, creating a smooth, crisp, and watery texture. The pale green stems also have a light, succulent, and spongy consistency, lightly coated in fine hairs. Ngo Om emits a refreshing, citrus, and herbal aroma and the stems and leaves have a vegetal, citrusy, and earthy, spice-filled flavor. Some consumers recognize the leaves as having a bright and acidic quality, filled with undertones of sweet cumin and curry flavor mixed with notes of lemon and dill. In addition to the leaves and stems, Ngo Om seasonally produces tubular flowers that showcase pale pink, purple, to light blue hues.


Seasons/Availability

Ngo Om is available year-round in Southeast Asia.


Current Facts

Ngo Om, botanically classified as Limnophila aromatica, is a tropical, perennial plant belonging to the Plantaginaceae or plantain family. The flowering herb typically reaches 30 to 70 centimeters in height and is native to Southeast Asia, where it grows primarily in semi-aquatic regions, specifically rice fields. Ngo Om has an aggressive and prolific nature, sometimes taking over entire rice paddy fields, but the tender greens are entirely edible and emit a refreshing, bright, and zesty flavor. Communities within Southeast Asia have harvested Ngo Om for thousands of years as a food source and natural medicine. Ngo Om is also known as the Rice Paddy Herb in English, Phak Kayang in Thai, Shiso-kusa in Japanese, Zi Su Cao in Chinese, and Rau Om or Ba Om as variations of Ngo Om in Vietnamese. The herb's botanical genus, Limonphila, is also Greek for "pool loving," describing the plant's native growing region in swamps. There are 36 species of Limnophila aromatica found wild in the waters of Southeast Asia, and Ngo Om is traditionally harvested and utilized as a fresh finishing herb in soups, curries, and stir-fries.


Nutritional Value

Ngo Om is a source of vitamins A and C to boost the immune system, reduce inflammation, and promote collagen growth in the skin. The herb also provides calcium and phosphorus to strengthen bones and teeth, iron to develop the protein hemoglobin for oxygen transport through the bloodstream, and the essential oil limonene, which gives the greens their citrusy flavor. In Southeast Asia, Ngo Om is traditionally incorporated as a medicinal herb in natural medicines. The leaves are used in herbal infusions, steeped in hot water and consumed to reduce fevers and sore throats, or made into a paste and used topically over wounds and skin irritations. The leaves are also crushed and inhaled as a calming scent believed to reduce stress.


Applications

Ngo Om has a bright, complex flavoring mainly used as a fresh finishing element on savory main dishes. The leaves should be washed and gently torn, chopped, or crushed to release their flavor, and they can be sprinkled into salads, minced into dips and marinades, or used as an edible garnish for roasted meats, light sauces, or grain dishes. In Southeast Asia, Ngo Om is frequently used in Vietnamese cuisine and Cambodian and Thai cuisine on a smaller scale. The leaves are traditionally served fresh in the center of the dinner table, along with other herbs and raw vegetables. These accompaniments are added to curries, stews, and soups such as pho, and each guest can determine how much of each herb is incorporated into their dish for custom flavor combinations. Ngo Om can also be sauteed or steamed as a simple side dish or the stems can be roughly chopped and added to stir-fries. While more untraditional, some mixologists in Southeast Asia have begun muddling Ngo Om into a refreshing cocktail to modernize the herb. In Cambodia, Ngo Om is placed on the roof of houses and dehydrated for extended use as a dried herb. Ngo Om pairs well with meats including poultry, beef, pork, and fish, other herbs such as lemongrass, basil, and mint, steamed rice, lemon, lime, bell peppers, peas, broccoli, water spinach, carrots, and peanuts. Whole, unwashed Ngo Om is highly perishable and will only keep for a few days in the refrigerator when loosely wrapped in plastic or a damp paper towel. The herb should be used immediately for the best quality and flavor.


Ethnic/Cultural Info

Ngo Om is most famous for its use as a fresh ingredient in the Vietnamese soup known as canh chua ca. This dish was developed in the south of Vietnam and is a comforting, sweet and sour fish soup. Canh chua ca is often prepared as a weekly meal, served with white rice, steamed vegetables, or warm French bread, and is traditionally made with catfish or mudfish. The soup also encompasses cooked ingredients, including okra, bean sprouts, tamarind, tomatoes, taro stems, and pineapple pieces, but the prized ingredient of the dish is Ngo Om. The herb is savored for its distinct aroma and flavor, and many Vietnamese believe the dish is incomplete without the coarsely chopped leaves sprinkled over the soup. There is also a similar soup in Cambodia known as samlor machu trey that incorporates Ngo Om, but this dish is spicier and has a slightly sour flavor.


Geography/History

Ngo Om is native to tropical and subtropical regions of Southeast Asia and has been growing wild since ancient times. The plants have an affinity for humid, warm temperatures and are primarily found in moist soil, swamplands, and areas with still water, such as rice paddy fields. Over time, Ngo Om was introduced into Northern Australia and was also brought to North America in the 1970s by Vietnamese refugees from the Vietnam War. Today Ngo Om is cultivated and found growing wild in India, China, Vietnam, Thailand, Sri Lanka, and Cambodia, and the plants are grown in specialized conditions in Japan, Australia, Europe, and the United States for sale at Asian markets and distributors.