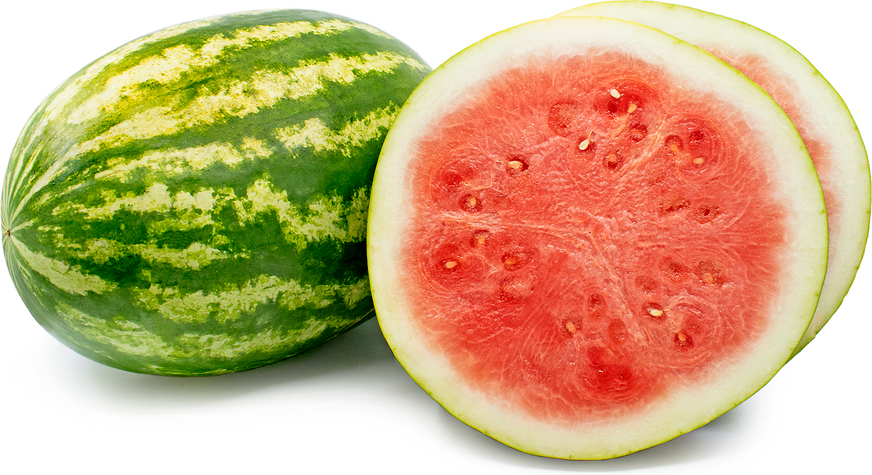 Seedless Watermelon
Inventory, Bin : 74.32
This item was last sold on : 11/27/23
Description/Taste
Seedless Watermelons are generally smaller in size compared to seeded cultivars, averaging 8 to 12 pounds, and have a round to slightly oval shape. The rind is thick, smooth, hard, and waxy, showcasing solid light to dark green hues or a base green coloring with darker green, broken, and mottled stripes. Underneath the surface, the flesh has a soft, granular, crisp, and aqueous consistency, ranging in color from pink, red, orange, to yellow. Seedless Watermelons were bred not to contain fully developed, black-brown seeds, but there may be translucent to white, hollow shells throughout the flesh. These soft shells are underdeveloped seed casings and are completely edible with a pliable and lightly chewy consistency. Seedless Watermelons are typically sweet with moderate sugar content, contributing to the flesh's mild, sweet, and subtly fruity, earthy flavor. Ripe Seedless Watermelons should feel firm and heavy for their size and display a yellow spot on the rind where they sat in the field.
Seasons/Availability
Seedless Watermelons are grown in the Southern and Northern Hemispheres, providing year-round availability, with a peak season in the summer.
Current Facts
Seedless Watermelons, botanically classified as Citrullus lanatus, are hybrid watermelons belonging to the Cucurbitaceae family. Watermelons are ancient fruits, having been cultivated for thousands of years, but Seedless Watermelons are a relatively new creation, developed by breeders to meet market demand in the mid 20th century. There are many different varieties of Seedless Watermelons cultivated worldwide, and like the seeded cultivars, there can be red, pink, orange, and yellow-fleshed seedless types. Despite some controversy, Seedless Watermelons are not genetically modified and were created from crossing watermelon cultivars with varying sets of chromosomes. The United States Department of Agriculture, or USDA, has officially determined that all commercially available Seedless Watermelons are not genetically modified, and the varieties are simply sterile hybrids. Seedless Watermelons account for over 90% of the cultivated watermelons found in markets today, and the varieties have been bred since their introduction in the mid 20th century to showcase improved flavor and texture, rivaling many popular seeded cultivars. It is important to note that the taste of seeded and seedless watermelons is primarily determined by the soil and climate in which the fruit is grown, not by the seed content. Consumers value Seedless Watermelons for their crisp, juicy, and sweet flesh, and the seedless varieties can be used interchangeably with seeded watermelons in fresh and lightly cooked culinary preparations.
Nutritional Value
Seedless Watermelons are a source of vitamin C to strengthen the immune system, fiber to regulate the digestive tract, and potassium to balance fluid levels within the body. The watermelons also contain lycopene, a pigmented nutrient that provides antioxidants to reduce inflammation and protect the cells against free radical damage, vitamin A to maintain healthy organ functioning, and are over 90% water, consumed as a supplementary source of hydration.
Applications
Seedless Watermelons can be used in recipes calling for seeded watermelon. The entire fruit is edible, including the rind and flesh, and the flesh can be cubed, balled, sliced into wedges, blended, or pureed. Seedless Watermelons can be consumed fresh, out of hand, sprinkled with salt or lime zest to enhance the flavor, or it can be sliced into wedges on appetizer platters, drizzled with balsamic, or topped with herbs and cheeses. The flesh can also be tossed into green salads and fruit bowls, blended into smoothies, cocktails, and juices, or chopped into salsa. Seedless Watermelons can be pureed and frozen into popsicles, granitas, ice cream, and sorbet, layered into caprese, or wrapped in salty meats such as prosciutto. In addition to fresh preparations, Seedless Watermelons can be lightly grilled, roasted, pan-fried, smoked, or baked, creating a soft, tender texture similar to raw fish. The flesh can also be dipped in chocolate and fried or incorporated into baked goods. Beyond the flesh, Seedless Watermelon rinds can be grated into coleslaws, pickled, or stir-fried and have a mild, vegetal flavor reminiscent of cucumber. Seedless Watermelons pair well with herbs such as mint, basil, cilantro, and thyme, cheeses including gouda, feta, mozzarella, goat, and blue, meats such as steak, poultry, and fish, cucumber, spinach, and fruits including kiwi, blueberries, strawberries, and raspberries. Seedless Watermelons last approximately 3 to 4 weeks after harvest. It is important to keep Seedless Watermelons cold if they are chilled when purchased. If the fruits are bought at room temperature, they can be left on the counter. Once sliced, Seedless Watermelon pieces should be stored in the refrigerator in a sealed container, where they will keep for 2 to 3 days. Seedless Watermelons can also be cut into smaller pieces, discarding the rind, and frozen for extended use.
Ethnic/Cultural Info
Seedless Watermelons are one of the most consumed fruits in the United States, and there is even a National Watermelon Production Board, NWPB, that solely exists to increase consumer demand. The board was established in 1989 and is considered a non-profit organization representing over 800 watermelon distributors, importers, growers, and shippers. The NWPB also works with educators to promote continued learning surrounding watermelon cultivation, research, and marketing. Seedless Watermelons are regarded as a relatively new type of watermelon, but the dense fruits have become the favored watermelon of choice among consumers, leading American farmers and importers to supply commercial markets with the fruits year-round. Within the United States, watermelons are extensively produced in California and are cultivated in hot, dry regions of the Central and Imperial Valleys. Watermelons are also grown on a smaller scale in the San Fernando Valley, where the fruits have become famous from the California Watermelon Festival, a celebration that has been held for almost sixty years. The festival features all-you-can-eat watermelon of various varieties, and approximately 50,000 pounds of fruit is consumed at the event each year. The California Watermelon Festival also celebrates the versatility of the watermelon through local vendors selling homemade watermelon home goods, candied watermelon "bacon," salsas, slaws, dips, fresh salads, and smoked watermelon "hams." In addition to the festival's unique culinary experiences, the event hosts traditional contests, including a watermelon costume competition, watermelon skiing, watermelon carving contests, and the record-breaking performance of the most watermelons smashed by a human punch in one minute.
Geography/History
Seedless Watermelons were developed as a self-sterile hybrid in the mid 20th century from common seeded varieties. Seeded watermelons are descendants of wild watermelons native to the deserts and savannahs of Southern Africa and have been growing wild since ancient times. As seeded watermelons spread in popularity worldwide and cultivation increased over time, scientists began examining the fruit's genetic makeup to create improved cultivars. At Kyoto University in Japan in 1939, Professor H. Kihara used a natural chemical known as colchicine to double the number of chromosomes found within a watermelon. Colchicine is extracted from a crocus flower and was once used by Ancient Egyptians as a medicinal ingredient. By doubling the chromosomes, Kihara created a new watermelon cultivar that was crossed with a common variety to produce a watermelon absent of mature black-brown seeds. This genetic breakthrough was released to scientists worldwide, and commercial seedless varieties began appearing in markets approximately twelve years later. Despite their quick release, Seedless Watermelons did not become popular until the late 20th century, as many of the original varieties contained a bland flavor. Through continued breeding, Seedless Watermelons have been developed to rival seeded watermelons in taste and texture, and the majority of varieties sold in commercial markets are seedless in the modern-day. Seedless Watermelons are produced worldwide and can be found through supermarkets, grocers, distributors, and farmer's markets.
Featured Restaurants
Restaurants currently purchasing this product as an ingredient for their menu.
| | | |
| --- | --- | --- |
| Madi | San Diego CA | 320-491-1217 |
| Marriott Courtyard - Broadway | San Diego CA | 619-446-3008 |
| The Spot 2021 | La Jolla CA | 958-459-0800 |
| Black Raill Kitchen + Bar | Carlsbad CA | 619-454-9182 |
| California Center for the Arts | Escondido CA | 760-839-4107 |
| Rustic Root | San Diego CA | 619-232-1747 |
| Coast Catering | Escondido CA | 619-295-3173 |
| InterContinental San Diego | San Diego CA | 619-501-9400 |
| Q&A Oyster Bar & Restaurant | Oceanside CA | 858-245-3780 |
| KI's | Encinitas CA | 760-586-8289 |
| Craft House Sky Deck | San Diego CA | 619-948-4458 |
| Green Acres Campus Bar | San Diego CA | 858-450-9907 |
| Tahona (Bar) | San Diego CA | 619-573-0289 |
| Coco Maya by Miss Bs | San Diego CA | 858-245-3780 |
| Crust Pizzeria Carlsbad 2019 | Carlsbad CA | 760-944-1111 |
| Portside Pier (Miguels) | San Diego CA | 858-268-1030 |
| Humphrey's | San Diego CA | 619-224-3577 |
| The Flower Pot Cafe and Bakery | La Jolla CA | 858-454-5453 |
| Giuseppe Restaurants & Fine Catering | San Diego CA | 619-436-7006 |
| Cody's La Jolla | La Jolla CA | 858-459-0040 |
the other 152...
Recipe Ideas
Recipes that include Seedless Watermelon. One

is easiest, three is harder.
the other 69...