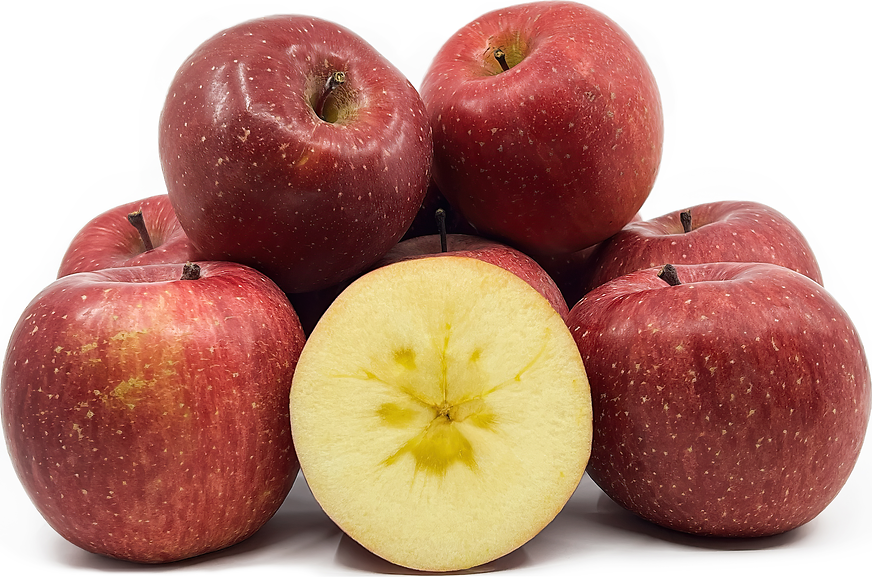 Sun Fuji Apples
Inventory, lb : 0
Description/Taste
Sun Fuji apples are a medium to large varietal, averaging 6 to 8 centimeters in diameter and 300 to 400 grams in weight, and have a round to oblate appearance with flat shoulders and a slightly slanted base. The apple's semi-thick skin is smooth, lightly textured, and taut with a golden yellow coloring, almost entirely covered in a dark red to crimson blush. The blush is generally solid with some striping and mottling, and there are also pale lenticels scattered across the surface. Underneath the skin, the yellow to ivory flesh is fine-grained, dense, and aqueous with a crisp, delicate consistency. The flesh also encases a small central core filled with black-brown seeds, often surrounded by marbled liquid-filled pockets. Sun Fuji apples release a faint, fruity aroma and have high sugar mixed with low acidity, creating a concentrated, sweet taste with a subtle floral, tangy complexity.
Seasons/Availability
Sun Fuji apples are available in the fall through mid-winter.
Current Facts
Sun Fuji apples, botanically classified as Malus domestica, are a specialty variety belonging to the Rosaceae family. The late-season apple is a type of Fuji apple developed under specific conditions in Japan to produce a sweeter variation of the classic Fuji. Traditionally, Fuji apples are individually wrapped in bags on the trees during cultivation to ensure the fruits have a pleasant color, mild flavor, and smooth surface texture. Sun Fuji apples are fruits grown without being placed in bags, allowing the fruits to absorb ample amounts of sunlight. It is important to note that genetically, Fuji and Sun Fuji apples are the same, but the cultivation process gives the apples their distinct nature. Fuji apples will also have a slightly longer shelf life than Sun Fujis due to Sun Fuji's being sold when they are at peak maturity. Unbagged Sun Fuji apples allow the sun to shine on the fruits for extended periods, developing a darker coloring, a sweeter flavor, and a richer flavor. Some growers even prune the leaves around the fruit to provide the apples with the maximum amount of sunshine. Sun Fujis are also known as San Fuji apples, Bagless Fuji apples, and Honeycore Fuji apples and are grown throughout apple-producing regions in Japan as a rare, specialty variety.
Nutritional Value
Sun Fuji apples are an excellent source of vitamin C to strengthen the immune system while reducing inflammation, fiber to regulate the digestive tract, and potassium to balance fluid levels within the body. The apples also provide vitamin A to maintain healthy organ functioning, antioxidants to protect the cells against free radical damage, and other nutrients, including folate, boron, zinc, copper, phosphorus, calcium, magnesium, vitamin E, and manganese.
Applications
Sun Fuji apples have a mild, sweet, and subtly floral flavor suited for raw and cooked preparations. The variety is popularly consumed straight out of hand as a dessert cultivar and is famous for its concentrated sweet taste. Sun Fuji apples can also be sliced and served on appetizer platters with cheeses, chopped into salads, shredded into slaws, or used as a fresh topping in granola, parfaits, puddings, and other breakfast dishes. Try slicing Sun Fuji apples and dipping them in caramel, chocolate, and nut butter or layering the fruits onto toast, in sandwiches, or on burgers. In addition to raw preparations, Sun Fuji apples can be cooked, and their thick skin and dense flesh hold up well to heat. Sun Fuji apples can be cooked into purees, sauces, and apple butter, or they can be simmered into jams, jellies, chutney, and preserves. The variety can also be baked into muffins, cakes, pies, tarts, turnovers, and crumbles, stuffed into meats, roasted with root vegetables, or added to soups. Beyond culinary preparations, Sun Fuji apples are sometimes pressed into juices, used in cider blends, or blended into smoothies. Sun Fuji apples can be used in any recipe calling for Fuji apples and pair well with meats such as pork chops, bacon, turkey, and poultry, nuts including pecans, walnuts, and almonds, and cheeses such as cheddar, goat, brie, manchego, gorgonzola, and blue. Whole, unwashed Sun Fuji apples have a short shelf life and will only keep up to one month when stored in a sealed container in the refrigerator's crisper drawer.
Ethnic/Cultural Info
Sun Fujis are famously known for their honeycore, sections of the flesh that are marbled with a glassy, aqueous liquid filled with sorbitol. Honeycore is developed in the flesh when apples are left on the tree to ripen fully. During the maturation process, extended periods of sunlight and heat on the apples cause a concentrated, sweet, sap-like liquid to leak from the intercellular walls, filling the air pockets within the flesh. The sweet liquid has high concentrations of natural sugar alcohol known as sorbitol, giving the apple yellow-hued glassy spots. In Japan, these spots are known as "mitsu," meaning "honey," and are named for their yellow, honey-like hue. Honeycore is a positive attribute in Japan and is an indication of the apple's having reached peak ripeness on the tree. It is said that the most high-end Sun Fuji apples are grown in the Aomori Prefecture. Outside of Japan, honeycore is known as watercore in the United States and is actually considered a defect.
Geography/History
Sun Fuji apples are Fuji apples that have not been covered in a bag during cultivation. Fuji apples were first developed in the 1930s at a branch of the Tohoku Research Station located in Fujisaki, a town in the Aomori Prefecture in Japan. The variety was created from a natural cross between the Ralls Janet and Red Delicious, and after years of trials and testing, it was released to the market in 1962. Fuji apples quickly became one of the most commonly grown apple varieties in Japan, and the variety is often wrapped in bags while developing on the trees, ensuring the apple retains a consistent coloring and flavor. Sun Fuji apples were first created in the Yamagata Prefecture when Fuji apples were grown without being covered in bags. The sun-soaked apples developed a sweeter taste and dark red coloring, traits that are now widely valued in the luxury fruit market in Japan. Today Sun Fuji apples are grown throughout Japan, with the top-producing regions including the Aomori, Nagano, Yamagata, Iwate, and Fukushima Prefectures. When in season, Sun Fuji apples are available primarily in Japan through markets, grocers, distributors, and direct from farms. The variety is also exported to China.
Recipe Ideas
Recipes that include Sun Fuji Apples. One

is easiest, three is harder.