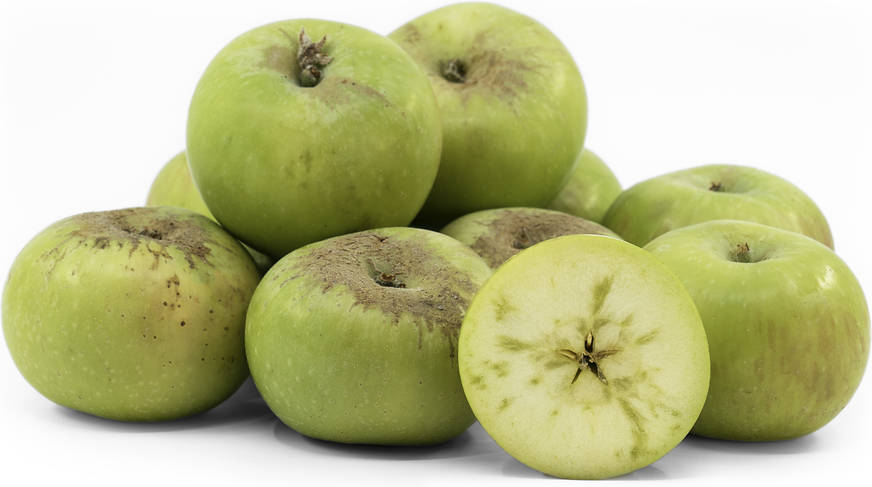 Bramley Apples
Inventory, lb : 0
Description/Taste
Bramley apples are a very large variety, averaging 8 to 9 centimeters in diameter, and have a round to ovate, flattened appearance. The apples are not consistently uniform and can sometimes be slightly lopsided, and there is some ribbing across the semi-glossy, smooth surface. Bramley apples characteristically have a yellow-green base and are occasionally blushed with faint red patches and striping. The skin also features grey-brown russet surrounding the stem cavity, giving the top of the apple a sandpaper-like feel. Underneath the surface, the white-green flesh is crisp, firm, and aqueous, encasing a small core filled with black-brown, oval seeds. Bramley apples contain high acidity and low sugar, creating a tart, sour, and tangy flavor. When slightly underripe, the apples are notably sour and are primarily used in cooked preparations. Ripe Bramley apples are also favored for cooking, as heating the apples develops a milder flavor, retaining a subdued but pleasant tart and tangy, green apple taste. In addition to the apples, the Bramley tree produces vibrant white, pink, to variegated pink and white blossoms in the spring, often regarded as one of the most ornamental apple blossom varieties.
Seasons/Availability
Bramley apples are available in the mid-fall through early spring.
Current Facts
Bramley apples, botanically classified as Malus domestica, are an heirloom English variety belonging to the Rosaceae family. The extra-large apples grow on large, highly productive trees that can reach 3 to 4 meters in height and are one of the most popular cooking apples in the United Kingdom. Bramley apples are also known as Bramley's Seedling, Triomphe de Kiel, Bramley, and the King of Convent Garden. Before their rise to culinary fame, Bramley apples were first established as a favored home garden variety for their high yields, easy-to-grow nature, and tolerance to diseases and pests. Over time, the variety was also discovered to contain high acidity, which naturally breaks down the flesh when heated, creating a fluffy, soft, and flavorful puree. This tangy puree became the foundation of many traditional English desserts and is often combined with sweeteners and sugar to develop a balanced dish. In the modern-day, there are over 300 growers in the United Kingdom producing Bramley apples, and approximately 83,000 tones of the apples are sold as "cooker apples" for commercial use.
Nutritional Value
Bramley apples are a source of vitamin C to strengthen the immune system, fiber to regulate the digestive tract, and potassium to balance fluid levels within the body. The apples also provide some vitamin A to maintain healthy organ functioning, vitamin E to protect the cells against free radical damage, copper to develop connective tissues, and lower amounts of manganese, iron, and boron.
Applications
Bramley apples have high acidity and a tart flavor, contributing to their reputation as a favorite cooking apple. The apples can be consumed raw when ripe, but they will have a predominately sour flavor. Some apple enthusiasts enjoy this tart taste and regard it as refreshing, but most chefs and home cooks utilize the variety for purees. When cooked, Bramley apples develop a fluffy consistency and a light, subtly tangy flavor and are popularly baked into pies, tarts, crumbles, and dumplings. The apples can be stewed and used as a topping over porridge, pancakes, and cereal, incorporated into soups and curries, or simmered into compotes, chutney, and jams. In England, Bramley apples are traditionally hollowed, stuffed with dried fruit, sometimes covered in puff pastry, and baked to develop a decadent, sweet dessert. The baked apples are served with ice cream or cream and are a favored holiday recipe during the cold winter season. Bramley apples are also cooked with sausage or simmered into an apple sauce as a side dish to complement the heavier, more savory components of Sunday roasts. Beyond traditional recipes, Bramley apples have been recently used as a base flavoring for ciders and are sometimes baked into muffins and bread. Bramley apples pair well with spices such as cloves, cinnamon, and nutmeg, meats including pork, poultry, duck, and fish, blackberries, blueberries, pears, raisins, caramel, vanilla, and cheeses such as blue and sharp cheddar. Whole, unwashed Bramley apples will keep up to one week when stored in a cool, dry, and dark place.
Ethnic/Cultural Info
The original Bramley tree is still alive and producing fruit in Southwell, Nottinghamshire. The mother tree is over 212 years old and resides in the same location where it was first planted, despite several lightning strikes and being uprooted due to storms in the early 1900s. The hardy tree continued to bear fruit throughout its history, but in 2016, it was discovered that the tree had been infected with honey fungus. This untreatable fungus will eventually kill the tree. In 2018, Trent Nottingham University purchased the property to protect the Bramley mother tree and is implementing methods to preserve and slow the spread of the fungus. Scientists from the University have also successfully cloned the original Bramley tree, and twelve clones were planted in the Millennium Garden at University Park in England. In the present day, the Bramley mother tree is still regarded as a significant landmark for the town of Southwell, and the tree is annually honored at the Bramley Apple Festival in October. The celebration features live cooking demonstrations, apple farm tours, and food vendors who sell Bramley-inspired hot food and home goods. Bramley apples are customarily sold in chocolates, pies, jams, and cider, and there is even a Bramley Apple Inn located beside the original tree for visitors to spend the night. One of the most popular attractions during the festival is a visit to the mother tree, an experience that is offered by appointment only.
Geography/History
Bramley apples were developed in the 19th century and are one of the most well-documented heirloom English apple cultivars. The original Bramley tree was planted from pips in 1809 by Mary Ann Brailsford, a young girl living at her family's home in Southwell, Nottinghamshire. The apple tree continued to grow in the garden, becoming an established part of the home, and in 1846, Brailsford sold the property to a butcher named Matthew Bramley. In 1856, local nurseryman Henry Merryweather spotted the tree and requested to retrieve cuttings of the tree to propagate the variety for commercial use. Bramley allowed Merryweather to take the cuttings, as long as he would name the apple after him, establishing the variety as Bramley's Seedling. Three cultivated Bramley apples were first sold on October 31st in 1862, and by 1876, the variety had attracted the attention of the Royal Horticultural Society, winning a first-class certificate by 1893. In the 1900s, Bramley apples quickly became a prized culinary variety and were planted commercially and in home gardens across the United Kingdom. Today, very few clones of the original Bramley apple tree produce fruits that share a similar flavor to the mother tree. Most Bramley apple trees sold in commercial retailers are newer mutations of the evolving variety, bearing a slightly different taste. Bramley apples are primarily grown in England, sold through local growers, grocers, and markets, but they have also received a Protected Geographical Indication by the European Union in the county of Armagh in Ireland. Outside of the United Kingdom, Bramley apples are a specialty variety produced in limited quantities in Canada, the United States, Denmark, Japan, and Australia.
Recipe Ideas
Recipes that include Bramley Apples. One

is easiest, three is harder.
the other 12...