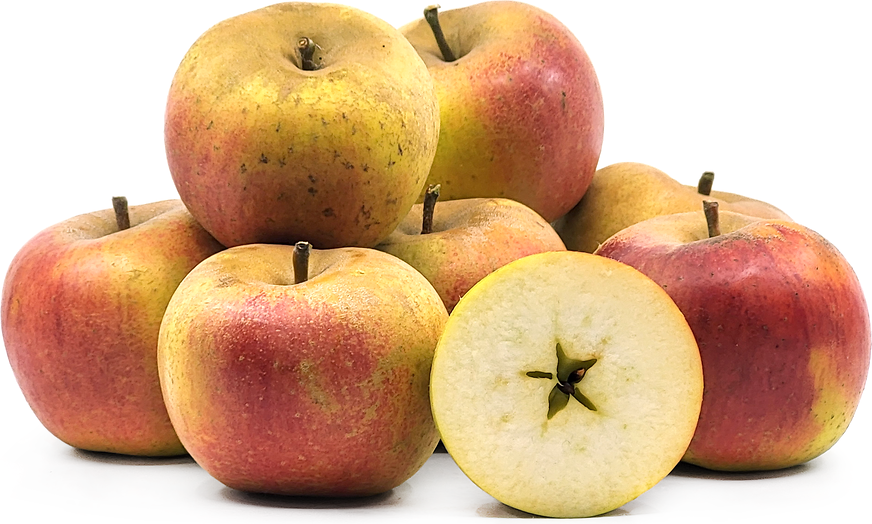 Orleans Reinette Apples
Inventory, lb : 0
Description/Taste
Orleans Reinette apples are a medium to large varietal, averaging 7 to 8 centimeters in diameter, and have a round to ovate shape with a squat, flattened appearance. The apple's skin is semi-thick, matte, and taut, covered in prominent lenticels and light ribbing. The skin showcases a golden yellow base and is enveloped in a mixture of bronze russet patches and dark red-orange blush. The russet gives the surface a raised, rough, and sandy texture, and the blush is often overlaid with crimson, broken red striping. Underneath the skin, the ivory to cream-colored flesh is firm, fine-grained, and dry with a crumbly, chewy consistency. The flesh also contains a central fibrous core filled with tiny black-brown seeds. Orleans Reinette apples are aromatic and release a fruity and grassy scent, sometimes emitting subtle notes of cheese when the fruits are extensively russeted. The flesh has balanced sugar and acidity levels, creating a rich, full-bodied, sweet-tart taste with nutty nuances and citrus undertones reminiscent of tangerines or sweet oranges.
Seasons/Availability
Orleans Reinette apples are available in the fall and can be stored through the winter.
Current Facts
Orleans Reinette apples, botanically classified as Malus domestica, are an heirloom variety belonging to the Rosaceae family. The russet apples grow on trees reaching 3 to 4 meters in height and are a late-season variety favored for the fruit's sweet, sharp, and nutty taste. Orleans Reinette apples were first recorded at the end of the 18th century but are believed to be much older. The variety reached the height of its popularity throughout Europe in the 19th century and acquired many regional names, notably Winter Ribston. Orleans Reinette apples were mainly planted in home orchards, and the tree is moderately vigorous, producing fruits biennially. Over time, Orleans Reinette apples were replaced in orchards for modern varieties that displayed more consistent cropping and had fruits with a smoother texture. Presently, Orleans Reinette apples are a rare variety valued by apple enthusiasts for their ability to be consumed fresh or utilized in cooked preparations.
Nutritional Value
Orleans Reinette apples have not been studied for their nutritional properties. Like other apples, the variety is a source of potassium to balance fluid levels within the body, vitamin A to maintain healthy organ functioning, and fiber to regulate the digestive tract. The apples also provide vitamin C to strengthen the immune system while reducing inflammation, antioxidants to protect the cells against the damage caused by free radicals, zinc to help repair damaged tissue, and other nutrients, including calcium, copper, magnesium, B vitamins, vitamin E, manganese, and vitamin K.
Applications
Orleans Reinette apples have a sweet, tart, and citrusy flavor suited for fresh and cooked preparations. The apples were traditionally consumed out of hand as a dessert variety and were valued as a fresh eating fruit for their complex flavoring. The apples can be chopped into salads, shredded into slaws, sliced and served on cheese boards, layered into sandwiches, or chopped into dips and spreads. The variety can also be used as a fresh topping over breakfast dishes, grain bowls, and desserts or blended into smoothies for added flavor. In addition to fresh preparations, Orleans Reinette apples hold their shape well when cooked, lending themselves to pies, tarts, cakes, and dumplings. The apples can also be wrapped in pastry and baked whole, sauteed with caramel and brown butter, or incorporated into fritters, dumplings, or turnovers. While less common, Orleans Reinette apples were sometimes sliced and eaten with port wine, a dessert rumored to have been enjoyed by English writer Edward Bunyard. The apples are also used in cider making and are added for flavor complexity. Orleans Reinette apples pair well with vanilla, maple syrup, brown sugar, chocolate, spices such as cinnamon, cloves, nutmeg, and allspice, nuts including walnuts, pecans, hazelnuts, and almonds, and roasted meats such as beef, pork, poultry, and lamb. Whole, unwashed Orleans Reinette apples will keep for 1 to 3 months when stored in a cool, dry, and dark place.
Ethnic/Cultural Info
Orleans Reinette apples are a favored variety for making Tarte Tatin, a famous French dessert. The upside-down caramel and apple tart was created in the Loire Valley, a region known for having Orleans Reinette apple orchards. The story of Tarte Tatin began in the village of Lamotte-Beuvron at a restaurant across from the train station in the late 19th century. The restaurant was run by sisters Stephanie and Caroline Tatin. On a particularly busy night during hunting season, Stephanie either forgot to add shortcrust to the dish and added it after or accidentally baked her apple dish upside down, later flipping it over to serve her guests. The unintentional tart was a hit, creating a new dessert that quickly became known throughout the region as Tarte Solognote. By 1903, the Tatin sister's dessert was mentioned in a published journal by a local society, spreading news of the tart across the Centre-Val de Loire. The first recorded recipe was also written in 1921 by Paul Besnard. There are several legends continuing the story, and the plots become more grandiose with each tale. One legend states that a chef working for Louis Vaudable at the famous Maxim's restaurant posed as a gardener to learn the recipe from Stephanie Tatin to steal and put on their menu. This tale is valiantly retold at Maxim's to this day. Additional embellishments have gone as far as to say Mr. Vaudable went undercover to learn the recipe, despite him only being a child during the time the sisters were making the dish. Most historians attribute the tart's success to Parisian critic Curnonsky, also known as the "Prince of Gastronomy." Curnonsky mentioned the tart in his French travel guide in 1920 under the name of Tarte Tatin, forever establishing the famous French dish under this name. In the modern day, Orleans Reinette apples are incorporated into the tart with other French apple varieties that hold their shape well, adding depth of flavor and sharpness, complementing the rich, buttery crust. Tarte Tatin is one of France's most famous desserts, and there is even a Confrerie des Lichonneux de la Tarte Tatin, also known as a brotherhood, that was established in 1979 to protect the simplicity of the original recipe.
Geography/History
Orleans Reinette apples are thought to be native to France and were first recorded sometime around 1776. Pomologists believe the variety may be much older since there is a lack of records for the apple's history, and the parentage is unknown. The variety's name alludes to its presence in the city of Orleans in the Centre-Val de Loire region in north-central France. Throughout the late 18th and 19th centuries, Orleans Reinette apples were a favored dual-purpose variety throughout Europe and were primarily planted in private orchards and home gardens. The variety was recorded by Dutch pomologist Johann Herman Knoop and later by English writer Edward Bunyard in 1929. Bunyard advocated for the variety's complex flavoring and commented in his book "The Anatomy of Dessert" that if "Rembrandt had painted a fruit piece, he would have chosen this apple." Rembrandt was a famous Dutch painter of the 17th century who was known for his ability to paint realistic portrayals of light and shadows. Orleans Reinette apples received an Award of Merit in 1914 under their other common name, Winter Ribston, and another Award of Merit in 1921 under Orleans Reinette. Awards of Merits are given by the Royal Horticultural Society in England to recognize varieties of worth that have exceptional qualities for home gardens. Despite their widespread popularity throughout Europe, Orleans Reinette apples faded from commercial production in the 20th century and were replaced with modern varieties that met the changing consumer demand. Today Orleans Reinette apples are a rare heirloom variety localized to private orchards, preservation growers, and home gardens in Europe, Canada, and the United States. The Orleans Reinette apples in the photograph above were sourced through Brogdale Farm in Faversham, Kent, England.
Recipe Ideas
Recipes that include Orleans Reinette Apples. One

is easiest, three is harder.