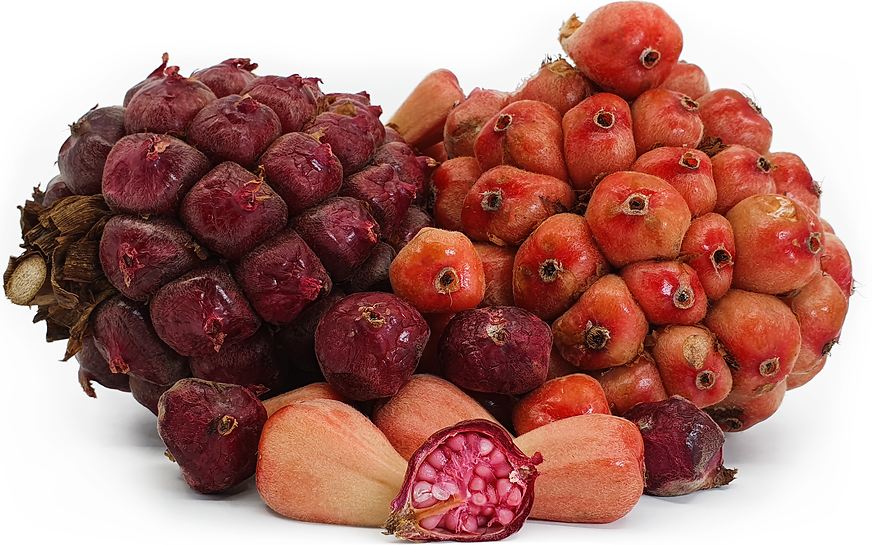 Buah Honje Laka
Inventory, lb : 0
Description/Taste

Buah Honje Laka is a medium to large-sized fruit, averaging 10 to 12 centimeters in diameter, and has a round to oval shape. The fruit is created from tightly packed, individual fleshy pieces that have an overall conical shape with one curved end tapering to a narrow, blunt, pointed tip. Each segment has semi-smooth, taut, glossy, firm skin and often features short, fine hairs scattered across the surface. The fruits vary in color and transition from green to yellow-brown, red-yellow, and red, to purple-red when ripe, depending on the variety. Underneath the surface, the fleshy pieces are filled with many tiny white to brown-black seeds encased in a clear white aril. The arils are slippery and aqueous, while the seeds provide a crisp, crunchy, and chewy consistency. Buah Honje Laka emits a floral, sour aroma when ripe and has a sweet and sour, floral, woody, vegetal, and herbal flavor.


Seasons/Availability

Buah Honje Laka is available year-round.


Current Facts

Buah Honje Laka, botanically classified as Etlingera hemisphaerica, is a rare, foraged fruit belonging to the Zingiberaceae or ginger family. The fruits grow at the end of upright, tall stems and are part of an herbaceous, perennial plant reaching 3 to 6 meters in height. The plant is comprised of underground rhizomes that produce several pseudostems with dark green leaves and red-pink flowers. After the flowers bloom, rounded, tightly clustered fruit heads appear and are harvested as a culinary flavoring and medicinal ingredient. It is important to note that the plant is a type of ginger, often referred to as torch ginger, but the species is distinct from the commercially popular Etlingera eliator, a different kind of torch ginger, as it is only foraged from the wild. Buah Honje Laka is known by many regional names, including Honje Leuweung, Honje Hutan, Sikala, Oncea, Keicang, Boongkot, Asam Cekala, and Kincuang. The fruits are sold in fresh markets and are primarily utilized in juices, consumed for their nutritional benefits.


Nutritional Value

Buah Honje Laka is a source of fiber to regulate the digestive tract, potassium to balance fluid levels within the body, calcium to build strong bones and teeth, iron to develop the protein hemoglobin for oxygen transport through the bloodstream, and vitamin C to reduce inflammation and boost the immune system. The fruits are traditionally cooked into syrup or pressed into juice for tonics in Indonesia, drunk to relieve sore throats and coughs, lower blood pressure, and cleanse the digestive tract. Other portions of the plant, including stems and flowers, are also sometimes used to lessen body odor and soothe symptoms of skin irritations.


Applications

Buah Honje Laka has a sour, vegetal, subtly sweet taste suited for fresh and cooked preparations. The fruit's segments must be separated and washed prior to use, and once cleaned; some consumers choose to eat the fruits straight out of hand. The seeds and flesh can also be extracted and mashed into a pulp. This mixture is often combined with spices and other ingredients as a side dish to rice or combined with chili sauce as a topping over grilled fish. In North Sumatra, the Batak Toba people incorporate Buah Honje Laka into arsik, a dish of fried fish covered in a paste of chile peppers, spices, aromatics, and mashed Buah Honje Laka. The foraged fruits can also be added to soups, served with meats to reduce any strong odors, or mixed into sauces, marinades, and pastes. In Bali, Buah Honje Laka is often incorporated into sambal matah, an aromatic blend of shrimp paste, Makrut lime leaves, garlic, shallots, and lemongrass to make a fresh condiment served over fish. Beyond culinary preparations, Buah Honje Laka is used in beverages. The fruits are mashed or blended, sweetened with sugar, boiled, and then strained to create sweet and sour, refreshing drinks. The fruits are also made into syrups for flavoring desserts, drinks, and medicinal tonics. Whole, freshly harvested Buah Honje Laka should be immediately consumed for the best quality and flavor.


Ethnic/Cultural Info

Buah Honje Laka is most famously used as a refreshing, sweet, and sour drink from the Pangandaran Regency in West Java, Indonesia. The fruits are blended, sweetened with sugar, and strained to create a light and nutritious beverage that can be consumed anytime during the day. The drink is locally known as Jus Honje or Honje juice and was labeled as the official drink of Pangandaran during an event at the Ministry when Pangandaran was still a New Autonomous Region. At the event, the acting Regent of Pangandaran, Endjang Naffandy, was asked what traditional food and drink of Pangandaran was the most popular. Naffandy replied that Honje juice was the signature drink of Pangandaran. This comment led Honje juice to increase in demand, and local producers began making commercial Honje juice for retail sale at markets and restaurants. The sweet and sour beverage was also served as a celebratory drink at official events and public gatherings. Despite its rising popularity, Honje juice is still somewhat rare as the fruits are typically foraged from the wild, and supply is dependent on available fruits. Honje juice is primarily produced in the districts of Mangunjaya, Parigi, and Cijulang in Pangandaran, and a specific variety of Honje, known as Honje Laka Merah, is used in processing, as it produces a more pigmented, bright red juice that is pleasing to the eye. Honje juice has also become a favored souvenir for tourists and visiting guests of the regency.


Geography/History

Buah Honje Laka is thought to be native to Indonesia, specifically Java and Sumatra, and has been growing wild since ancient times. The species is found throughout the Pangandaran Regency in West Java and the Simalungun Regency in North Sumatra and, over time, has expanded to areas of Peninsular Malaysia and Thailand. Buah Honje Laka thrives in tropical climates in primary and secondary forests. For many years the fruits were rarely foraged and were mostly discarded. Eventually, nutritional research was conducted on the fruits, and it was discovered that they had several beneficial qualities, spurring consumers to press the fruits into juices. Today Buah Honje Laka is still a rare fruit and is primarily foraged from the wild. Small regions in Indonesia are also testing potential cultivation plots to expand production, mostly found in the Doloksilau Sub-District in North Sumatra. When available, Buah Honje Laka is sold through fresh markets and select online distributors.