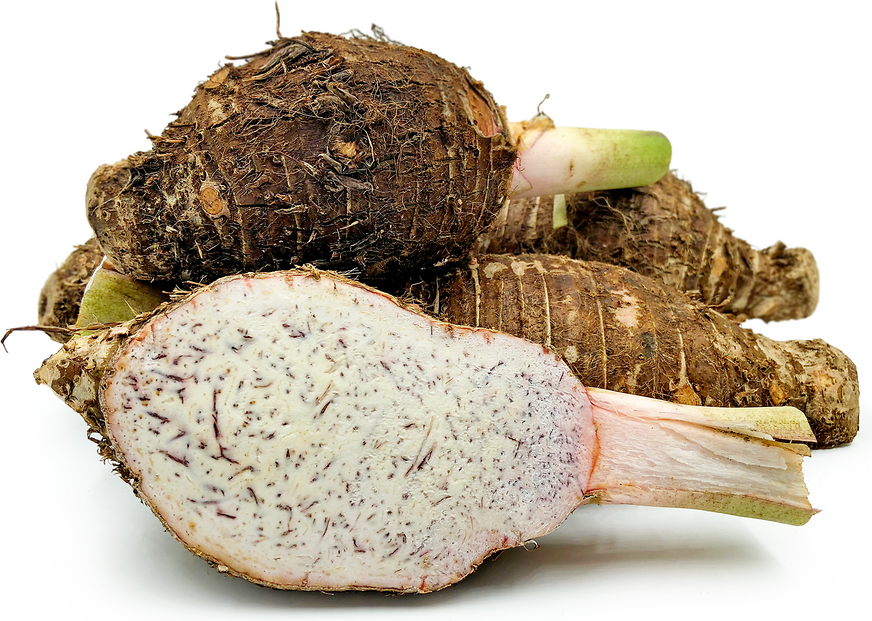 Tahitian Taro Root
Inventory, lb : 0
Description/Taste

Tahitian Taro widely varies in size from small to large, averaging 10 to 20 centimeters in diameter, and has a round, elongated, to irregularly bulbous shape. The skin is rough, firm, light to dark brown, and ridged, covered in numerous, fibrous hairs. Underneath the surface, the flesh is dense, crisp, slightly sticky, and white, encasing many purple-brown specks and dots. Tahitian Taro must be cooked before consumption, developing a starchy consistency similar to potatoes, and has a mild, nutty, and sweet flavor.


Seasons/Availability

Tahitian Taro is available year-round.


Current Facts

Tahitian Taro, botanically a part of the Araceae family, is a leafy plant connected to an edible corm that is widely found in tropical and subtropical regions around the world. In Polynesia, taro is often considered the "king of root crops," and is one of the oldest cultivated roots on the island. There are over twenty-nine different species that are generally labeled under the taro name, and within Tahiti, there are two main species known as Tahitian Taro. The first species is Colocasia esculenta, which is the most common form of taro found around the world. This species is primarily consumed for its edible corm and is cooked similarly to a potato. The other species, Xanthosoma brasiliense, also produces smaller corms but is predominantly grown for its broad leaves, sometimes known as Tahitian spinach. Despite their differences, both the leaves and corms of the two species are found in markets under the Tahitian Taro name and are staple ingredients used in every day, culinary applications.


Nutritional Value

Tahitian Taro is an excellent source of fiber, which can help regulate the digestive tract and is a good source of zinc, iron, and potassium to balance fluid levels within the body. The corms also provide vitamins B6, C, and E, phosphorus, manganese, copper, and magnesium. In addition to the corms, the leaves are a good source of vitamins A and C, which are antioxidants that can boost the immune system and protect the body against external aggressors.


Applications

Tahitian Taro must be cooked as it contains toxic calcium oxalate crystals, which can cause extreme irritation to the throat and mouth if ingested. The crystals will dissipate with cooking and will not affect the consumer after appropriate heating. It is also recommended to wear gloves while handling taro raw, as it can sometimes cause minor irritation to the skin and hands. Tahitian Taro is popularly roasted, steamed, boiled, and baked. The corms can be sliced and baked into taro fries, cut into wedges, roasted, and tossed into green salads, shredded and fried into crispy cakes, spiralized and cooked like noodles, or steamed and mashed with coconut milk. Tahitian Taro can also be stirred into stews, curries, and soups, incorporated into baked goods such as pies, cheesecake, and mooncakes, or ground into a powder as a flavoring for ice cream and desserts. In addition to the corms, the leaves can be cooked similarly to spinach and are commonly tossed into soups, sauces, pasta, and rice. Tahitian Taro pairs well with meats such as pork, poultry, and fish, crab, shrimp, coconut milk, miso, ginger, scallions, garlic, tomatoes, mushrooms, celery, and pea shoots. The corms should be used immediately for the best flavor and will keep up to one week when stored in a cool, dry, and dark place. The leaves will keep 1-3 days when stored in a dry, ventilated container in the refrigerator.


Ethnic/Cultural Info

Taro is highly revered in Polynesia as it is prominent in both traditional and modern-day cooking. Cultivating taro is often seen as a shared practice among members of a community, and the corms are grown across both inherited family plots and through land monitored by a collaborative group known as pupu ohipa. These groups are focused on preserving ancestral ways of life and encourage the continued use of ancient ingredients such as taro. To showcase the versatility of the tropical corm, Tahiti hosts an annual Taro Festival in October. This event celebrates the cultural history of taro by cooking it in traditional, common, and unique ways. Two of the most popular preparation methods include cooking the corms in an underground earthen oven, known as an umu or imu, and grating taro into a mixture of coconut milk, vanilla, and sugar to make a pudding-like dish known as po'e, a traditional Tahitian dessert. In addition to sampling taro dishes, the festival also holds a contest for the largest corm, and live speakers recite ancient legends and stories surrounding the plant.


Geography/History

Tahitian Taro is native to Southeast Asia and has been growing wild since ancient times. There are many different varieties of taro found throughout Asia, and the first corms were brought to Polynesia by migrating peoples and early voyagers around 1300 BCE. The plants quickly naturalized on many of the islands across Polynesia and became a widely cultivated crop for both export and local use. Today Tahitian Taro is grown on Tahiti and is sold in local markets.