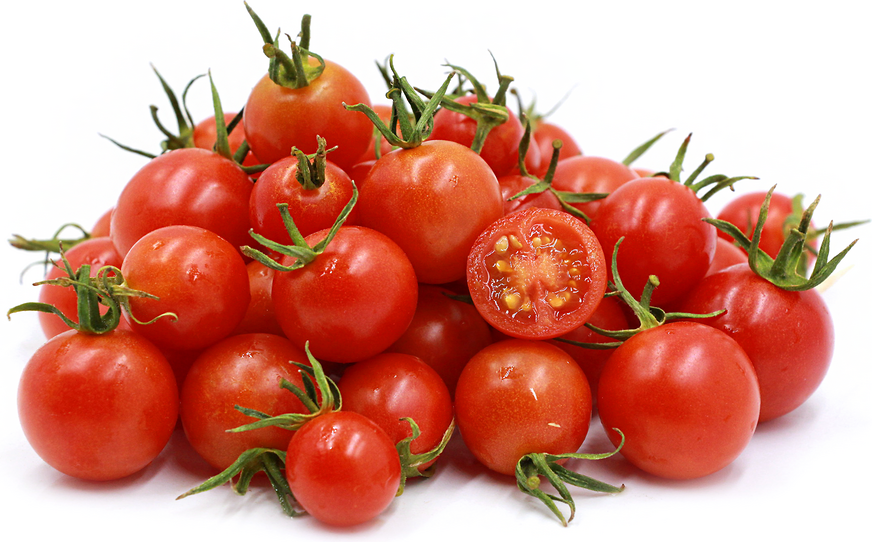 Cherry Punch Cherry Tomatoes
Inventory, bskt : 0
Description/Taste
Cherry Punch tomatoes are small and round, about one inch in size, and they ripen to a beautiful red color. As their name implies, they pack a big punch of classic, sweet-tart tomato flavor. Cherry Punch tomato plants reach an average of two feet high with a three foot sprawl, making them a great size for patio containers, hanging baskets, or window boxes, as well as gardens. The indeterminate vines will produce tons of the tiny fruit all season long up until frost, with earlier yields than other small varieties. Cherry Punch can be harvested at the first sign of color, though you'll get the best flavor if you wait until they ripen fully on the vine.
Seasons/Availability
Cherry Punch tomatoes are available in the early summer through early fall.
Current Facts
Cherry Punch, like all tomatoes, is a member of the Solanacae or nightshade family, alongside the potato and eggplant. Tomatoes, originally termed Solanum lycopersicum, are scientifically named Lycopersicon esculentum, although modern studies are encouraging a return to the original classification. Tomatoes are categorized in subgroups that represent variations observed within the tomato species, referred to as their cultivar - a botanical term that is a contraction of the two-word term cultivated variety, and is equivalent to what growers simply call a "variety." Therefore cherry tomato varieties like Cherry Punch are more specifically called Lycopersicon esculentum var. cerasiforme.
Nutritional Value
Cherry Punch tomatoes are branded by their high-nutrition properties, and are said to deliver 30% more vitamin C and 40% more lycopene than the average tomato. Lycopene is a naturally occurring antioxidant that is responsible for the red pigmentation of tomatoes. Lycopene may help protect cells in the body from damage, which is why it has been studied for its potential role in reducing your chances of developing certain types of cancer, notably prostate, colorectal and stomach cancer. There has also been scientific evidence that the lycopene content of tomatoes may be good for maintaining a healthy heart. The human body does not produce lycopene on its own, and therefore the only way to get it is through consumption. In North America, more than eight percent of dietary lycopene comes from tomatoes and tomato products.
Applications
Cherry Punch tomatoes are full of flavor, and they can be eaten fresh off the vine. They are a great addition to fresh salads or party trays, but they can also be used in cooking, as they are delicious sautéed, grilled and stewed. Preserve by canning, drying, or freezing. Store at room temperature away from direct sunlight until fully ripe, after which they can be placed in the refrigerator to slow down the ripening process.
Ethnic/Cultural Info
Cherry Punch tomatoes were developed as part of Burpee's BOOST Collection of high-nutrition vegetables, which are selected for their higher levels of antioxidants than other home garden vegetable varieties. They're marketed for health enthusiasts as "the perfect fit with your active lifestyle and quest for higher nutrition." Other tomato varieties in this collection include mighty sweet, power pops, solar power, and tasti-lee tomatoes.
Geography/History
Cherry Punch is a hybrid variety developed by Burpee Seed Company in the United States. Cherry Punch can be successfully grown in most areas of the United States, and it does best with full sun and well-drained, moist soil. Like most tomatoes, Cherry Punch is tender and cannot stand any frost, so wait until the night temperature is well above freezing and the soil is warm and before planting outside.
Podcast