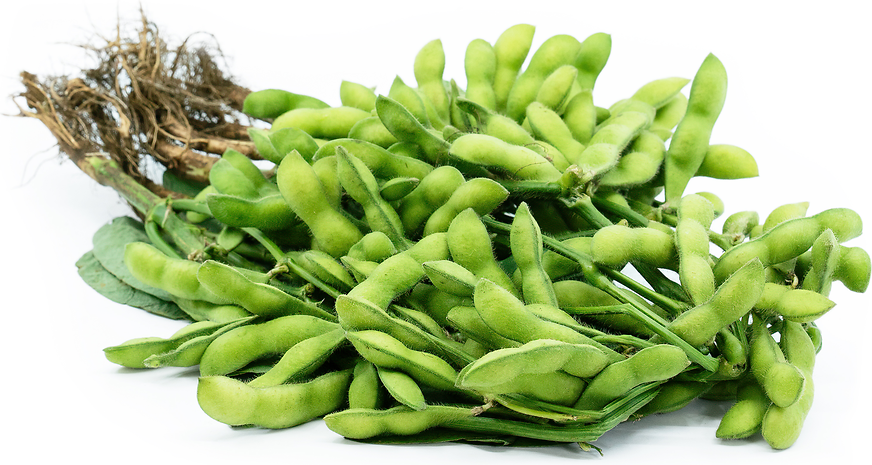 Edamame Shelling Beans
Inventory, lb : 0
Description/Taste
Edamame is comprised of small pods, averaging 3 to 5 centimeters in diameter, and each pod generally encases 2 to 3 plump beans. Fresh Edamame is often sold still attached to its branches and leaves, and the pods have a straight to slightly curved shape with pointed ends. The light green pods are also enveloped in a fine layer of fuzz and are tightly sealed, revealing a bumpy appearance where the pods cling to the outline of the beans. Once the pods are opened, the oval beans are revealed, showcasing a smooth, pale green, and slippery surface arranged in a single, non-overlapping formation. When cooked, the beans also develop a soft, dense, and chewy texture. Edamame is sweet and nutty with subtle grassy, green undertones. It is important to note that only the beans are consumed. The pods are inedible and should be discarded after cooking.
Seasons/Availability
Edamame is available year-round when frozen. Fresh beans and pods still attached to their branches are available in the summer.
Current Facts
Edamame, botanically classified as Glycine max, are immature soybeans belonging to the Fabaceae family. The light green soybeans are hand-harvested by uprooting the entire plant and tying them into bundles, and the beans are picked early before they can mature and develop a tough texture. The name Edamame is derived from the Japanese words eda, meaning "stems or branches," and mame, meaning "beans," roughly translating to "beans on branches" to describe the fresh soybeans. The immature legumes are native to Asia, where they have been consumed as a food source for thousands of years. Edamame is commercially sold fresh or frozen. When fresh, the beans are encased in their furry pods, sometimes attached to slender branches and dark green leaves. Edamame is also sold frozen and can be found in shell or hulled. In China, Edamame is known as Mao Dou, meaning "fur peas," and the beans have been cooked and consumed for centuries in East Asian cuisines. In the modern-day, Edamame has also become a popular snack food and is favored as an alternative source of protein to meat.
Nutritional Value
Edamame is an excellent source of iron to develop the protein hemoglobin for oxygen transport through the bloodstream and copper to build healthy connective tissue. The legumes are also a good source of vitamin K for faster wound healing, vitamin C to strengthen the immune system, vitamin A to maintain healthy organ functioning, calcium to protect bones and teeth, and lower amounts of folate, B vitamins, magnesium, potassium, riboflavin, and thiamine. In addition to vitamins and minerals, Edamame is considered a complete protein, providing the essential amino acids needed for overall body health.
Applications
Edamame must be cooked before consumption and is traditionally boiled or steamed. The legumes can be cooked in their pods, generally boiled for 5 to 6 minutes, or steamed for 3 to 8 minutes. Once cooked, the beans can be squeezed directly out of their pods and eaten lightly salted or mixed with flavorings such as vinegar and salt, sambal olek and lime, smoked salt and sugar, coconut oil and sumac, or garlic and parmesan. It is important to note that the shells are inedible and should be discarded after cooking. Edamame can be consumed hot or cold, and the legumes can be tossed into salads, soups, noodles, and stir-fries. The beans can also be blended into hummus, pesto, artichoke dip, and other spreads, scrambled into eggs, chopped into salsa, or combined with black beans to make plant-based burgers. In Tohoku, Japan, Edamame beans are made into a paste and are served in zunda-mochi, rice cakes coated in the sweetened paste. The legumes can also be blanched and pickled for extended use, eaten in salads or seafood dishes. Edamame pairs well with spinach, red bell pepper, avocado, tomatoes, herbs including parsley, basil, and cilantro, and cheeses such as swiss, cheddar, and parmesan. When harvested fresh, Edamame should be used immediately for the best flavor and will keep 1 to 2 days when stored in the refrigerator. Once cooked, the legumes can be stored in the fridge for up to ten days. Frozen Edamame will keep 6 to 8 months.
Ethnic/Cultural Info
In Japan, boiled Edamame is popularly served as a snack item with beer at bars known as Izakaya. This snack and beverage pairing became widespread in Japan in the 1960s when refrigerators made it possible to freeze and store Edamame and beer for extended periods. Edamame also contains methionine, an amino acid studied for its ability to prevent alcohol from decomposing. In the 1960s, there were many rumors throughout Japan that Edamame could help prevent hangovers if consumed while drinking. While this theory was never scientifically proven, beer and Edamame became a natural pairing served at Japanese bars, and the young soybeans were also a popular appetizer at sushi establishments. Like Japan, beer is commonly served with peanuts in the United States as a snack at bars. In the 1980s, a sushi "boom" occurred in the United States due to a popular TV miniseries known as Shogun that depicted Edamame being eaten with beer and sake. Due to this increased interest in Japanese food, American Japanese restaurants also began serving Edamame with drinks for free to encourage the consumption of the young soybean.
Geography/History
Edamame is native to northeastern China, where the young soybeans have been cultivated for thousands of years. The legumes were later introduced to Japan sometime between the Jomon and Yayoi period, spanning 1400 BCE to 250 BCE. The oldest written record of consuming young soybeans in Japan was mentioned in the Enki ceremony book. In 1902, Edamame was introduced to the United States, but the beans did not become popular until the 1970s and 1980s. The legumes were initially promoted as a favored health food and meat alternative and were later marketed as a quick and easy snack item. Today Edamame can be found fresh, still attached to the branches, at local markets in Asia, especially in Japan, and in select Japanese markets worldwide. The beans can also be found in frozen form in Asia, Europe, Australia, and North America.
Recipe Ideas
Recipes that include Edamame Shelling Beans. One

is easiest, three is harder.