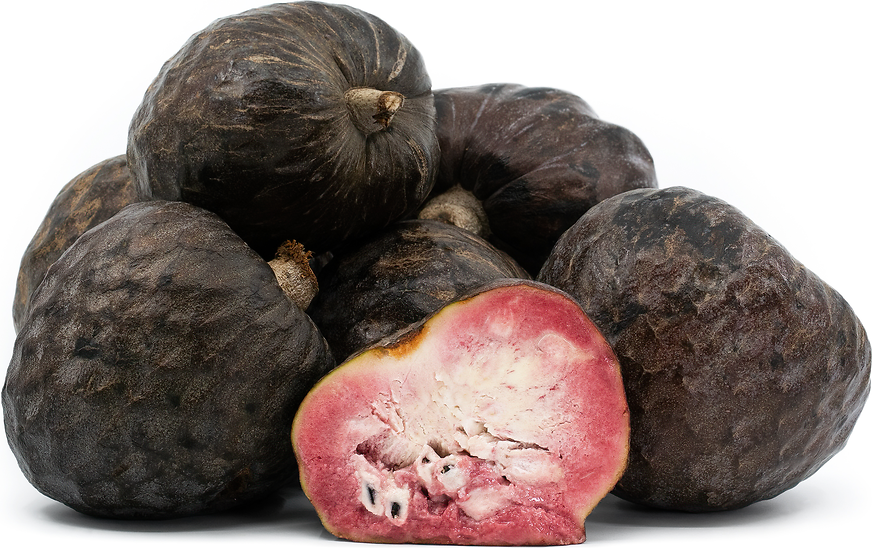 Purple Custard Apples
Inventory, lb : 0
Description/Taste

Purple Custard apples are medium to large in size, averaging 8 to 16 centimeters in diameter, and widely vary in shape from round, cordate, to oblate, depending on the variety and growing conditions. The fruits often have an irregular, lopsided nature and are attached to the tree by thick, woody, and fibrous stems. The skin is semi-smooth and taut, showcasing dark purple, ruby, to red-purple hues, and the surface is thin but tough with a resilient nature. The skin may also exhibit flat, scale-like designs, creases, or a netted appearance, depending on the variety. Underneath the surface, the dense, granular flesh is moist, creamy, soft, and tender with a melting consistency. The flesh is found in vibrant violet and purple tones, enveloping a central fibrous core that tapers through the fruit. Some varieties also contain many black-brown, glossy, smooth seeds. Purple Custard apples develop a delicate, squishy feel, often feeling like a heavy water balloon when ripe. The flesh releases a perfumed aroma and has a mild, sweet, and tart taste with fruity nuances of pear, raspberry, and strawberry mixed with vanilla undertones.


Seasons/Availability

Purple Custard apples are available in the early winter through late spring.


Current Facts

Purple Custard apples, botanically classified as Annona reticulata, are tropical fruits belonging to the Annonaceae family. The fruits grow on deciduous trees reaching 8 to 10 meters in height and are native to the Americas, but over time, the species has been introduced and naturalized worldwide. Purple Custard apples are known by many names, including Custard apple, Netted Custard apple, Mamón in Cuba, Anón Pelón in Colombia, Anona Colorada and Anona in Mexico, Buah Nona in Indonesia, Manilanilam in the Philippines, Niu Xin Fan Li Zhi in China, and others. It is important to note that custard apples are a part of the same genus as sugar apples, cherimoyas, and atemoyas, but the species is distinct. Regional names are often shared and used interchangeably between sugar apples and custard apples in some countries, making identification challenging at times in local markets, but custard apples are generally larger in size and have smoother, scale-like skin. Custard apples are also famously known as Bullock's heart or Ox heart, monikers given for the fruit's similarity in appearance to a cow's heart. Purple Custard trees are heavy bearers, producing 34 to 45 kilograms of fruit per year, and there are several varieties grown worldwide, including Canul, Sartaneja, San Pablo, Fernandez, Havana, Vinto Tinto, and Banke. When in season, Purple Custard apples are a specialty fruity favored for their texture and mild flavor and are consumed in fresh and cooked preparations.


Nutritional Value

Purple Custard apples are a source of vitamin C to strengthen the immune system while reducing inflammation, calcium to strengthen bones and teeth, and potassium to balance fluid levels within the body. The fruits also provide fiber to regulate the digestive tract, hydration as they are mostly water, magnesium to control optimal nerve functioning, and other nutrients, including phosphorus and iron. Custard apples, in general, are also used medicinally in Central America, and unripe fruits and bark are believed to help reduce symptoms of dysentery and diarrhea. In addition to digestive issues, the root is ground and placed around the gums to help relieve toothaches.


Applications

Purple Custard apples have a mild, sweet-tart flavor suited for fresh and cooked preparations. The fruits have a soft, creamy, and subtly grainy texture when consumed straight out of hand, and the flesh can be scooped from the skin with a spoon. It is important to spit out the seeds during consumption as they may contain toxic elements and should never be eaten. When ripe, the fruit can be hand-torn and eaten from the skin, or the flesh can be sprinkled with sugar, condensed milk, or cream for enhanced flavoring. Purple Custard apples are popularly added to fruit juices, blended into milkshakes, or mixed into smoothies. The soft flesh can also be pureed and frozen into ice cream, cooked into custards and puddings, or simmered into a thick, creamy sauce. While less common, firmer fruits are sometimes added to stir-fries, curries, and meat dishes at the end of the cooking process. Purple Custard apples are not commercially cultivated on a large scale, but they are favored in the Caribbean, especially in Jamaica, for fresh eating. In Jamaica, the fruits are a favored childhood fruit and were eaten out-of-hand as a sweet treat or mixed into Jamaican custard apple pie pudding. Purple Custard apples pair well with vanilla, maple syrup, chocolate, and fruits such as coconut, pineapple, strawberries, and passion fruit. Whole, unwashed Purple Custard apples will keep for a couple of days at room temperature, and once ripe, they can be stored in the refrigerator for an additional three days.


Ethnic/Cultural Info

In India, custard apples are known as Ramphal and are used as a religious offering during Ram Navami, a Hindu festival celebrating the birth of Lord Rama. Ram Navami is traditionally observed in the spring, and the date changes each year according to the Hindu lunar calendar. During the religious celebration, Hindus create miniature statues of Lord Rama and perform several rituals known as pujas as acts of worship. Ramphals are given as offerings, and the seeds are also placed in decorative containers and left on altars to Lord Rama. Legend has it that Ramphal trees initially sprouted from Lord Rama's perspiration in India. The trees bore heart-shaped fruits, and Rama's wife, Sita, favored the fruits and named them after her husband. Ramphals are in season during Ram Navami and earned their moniker from a combination of "Ram," a name for "Rama," and "phal," meaning "fruit." Lord Rama is one of the most widely recognized supreme deities in Hinduism and is the seventh incarnation of Vishnu.


Geography/History

Custard apples are native to tropical regions of southern Mexico and Central America and are thought to be descendants of Annona primigenial, an ancient wild species with tiny, seeded fruits. It is unknown when Annona reticulata developed as its own species, but the fruits were spread from Central America into the West Indies, the Caribbean, and South America. Over time, Spanish explorers and traders introduced Custard apples from the West Indies to the Philippines, and the fruits were later carried to China. Custard apples were also spread via trade routes and expeditions to Southeast Asia, Australia, and Africa before the mid-17th century. The fruits were planted in India in the late 17th century and were transported to the Middle East and Europe sometime in the 18th century. Today Custard apples thrive in humid, tropical to subtropical regions and are found wild in forests and planted in home gardens. The species is commercially produced on a small scale through select growers and is sold through fresh markets, farmer's markets, and distributors worldwide.