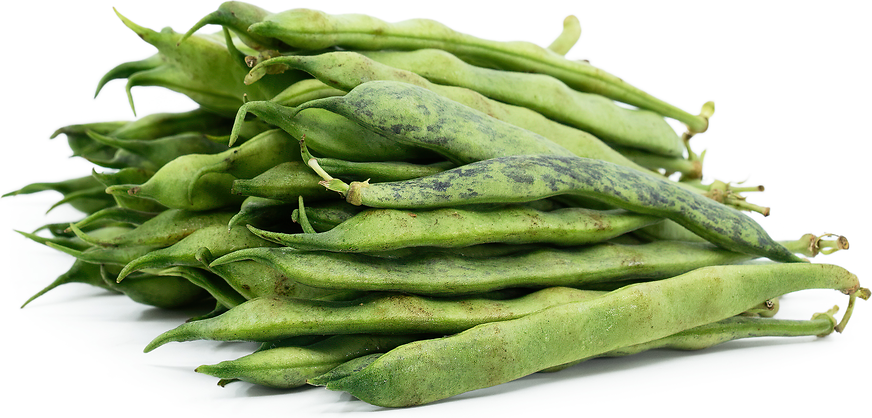 Akishima Sasage Green Beans
Inventory, lb : 0
Description/Taste

Akishima Sasage beans are small to medium in size, averaging 10 to 12 centimeters in length and 1 to 2 centimeters in diameter, and have a straight to slightly curved, elongated shape. The cylindrical pods taper to pointed tips at both ends, and the pods fit the seeds inside, giving them a bumpy appearance. Akishima Sasage bean pods are known for their green coloring overlaid with distinct purple striping. This striping varies in color, depending on cultivation temperatures, and is typically mottled and spotted. The pods are also firm and pliable, covered in sticky hairs, giving the surface a sand-paper-like, tacky feel. Each pod can contain up to ten seeds, and the pale green seeds are small with a kidney-like shape. Akishima Sasage beans emit a green, vegetal scent and have a crisp and crunchy consistency. When cooked, the beans and pods are edible and have a mild, sweet, grassy, and vegetal taste. The beans should not be consumed raw as they may cause gastrointestinal distress.


Seasons/Availability

Akishima Sasage beans are available in the mid-summer through fall in Japan, with a peak season from July through October.


Current Facts

Akishima Sasage beans, botanically classified as Phaseolus vulgaris, are a Japanese variety belonging to the Fabaceae family. The beans are said to be a type of kidney bean and have been cultivated for centuries in Japan as a home garden crop. Akishima Sasage beans are named for their characteristic purple-striped pattern on the surface of the pods. Akishima Sasage beans are also known as Autumn Striped Sasage when sold in the fall, as their purple coloring is the strongest this season. In the modern day, Akishima Sasage beans are only produced in small volumes and are shipped to a few select regions in Japan as a specialty culinary ingredient. Akishima Sasage beans are favored for cooked preparations and are a late summer and fall delicacy, adding color, texture, and flavor to dishes.


Nutritional Value

Akishima Sasage beans are a source of calcium to build strong bones and teeth, potassium to balance fluid levels within the body, and magnesium to regulate optimal nerve functioning. The beans also provide phosphorus to repair cell tissue, vitamin E to reduce inflammation, and other nutrients, including folate, niacin, and vitamins B6 and B1. The purple striping on the pod's surface indicates the presence of anthocyanins, colored pigments with antioxidant-like properties to protect the cells against damage caused by free radicals. The beans also contain rutin, a type of polyphenol.


Applications

Akishima Sasage beans have a sweet and vegetal taste suited for cooked preparations. The beans are consumed cooked in Japan and are boiled, stir-fried, deep-fried, or sauteed. Akishima Sasage beans bear a purple-striped coloring on the pods when fresh, but the purple hues dissipate into the water as they are cooked. It is important to note that Akishima Sasage beans should be blanched before they are added to dishes with a light-colored nature. This prevents sauces and soups from turning a dull, unpleasant purple-brown color due to the purple coloring leaching from the beans. In Japan, Akishima Sasage beans can be used in any recipe calling for green beans. The variety must be cooked can be blanched and fried into tempura, tossed into salads, or simmered into soups, curries, and stews. Akishima Sasage can also be stir-fried with meat and vegetables or cooked and tossed in bonito flakes and other seasonings as a simple side dish. During the Edo period, Akishima Sasage beans were used in place of adzuki beans in red rice recipes to feed samurai. The variety was favored as it did not burst or break open when boiled, while adzuki beans were known to split open. Akishima Sasage beans pair well with aromatics such as garlic, ginger, onions, and chile peppers, meats including pork, poultry, and beef, and spices such as bonito flakes, ponzu, seven-spice blends, and wasabi. Fresh Akishima Sasage beans should be immediately consumed for the best quality and flavor and will keep for a few days when stored in the refrigerator's vegetable drawer.


Ethnic/Cultural Info

Akishima Sasage beans are a traditional Hida-Mino vegetable of the Gifu Prefecture in Japan. There are 25 vegetables officially labeled as traditional Hida-Mino vegetables, and these items were selected to represent the prefecture's culinary traditions to the rest of Japan. Selecting traditional vegetables allows the prefecture to highlight items of historical significance and brand each vegetable with promotional labels to increase sales. Beyond being labeled as a traditional vegetable, Akishima Sasage beans are also known as "beauty after bath" beans. The beans earned this unusual moniker from their color-changing nature. In Japan, Akishima Sasage beans are considered the most beautiful after being cooked. When heated, the purple-striped beans lose their striping, becoming a vibrant, solid green hue. This green coloring is highly valued throughout Japan as an enhancement to culinary dishes and is what gives the beans their "beauty after bath" nickname.


Geography/History

Akishima Sasage beans are native to Japan and have been grown in the Gifu Prefecture since ancient times. Gifu is located on Japan's main island of Honshu and is in the center of the island. Within Gifu, Akishima Sasage is primarily grown in the Hida region, an area in the northern part of the prefecture. Hida has a humid climate with extreme temperature variation between the day and the night. This temperature variation occurs even in the summer, contributing to the color contrast on the beans. Akishima Sasage beans develop dark purple striping when exposed to temperature variation, and the Nibukawa Village in Hida is the area most known for producing the darkest striped beans. Akishima Sasage beans have been cultivated in Japan for centuries in home gardens, and in 2002, the beans were declared a Hida-Mino traditional vegetable, protecting the practices and traditions surrounding the species. Today, Akishima Sasage beans are grown in Takayama City and Nibukawa Village in the Gifu Prefecture. The beans are grown in small quantities and shipped to select regions of Japan, specifically to the Kansai region, Chukyo, and Tokyo. The Akishima Sasage beans featured in the photograph above were sourced through Takashimaya Shinjuku in Tokyo, Japan.