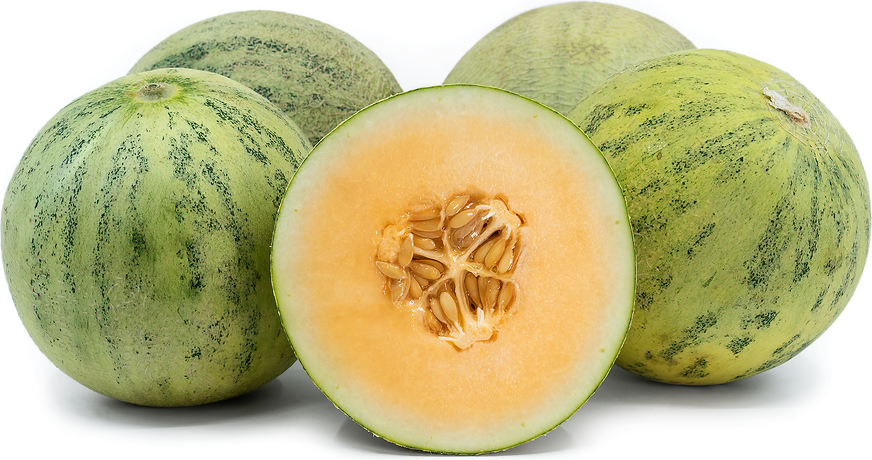 Bonny Melon
Inventory, ea : 0
Description/Taste

Bonny melons are a small to medium varietal, averaging 10 to 12 centimeters in diameter and 2 to 3 pounds in weight, and have an oblate to round shape with a curved, uniform appearance. The melon's rind is firm, thin, and rough, covered in a tan, raised netting with broken, dark green vertical stripes overlayed on a smooth, yellow-green base. Underneath the surface, the pale orange to ivory flesh bears a faint ring of green just below the rind and is dense with a soft, aqueous, and semi-crisp, succulent consistency. There is also a central cavity that encases many oval, light brown seeds suspended between stringy fibers and a gelatinous liquid. Bonny melons do not emit fragrance when whole, but when sliced, they release a faint, cantaloupe-like scent. The flesh has a moderate sugar content, ranging from 14 to 15 Brix, which contributes to the melon's initially sweet flavor. Bonny melons are light, sweet, and refreshing, combined with a subtly sour and tangy aftertaste.


Seasons/Availability

Bonny melons are available in the summer through early fall.


Current Facts

Bonny melons, botanically classified as Cucumis melo, are a rare, tangy-sweet variety belonging to the Cucurbitaceae family. The individually sized melons are an F1 seed specialty cultivar developed in Taiwan and are favored for their sweet and sour flavor. F1 hybrid seeds are varieties developed from two different parent plants, which provide specific and improved growth characteristics for a more uniform crop. Bonny melons are not commercially produced and are only grown on a small scale through select farms in Asia and the United States, harvested approximately 70 to 85 days after sowing. The melons are considered very rare and are primarily consumed fresh to savor the flesh's unique taste and juicy, tender nature.


Nutritional Value

Bonny melons have not been studied for their nutritional content. Like other melons, they are an excellent source of vitamin C to strengthen the immune system, fiber to regulate the digestive tract, and potassium to balance fluid levels within the body. The melons may also be a source of iron to develop the protein hemoglobin for oxygen transport through the bloodstream and contain other nutrients, including vitamin K, calcium, folate, copper, magnesium, and manganese.


Applications

Bonny melons have a tangy, sweet, and sour flavor showcased when consumed fresh in sweet and savory preparations. The melons are often chilled before serving, and the rinds should be washed well to remove dirt and impurities. Once cleaned, Bonny melons can be cut, discarding the rind and seeds. The flesh is frequently sliced and served straight, out of hand, or it is tossed into green salads and fruit bowls. Bonny melons can also be displayed in wedges on charcuterie plates with salty meats and fresh cheeses, wrapped in cured meats as an appetizer, or incorporated as a topping on ice cream, cakes, tarts, and sorbet. The melon complements the vegetal and bright flavors of fresh herbs, and slices of the flesh can be sprinkled with salt, sugar, Tajin, or lemon or lime juice for enhanced flavor. Bonny melons can also be mixed as a base flavoring in chilled soups, halved and topped with ice cream, or skewered, lightly grilled, and served with roasted meats. While less common, Bonny melons can be juiced for cocktails and sparkling beverages, pureed into smoothies and shakes for a unique flavoring, or blended into a granita. Bonny melons pair well with cheeses such as burrata, ricotta, and feta, prosciutto, herbs including mint, cilantro, and parsley, arugula, cucumbers, ginger, and fruits such as strawberries, blueberries, plums, and mangoes. Whole, unwashed Bonny melons should be stored in the refrigerator. Once sliced, the melon pieces will keep up to three days when kept in a sealed container.


Ethnic/Cultural Info

Bonny melons were featured in a special edition seed catalog in 2011 as a part of Known-You Seed's new office inauguration. The office was constructed in Taiwan, the international seed company's headquarters, and was built to unite the multi-branched corporation with the finance, sales, product management, and operations departments collaborating in the same location. Bonny melons were released as a new variety around the same time as the office inauguration, and the melons were featured as a specialty melon with a distinct flavor. Known-You Seed Co. is an international seed corporation established in 1968 that specializes in F1 seed varieties. The company was created by Mr. Wun-Yu Chen, who spent his retirement years launching the seed company as a passion project. Mr. Chen was a former public official and experienced crop breeder in Japan. Mr. Chen utilized his breeding knowledge to produce new and improved cultivars, and part of the company's mission was to assist with creating varieties that can survive through the world's changing climate. Known-You melon cultivars, including Bonny melons, are marketed as a boutique variety domestically and internationally.


Geography/History

Bonny melons were created by Known-You Seed Co, a seed breeding company based in Taiwan. The melon was developed from multiple cultivars and was first registered as a new variety in the early 21st century, sometime around 2011. Bonny melons are a rare, specialty cultivar grown by select farms worldwide. The melon was released to growers simultaneously as the briny-flavored prity melon, and the two varieties are heavily marketed for their sweet and sour flavor. Today Bonny melons are offered in seed catalogs in Asia, especially in Thailand and Taiwan, and the melons are also grown in California. The Bonny melons featured in the photograph above were sourced from Weiser Family Farms, located in Tehachapi, California.