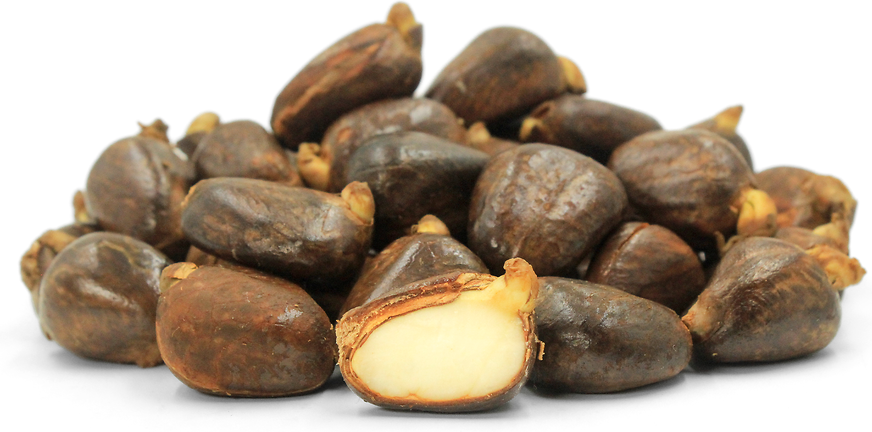 Breadfruit Seeds
Inventory, 1 Lb : 0
Description/Taste
Breadfruit seeds are encased in a large football-sized, oval to oblong fruit. The fruits typically have a prickly, yellow-green to yellow-brown skin coloring, but their appearance may vary depending on the specific variety. Underneath the surface, the flesh ripens into a soft, creamy, and starchy consistency, containing many brown seeds. The seeds have an oval, oblong, to irregular shape with a slightly pointed end, averaging 5 to 10 centimeters in length, and are enveloped in a protective brown shell, sometimes with dark striping. Just below the hard outer surface, there is a thin, parchment paper-like covering, and the seeds have flattened sides, giving them an angular appearance. The central portion of the seed is cream-colored to ivory. Breadfruit seeds must be cooked to be considered edible, as the raw nuts will contain a bitter flavor, and once cooked, the seeds soften, developing a subtly sweet, nutty, and mild flavor.
Seasons/Availability
Breadfruit seeds are available year-round, harvested from fruits that ripen multiple times a year in tropical climates worldwide.
Current Facts
Breadfruit seeds, botanically classified as Artocarpus altilis, are edible seeds embedded in the flesh of the well-known tropical breadfruit, belonging to the Moraceae family. There are several hundred varieties of breadfruit worldwide, and the trees are fast-growing, reaching up to 26 meters in height. Breadfruit trees are also highly productive. A single tree can generate approximately 204 kilograms of fruit annually. Breadfruit grows in an ultratropical climate, and almost all parts of the tree and fruits are used for medicinal, cultural, and culinary uses. The fruits can be seedless or seeded, depending on the variety, and the seeds are a secondary nutrition source as the flesh is the primary part of the fruit consumed. Breadfruit seeds are also known as Semilla Arbol de Pan, and once the seeds are cooked and prepared, they are popularly eaten as a snack, considered a delicacy worldwide.
Nutritional Value
Breadfruit seeds are a good source of carbohydrates to provide energy to the body and copper to maintain optimal nervous system functioning. The seeds also provide fiber to regulate the digestive tract, niacin to assist the body to process food into energy, vitamin B6 to maintain an active metabolism, and contains lower amounts of vitamin C, phosphorus, potassium, magnesium, iron, thiamine, and folate.
Applications
Breadfruit seeds must be cooked before consumption and are well-suited for roasting, frying, boiling, steaming, or baking. Prepping and cooking the seeds is labor-intensive as the seeds must be cooked, cooled, and then peeled. The shell and membrane will easily come off, but it breaks apart into smaller pieces causing the process to be slow. The most popular method to prepare Breadfruit seeds is to boil the seeds for at least a half-hour or until the seeds can be easily pierced. Once cooled, the seeds can be peeled and sprinkled with salt as a savory snack, pan-fried in butter to develop richer, nutty flavors, or roasted over a fire for added depth. Breadfruit seeds can also be fried and consumed similarly to potatoes, cooked and tossed into soups and stews, blended into a puree, cooked, smashed, sprinkled in sugar, and then dried or boiled and tossed into salads. Beyond cooking and using the seeds whole, Breadfruit seeds can be processed into flour and baked into bread and pastries or mixed into pasta. Breadfruit seeds pair well with coconut milk, vanilla, cream, and salt. Whole Breadfruit seeds should be cooked immediately for the best quality and flavor. The seeds can also be processed into flour for extended use and stored in a sealed container in a cool, dry, and dark place.
Ethnic/Cultural Info
Breadfruit has been widely touted as a "wonder food." The fruits are highly nutritious, fast-growing, and low maintenance, producing high fruit yields in just 3 to 5 years. Once established, breadfruit trees are also utilized for medicinal and household purposes, using many parts of the tree, including the leaves, fruit, latex, and bark. In Costa Rica, breadfruit is sometimes known as Fruta de Pan or Arbol de Pan and was introduced from the Caribbean in the late 1800s. Since its introduction, the tropical fruits grow abundantly along the country's Caribbean coastline, and the trees are often found in backyards and home gardens. In the past few decades, there has been a movement to educate Costa Rican farmers on the importance of breadfruit cultivation as a regenerative crop, and several organizations are partnering with local growers to increase production. Most farmers used to view their breadfruit trees as a waste of space as the productive trees tend to drop fruits, creating a rotting layer of decomposing flesh around the tree's base. As agroforestry organizations have visited these properties, they encourage the farmers to keep the fruits and sell them for use as a processed flour. Breadfruit flour can be shipped worldwide and requires an influx of fruit for processing, allowing the farmers to boost sales and plant more trees. In addition to drying the fruits, growers cook the seeds and sell them in local markets as a chestnut-like, on-the-go snack.
Geography/History
Breadfruit is native to tropical regions spanning from the Malay Archipelago to Oceania. The fruits have been growing wild since ancient times and were extensively cultivated by civilizations for improved fruit characteristics. Over time, the trees were spread throughout the Pacific to Polynesia through explorers, and experts believe the fruits were introduced from Samoa into Hawaii sometime in the 12th century. In the late 18th century, breadfruit was brought to the New World from the South Pacific through British explorers as a potential food source in the Caribbean. The fruits were seen as an inexpensive source of nutrients with high-energy content to feed the slaves working on plantations throughout the Caribbean islands. Breadfruit was eventually carried to South and Central America through migrating peoples, where the trees were planted and naturalized throughout warm, humid regions. Today breadfruit is only cultivated in tropical climates and cannot tolerate cold weather or frost. The fruits are grown in the Caribbean, Mexico, Central and South America, Australia, Africa, and Southeast Asia. When in season, breadfruit is typically sold through local markets, specialty distributors, select grocers, and grown in home gardens. Some breadfruit is also exported to colder countries as a specialty fruit, including Europe, Canada, and the United States.
Recipe Ideas
Recipes that include Breadfruit Seeds. One

is easiest, three is harder.