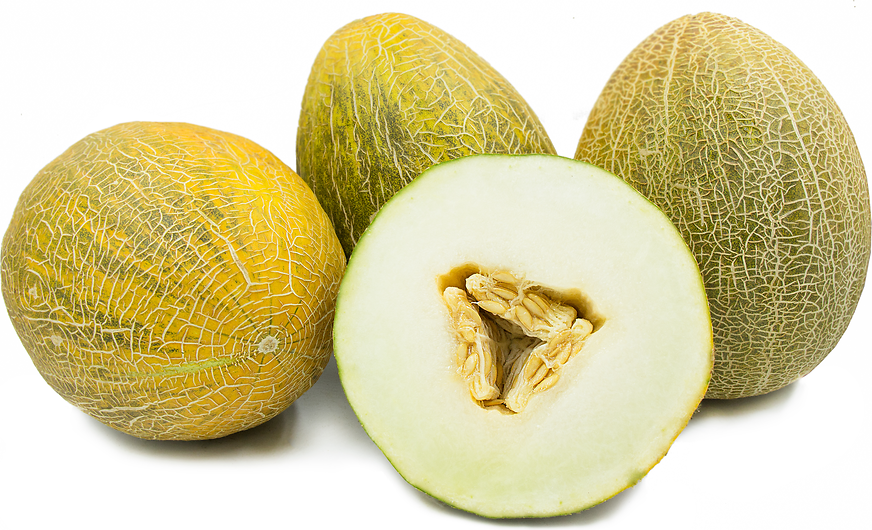 Cocha Melon
Inventory, lb : 0
Description/Taste

Cocha melons are a medium to large varietal and have an oval appearance with one blunt, curved end tapering to a pointed end. The egg-shaped melon has a semi-thin but tough, hard, and firm rind, showcasing variegated hues of golden yellow and dark green. When young, the melons begin dark green and eventually transition into a solid golden shade with maturity. The rind is also covered in white to tan cracking, creating a raised, rough, and textured surface. Underneath the rind, the pale green to ivory flesh is thick, dense, and aqueous with a crisp but succulent consistency. There is also a central cavity filled with cream-colored, tear-drop-shaped seeds suspended in a gelatinous liquid with stringy white fibers. Cocha melons emit an aromatic, fruity, and floral aroma when ripe and will feel heavy for their size. The flesh has a high sugar content, creating a sweet and honeyed taste with caramel nuances.


Seasons/Availability

Cocha melons are available in the summer through fall.


Current Facts

Cocha melons, botanically classified as Cucumis melo, are a rare variety belonging to the Cucurbitaceae family. The melons are descendants of Central Asian melons native to Uzbekistan and are a specialty cultivar offered through Isabell's Honey Farm in Southern California. Cocha melons are a type of muskmelon and are rumored to have been named after the Coachella Valley, the melon's growing site. The melons are valued for their sweet, floral, and honeyed flesh and are primarily consumed in fresh preparations. Cocha melons are not commercially cultivated and are seasonally found through a few farmers markets in Southern California.


Nutritional Value

Cocha melons have not been studied for their nutritional properties. Like other muskmelons, the variety is a source of vitamin C to strengthen the immune system while reducing inflammation, vitamin A to maintain healthy organ functioning, and fiber to regulate the digestive tract. The melons also provide potassium to balance fluid levels in the body, copper to produce red blood cells, vitamin K to assist in faster wound healing, and other nutrients, including folate, magnesium, B vitamins, zinc, and iron.


Applications

Cocha melons have a floral and sweet taste suited for fresh and cooked preparations. The melons should be washed in warm and soapy water before slicing to remove any lingering bacteria or dirt from the textured surface. Cocha melons are primarily consumed straight out of hand and are sprinkled with ginger, sugar, citrus juice, or salt for enhanced flavoring. The melons can also be chopped into salads, added to salsas and slaws, mixed into grain bowls, or served with fruit medleys on appetizer platters with salty meats and cheeses. The tender flesh is a mild, neutral topping for yogurt and granola, and the melon's aqueous nature adds flavor to smoothies, shakes, and fruit juices. Cocha melons can be incorporated into chilled soups, used as a flavoring for pudding, pies, and other desserts, or blended and frozen into popsicles, sorbet, and granita. Beyond fresh preparations, Cocha melons can be simmered into jams and preserves, seared in a hot pan to caramelize the melon's surface, or lightly grilled for added complexity. The melons can be used in any muskmelon recipe and complement savory or sweet dishes. Cocha melons pair well with vanilla, cheeses such as feta, ricotta, burrata, and goat, fruits including blueberries, strawberries, watermelons, coconut, and stone fruit, and herbs such as basil, mint, tarragon, thyme, and cilantro. Whole, unopened Cocha melons are perishable and only keep around one week when stored in the refrigerator. Once sliced, the flesh should be wrapped in plastic or kept in a sealed container and consumed within 1 to 3 days for the best quality and flavor.


Ethnic/Cultural Info

Ruben Mkrtchyan is known throughout Southern California as the "king of melons." Born in Armenia, Mkrtchyan immigrated to California in 1989 and worked his way up in the construction field, eventually becoming a general contractor and settling in Glendale, a city in Los Angeles County. Despite having a stable career, Mkrtchyan was infatuated by Central Asian melon varieties and longed for the melons he used to eat as a kid. This melon obsession led Mkrtchyan to purchase a remote acreage in the high desert valley approximately seven miles east of the small town of Onyx in Kern County. The isolated property has allowed Mkrtchyan to grow unique types of melons from Uzbekistan, varieties that are traditionally avoided in California due to their susceptibility to pests and diseases. Mkrtchyan grew over 28 varieties in 2012 to test which melons thrived in their new climate, and the arid, hot, and sunny remote region produced melons reminiscent of the ones Mkrtchyan used to eat in Armenia. After several years of trialing, Ruben Mkrtchyan, with his wife Sonya and daughter Tatevik, selected specific varieties of Persian and Uzbek melons and began selling them to chefs and the public through farmers markets throughout Los Angeles County. Mkrtchyan has developed a following of melon enthusiasts, and his seasonal, specialty melons are anticipated and sought after each year.


Geography/History

Cocha melons are believed to be a descendant of melon varieties native to Uzbekistan. Much of the history of the variety is unknown, but the melons are grown in Southern California and may have Sharlyn melons in their heritage. The Cocha melons featured in the photograph above were sourced from Isabell Honey Farm, a company owned by Tatevik Mkrtchyan. Tatevik is the daughter of Ruben and Sonya Mkrtchyan, specialty melon growers, and Tatevik works closely with her father to sell the rare melons at farmers markets throughout Los Angeles. Ruben Mkrtchyan's melons are grown in Kern County, California, and he also occasionally partners with growers in the Coachella Valley, the location where Cocha melons are most likely grown. Cocha melons are a very rare variety that is only produced in small quantities as a novelty in Southern California.