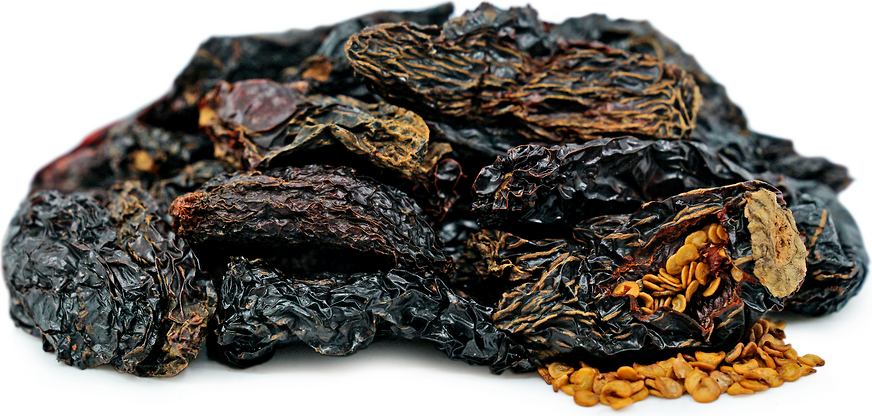 Dried Morita Chile Pepper
Inventory, 5 lbs : 0
This item was last sold on : 12/04/23
Description/Taste
Morita chile peppers are small to medium-sized, averaging 3 to 5 centimeters in length, and have a flattened and shriveled, conical appearance, tapering slightly towards a rounded tip. The dried pepper's skin is semi-thin, glossy, and textured, showcasing many small folds and creases against a dark red-brown, almost black surface. The skin also has a pliable and leathery consistency, similar to the feel of a raisin. Underneath the surface, the flesh encases a hollow cavity filled with dried golden yellow-orange, round seeds. Morita chile peppers have a fruity, slightly acidic, and earthy flavor with subtle smokey, berry undertones. The peppers also contain moderate heat, reminiscent of the intensity of a fresh red jalapeno.
Seasons/Availability
Morita chile peppers are available year-round.
Current Facts
Morita chile peppers, botanically classified as Capsicum annuum, are dried and smoked red jalapeno peppers belonging to the Solanaceae or nightshade family. The term Morita translates from Spanish to mean "small mulberry," and the pepper acquired this name from its dark, red-purple, burgundy hue. Morita chile peppers were distinguished from fresh red jalapeno peppers as their flavor, texture, and appearance are distinct when dried and smoked. These changes significantly alter flavors in recipes to the point where they have different uses in culinary preparations. Morita chile peppers are a moderately spicy pepper, ranging from 2,500 to 10,000 SHU on the Scoville scale. It is important to note that Morita chile peppers are also known as a type of chipotle chile pepper. There are two main kinds of chipotle chile peppers sold in commercial markets, Morita and meco, and Morita chile peppers are red jalapeno peppers that have been left on the vine to fully ripen. The peppers are harvested late and smoked for a short period of time until they develop a soft, dry, and leathery consistency. Meco peppers are ripened jalapenos smoked for extended periods, developing a grey-tan hue and a brittle, powdery texture. Chipotle chile peppers are traditionally smoked over cherry, apple, oak, or hickory wood, and it takes approximately ten pounds of jalapeno peppers to produce one pound of dried Morita or meco chile peppers. In the modern-day, Morita chile peppers are sold whole or crushed and are sometimes labeled as Blackberry chile, Chipotle Colorado, Mora chile, or Black Dash red chile in markets. The dried peppers can be reconstituted or ground into a powder and combined into a wide variety of culinary preparations, adding heat, flavor, and texture.
Nutritional Value
Morita chile peppers are an excellent source of vitamin C to strengthen the immune system, vitamin A to maintain healthy organ functioning, and fiber to regulate the digestive tract. The peppers also provide potassium to balance fluid levels within the body, iron to develop the protein hemoglobin for oxygen transport through the blood, and lower amounts of manganese, magnesium, and folate. In addition to vitamins and minerals, Morita chile peppers contain capsaicin, a chemical compound that triggers the brain to feel the sensation of heat or spice. Capsaicin has been shown to have anti-inflammatory properties and can help aid in digestion.
Applications
Morita chile peppers are a versatile ingredient widely used in traditional Mexican cuisine, favored for their smokey, earthy, and fruity taste. The dried peppers can be used dried or rehydrated, and it is recommended to toast the peppers before using them to enhance their depth of flavor. Morita chile peppers can be immersed in hot water for 15 to 30 minutes to rehydrate. Once softened, the peppers are often blended into sauces, salsas, glazes, and marinades as a flavoring. Morita chile peppers are among the most common peppers used in commercial markets to make adobo sauce, known as chipotles en adobo. The name adobo is derived from the Spanish word "adobar," meaning "to marinate," and the vinegar-based mix was once used as a form of food preservation. Chipotles en adobo is generally comprised of vinegar, garlic, bay leaves, brown sugar, onions, oregano, and tomatoes blended into a sauce with rehydrated Morita chile peppers. The sauce is a favored flavoring throughout Mexico, utilized as a meat marinade, sauce for main dishes, flavor enhancer for dips, or as a rich condiment. Morita chile peppers can also be incorporated into casseroles, bean dishes, mole, eggs dishes, or they can be diced and stirred into stews, chiles, and soups. In Mexico, Morita chile peppers are incorporated and used as a coloring in tinga de pollo, a tomato-based chicken stew flavored with chile peppers. In addition to rehydrating, Morita chile peppers are customarily dried and ground into powders or flakes. This aromatic spice can be sprinkled over vegetable dishes, rubbed over grilled meats, or used in any recipe calling for peppers and spice. When preparing, the powder can be mixed with oregano and garlic, creating a savory spice mix. Morita chile powder can also be folded into brownie and cake batter or used to flavor tomato-based cocktails. Morita chile peppers pair well with meats such as pork, beef, and poultry, seafood including fish, shrimp, and scallops, honey, lime, potatoes, tomatoes, and herbs such as cilantro, oregano, sage, and parsley. Whole Morita chile peppers will keep 1 to 2 years when stored in a cool and dry place away from direct sunlight.
Ethnic/Cultural Info
Morita chile peppers are well-known in the states of Veracruz and Puebla, Mexico, for their use in wet and dry salsas. The peppers are favored for their fruity, spicy, and smokey flavor, and in Veracruz, Morita chile peppers are toasted, rehydrated, and blended with aromatics to make salsa de Morita. Salsa translates from Spanish to mean "sauce" in English and has been used throughout Mexico since the Aztecs and the Mayans. Traditionally, salsa was made from a mixture of squash seeds, tomatoes, and chile peppers, but many different variations were created using available ingredients over time. The term "salsa" for the chile and aromatics mixture was first recorded in 1571 by Franciscan priest Alonso de Molina, and after the Spaniard's arrival into Mexico, salsa was spread worldwide. One unique variation of salsa from Michoacán, Mexico, is known as salsa seca, salsa de semillas, or dry salsa. Salsa seca combines toasted Morita chile peppers, oil, seeds, and nuts. This salsa is a thicker, chunkier, and drier mixture, but the salsa provides a complex blend of toasted, nutty, spicy, and earthy flavors. Salsa seca is used similarly to wet salsas, incorporated as a chip dip, spread over avocado toast, served with cheesy dishes, scrambled with eggs, or rubbed over grilled meats. The salsa is also used over tacos, providing added flavor without making the taco soggy.
Geography/History
Morita chile peppers are dried and smoked versions of red jalapeno chile peppers, moderately spicy peppers native to Mexico. Red jalapeno chile peppers have been transformed into Morita chile peppers since ancient times. Fresh jalapeno peppers were a staple crop of indigenous peoples throughout Mexico, but the fleshy peppers were prone to rot when left to naturally dry in the sun, preventing the peppers from being stored long term. Over time, the art of smoking meats and vegetables was discovered, a process that removed the moisture, allowing food items to be stored for extended periods. Jalapenos were a favorite pepper for smoking as the peppers developed an enhanced flavor. The Aztecs smoked jalapenos near Xalapa, Mexico, preparing them as a food source for scarce crop seasons. Eventually, they introduced the dried peppers to the Spanish and Portuguese explorers, who brought the peppers back on their return voyages to Europe. Today Morita chile peppers are still produced in Mexico, specifically Chihuahua, Veracruz, and Puebla, and on a smaller scale in South New Mexico and Texas. Morita chile peppers are sold through distributors, select grocers, Mexican markets, and online retailers.
Featured Restaurants
Restaurants currently purchasing this product as an ingredient for their menu.
| | | |
| --- | --- | --- |
| Gravity Heights Restaurant and Brewery | San Diego CA | 858-551-5105 |
| Tahona (Kitchen) | San Diego CA | 619-573-0289 |
| Jake's Del Mar | Del Mar CA | 858-755-2002 |
| Crudo Cevicheria & Oyster Bar | San Diego CA | 619-313-9127 |
| Wormwood | San Diego CA | 619-573-0289 |
| Casero Taqueria | Carlsbad CA | 760-533-4997 |
| Juniper & Ivy | San Diego CA | 858-481-3666 |
| Coasterra | San Diego CA | 619-814-1300 |
| Public House 131 | San Diego CA | 858-537-0890 |
| Chef Drew Mc Partlin | San Diego CA | 619-990-9201 |
| The Lion Share | San Diego CA | 619-564-6924 |
| Fish Guts | San Diego CA | 619-888-0081 |
| Carte Hotel | San Diego CA | 619-365-1858 |
| Oscars Brewing Company | Temecula CA | 619-695-2422 |
| Wayfarer Bread | La Jolla CA | 805-709-0964 |
| Papalo | LA MESA CA | 619-886-3034 |
| Fernside | San Diego CA | 619-398-5156 |
| Toast Catering | San Diego CA | 858-208-9422 |
| The Shout House | San Diego CA | 619-231-6700 |
| Burgeon Beer Co. | San Diego CA | 760-814-2548 |
Recipe Ideas
Recipes that include Dried Morita Chile Pepper. One

is easiest, three is harder.