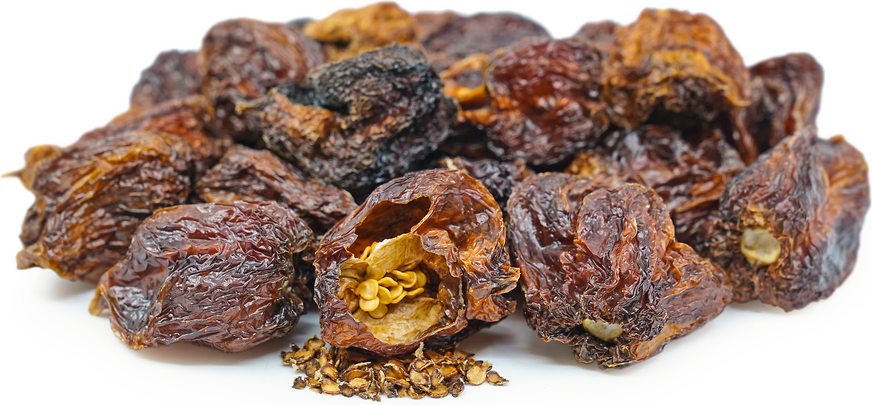 Dried Scotch Bonnet Peppers
Inventory, lb : 0
Description/Taste
Dried Scotch Bonnet chile peppers are comprised of small, shriveled pods that have been compressed by dehydration and feature an oval, wrinkled appearance. The skin is thin, waxy, and somewhat pliable nature with a leathery consistency. The deeply creased surface also ranges in color from maroon to red-brown with orange accents along the folds and wrinkled edges. Underneath the skin and thin flesh, Dried Scotch Bonnet chile peppers have a hollow, central cavity filled with many small yellow-orange, round seeds. Dried Scotch Bonnet chile peppers have a smoky, fruity, floral, and herbaceous flavor mixed with musky notes of tomato, apple, cherry, and bell pepper. The peppers also have a robust, intense spice that immediately hits the tongue and lingers on the palate.
Seasons/Availability
Dried Scotch Bonnet chile peppers are available year-round.
Current Facts
Dried Scotch Bonnet chile peppers, botanically classified as Capsicum chinense, are dehydrated versions of a fiery, sweet, and fruity pepper belonging to the Solanaceae or nightshade family. The dried chile peppers are a very hot cultivar averaging 100,000 to 350,000 SHU on the Scoville scale, and are distantly related to the habanero pepper. Dried Scotch Bonnet chile peppers are valued for their extended storage capabilities and provide chefs with the pepper's distinct flavor year-round. Dried Scotch Bonnet chile peppers are utilized rehydrated or ground into a powder and are widely incorporated into Caribbean cooking, especially in Jamaica, as the peppers are one of the largest agricultural exports for the country. Dried Scotch Bonnet chile peppers were also one of the first Caribbean hot peppers to be identified in the export market by a specific name. Dried Scotch Bonnet chile peppers can be used in any recipe calling for fresh Scotch Bonnet peppers, and the peppers are known worldwide under various labels, including Bonney peppers, Caribbean Red peppers, Bahama Mama, Scotty Bons, Jamaican Hot, the Bahamian, Jamaican pepper, Boabs Bonnet, and the Martinique pepper.
Nutritional Value
Scotch Bonnet chile peppers are an excellent source of vitamins A and C, antioxidants that boost collagen production, reduce inflammation, and strengthen the immune system. The peppers also contain magnesium, flavonoids, folate, phytochemicals, and a high amount of capsaicin, which is the chemical compound that triggers the brain to feel the sensation of heat or spice. Capsaicin has been shown to provide anti-inflammatory benefits.
Applications
Dried Scotch Bonnet chile peppers have a pungent heat well suited for raw and cooked preparations. The dried peppers can be reconstituted in hot water for approximately ten minutes and then diced or pureed into recipes. Some chefs will remove the seeds within the peppers to reduce heat, but it is primarily determined by personal preference. Rehydrated Scotch Bonnet chile peppers can be blended into marinades, sauces, salsas, and relishes, simmered into jams, or combined into soups, stews, and curries. The peppers can also be stirred into casseroles and vegetables or used to complement dishes with acidity, such as ceviche. In addition to reconstituting, Dried Scotch Bonnet chile peppers can be infused into rum for spicy cocktails, ground into a powder for spice mixes, or crushed into flakes and used as a dry rub over roasted meats. It is important to note that Scotch Bonnet chile peppers should be used sparingly in dishes, as one pod is often enough to flavor an entire recipe. It is also recommended that gloves and goggles are worn when handling the peppers as the high capsaicin content can irritate the skin and eyes. Scotch Bonnet chile peppers pair well with spices such as cinnamon, nutmeg, thyme, and allspice, aromatics including cilantro, ginger, scallions, and garlic, and fruits such as pineapple, oranges, mangos, berries, papaya, and passion fruit. Whole Dried Scotch Bonnet chile peppers will keep 1 to 3 years when stored in a sealed container in a cool, dry, and dark place.
Ethnic/Cultural Info
Scotch Bonnet chile peppers are known for their use in jerk cooking. Jerk is a style unique to Jamaica, fusing culinary practices from Taíno and African cultures to create an aromatic, sweet, spicy, and tender dish. When the Spanish colonized Jamaica in the 16th century, they brought enslaved people with them to complete laborious agricultural and mechanical tasks. Over time, some of these enslaved people escaped into Jamaica's mountains, and in the 17th and 18th centuries, after the British drove out the Spaniards, more enslaved people joined the indigenous people group known as the Taíno of the Arawaks. The escaped enslaved people were known as Maroons, a word derived from the Spanish word "cimarrones," meaning "mountaineers." The Maroons and the Taíno combined culinary practices to create a sustainable lifestyle of foraging and hunting to remain hidden from the oppression of the colonialized settlements. They also used a cooking style of smoking meats in underground ovens to prevent fire or smoke from giving away their location. The cooking technique of jerk was created, and the term jerk generally refers to the motion of turning meat over a fire. Some experts also believe it is derived from the Quechua word "charqui," meaning "dried or salted meat." In the modern-day, jerk cooking is a prized cooking style in Jamaica, and Scotch Bonnet chile peppers are a commonly used pepper in Jamaican jerk sauces. In Jamaica, it is often said that when someone generally mentions a hot chile pepper for recipes, they are most likely referring to a Scotch Bonnet chile pepper.
Geography/History
Scotch Bonnet chile peppers are descendants of original pepper varieties native to South America and have been growing wild since ancient times. The peppers were later introduced into the Caribbean via the migration of indigenous populations, and eventually, the island settlements began cultivating the peppers to create new cultivars that would become adapted to the islands. Dried Scotch Bonnet peppers are dehydrated versions of the fresh peppers and are dried in the sun for extended use as a spice and flavoring. Today Scotch Bonnet chile peppers are grown mainly in the Caribbean on the island of Jamaica, as the pepper thrives in the tropical climate in all fourteen parishes of the country. The peppers are used locally and exported into the United States, Central America, South America, and Western Africa. Outside of the Caribbean, Dried Scotch Bonnet chile peppers are available through online retailers worldwide.
Recipe Ideas
Recipes that include Dried Scotch Bonnet Peppers. One

is easiest, three is harder.