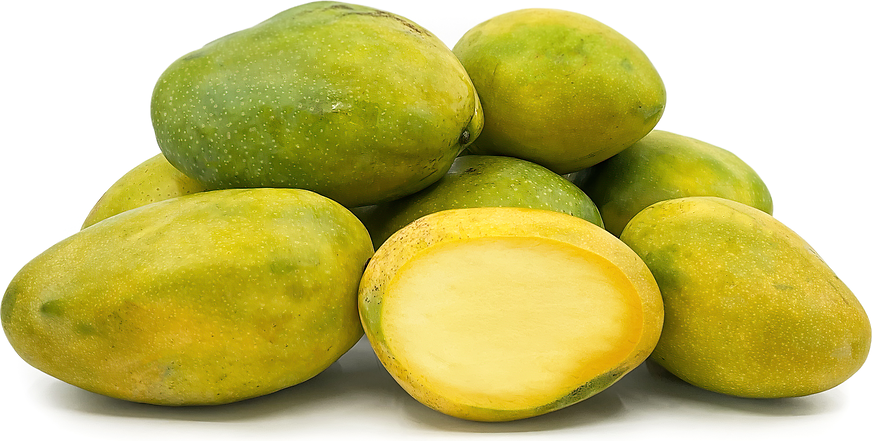 Imam Pasand Mangoes
Inventory, lb : 0
Description/Taste

Imam Pasand mangoes are a medium to large varietal, averaging 25 to 33 centimeters in length, and have an oval to oblong shape with a straight, slightly tapered nature. The mangoes range from 300 to 500 grams in weight, sometimes growing up to 800 grams, and the skin is thin, being easily punctured or damaged. The variety's skin is smooth and taut, ripening from green to variegated shades of yellow, orange, and green, and depending on sun exposure, some fruits may exhibit a faint red blush. The surface is also enveloped in white spots, a characteristic unique to the variety. Underneath the easy-to-peel, soft skin, the pale yellow flesh is tender, fibreless, and aqueous with a silky, succulent, and melting consistency. The flesh also encases a thin, inedible seed. Imam Pasand mangoes release a fragrant aroma and are able to fill a room with its scent when ripe. The variety has a sweet and tangy taste with distinct citrus and coconut nuances.


Seasons/Availability

Imam Pasand mangoes are available from mid-April through July in India. Each region will have a varying season within this timeframe, depending on the climate.


Current Facts

Imam Pasand mangoes, botanically classified as Mangifera indica, are an Indian variety belonging to the Anacardiaceae family. The mid-season cultivar grows on trees reaching 2 to 3 meters in height and is a rare variety cultivated for its distinct flavor and texture. Imam Pasand mangoes have a high flesh-to-seed ratio and are one of the thinnest-skinned fruits of the Indian mango varieties, leading the cultivar to be a prized delicacy. Despite their demand throughout India, Imam Pasand mangoes are challenging to commercially cultivate due to their thin, easily punctured skin, and the trees naturally produce less quantities of fruits than other commercial mangoes. Imam Pasand mangoes begin bearing fruits 3 to 4 years after planting, and the fruits are typically harvested when they are mature but about 2 to 4 weeks before full ripening. The variety is known by several regional names, including Himam Pasand, Hamam, Himayat Aam, Hiayuddin, Himma Pasand, Salem Imama Pasanth, and Humayun Pasand mangoes. Imam Pasand mangoes are typically consumed ripe and are a summer specialty utilized in a wide array of refreshing dessert preparations.


Nutritional Value

Imam Pasand mangoes are a source of iron to produce the protein hemoglobin for oxygen transport through the bloodstream, potassium to balance fluid levels within the body, and vitamin A to maintain healthy organ functioning. The variety also provides vitamin C to boost the immune system, fiber to regulate the digestive tract, magnesium to control optimal nerve functioning, calcium to build strong bones and teeth, and other nutrients, including B vitamins, folate, manganese, copper, and zinc. In Ayurveda, the traditional medicine of India, mangoes are viewed as a way to increase digestion and cool the spirit. They are also thought to help reduce inflammation and clean the kidneys.


Applications

Imam Pasand mangoes have a sweet, tangy, and citrusy flavor suited for fresh and cooked preparations. The variety is traditionally consumed straight out of hand in India and is savored for its melting, buttery smooth texture. Imam Pasand mangoes are also sliced and served on appetizer platters, tossed into salads, or used as a fresh topping over desserts and breakfast dishes. Try layering the mangoes in parfaits, blending them into smoothies and fruit juices, or pureing and freezing them into popsicles, sorbet, and ice cream. In Andhra Pradesh in India, Imam Pasand mangoes are popularly blended into mango lassis, a refreshing summer beverage consumed to cool the body. Imam Pasand mangoes can also be added to cakes, custards, puddings, panna cotta, mousses, and other desserts for enhanced flavoring. Mango phirni is a popular dessert in India made from mangoes, ground basmati rice, and milk to make a thick pudding-like dish. Other Indian mango-based desserts include mango burfi, shrikhand, and kalakand. Imam Pasand mangoes pair well with spices such as cardamom, turmeric, cinnamon, and cloves, herbs including cilantro, mint, and parsley, milk, yogurt, dried rose petals, vanilla, and nuts such as pecans, almonds, and peanuts. Whole, unopened Imam Pasand mangoes should be stored at room temperature to ripen. Once ripe, the variety should be immediately consumed for the best quality and flavor.


Ethnic/Cultural Info

The name Imam Pasand roughly translates from Urdu, a language spoken in several states in India, to mean "Imam's Favorite." "Imam" is a title used for appointed leaders in positions of power, and "pasand" translates to "favorite." This leader-centric moniker has several legends surrounding the origins of the mango's name. The first legend recounts that Imam Pasand mangoes were a favorite of royalty throughout the Indian subcontinent, most notably Humayun, a Mughal Emperor in the 16th century. Humayun widely cultivated the variety, increasing its popularity. Imam Pasand mangoes are sometimes known as Himayuddin and Humayun Pasand for this reason. The second legend explains the mango's nickname as the "King of Trichy." It is said that the family who once owned Thathachariar Thottam Gardens, a famous estate in the city of Tiruchirappalli in Tamil Nadu, introduced the mangoes to the region through their garden. Tiruchirappalli is also known as Trichy, eventually being tied to the celebrated mangoes of the region.


Geography/History

Imam Pasand mangoes are native to India and are thought to have been first discovered in the state of Tamil Nadu or Andhra Pradesh. Much of the variety's history is unknown, but some research states that the variety was once adopted by the Nawab, or deputy governor of Hyderabad, now modern-day Telangana, and extensively grown in that region. Throughout history, Imam Pasand mangoes have been a favored variety among royalty and are grown on a smaller scale as a specialty mango. Today Imam Pasand mangoes are primarily localized to India and are a popular seasonal variety in Tamil Nadu, Andhra Pradesh, and Telangana. Within Tamil Nadu, the production of Imam Pasand mangoes is concentrated in Tiruchirappalli, Salem, Kuttralam, Dhramapuri, and Krishnagiri. The Imam Pasand mangoes featured in the photograph above were sourced from Spar Market in Chennai, India.