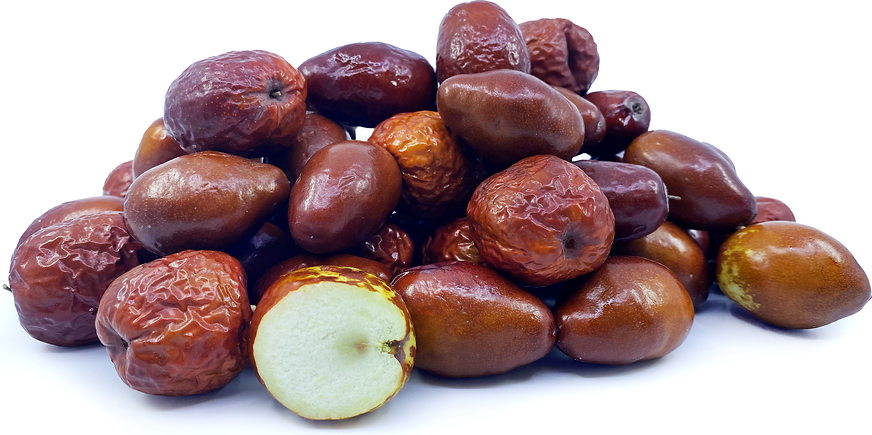 JuJubes
Inventory, 18 lbs : 0
Description/Taste
Jujubes widely range in size, depending on the specific variety, and have a round, oval, to ovate shape. The skin is firm, smooth, and chewy, transitioning from green when immature to yellow-green, red-brown, to mahogany when ripe. As the fruit reaches full maturity, it will also begin to wrinkle, resembling a dried date. Some varieties of Jujubes are considered edible in their yellow-green phase, and the skin may bear variegated hues of green, yellow, and brown depending on the degree of ripeness. Underneath the surface, the flesh is crisp, grainy, airy, and semi-aqueous with a snap-like quality similar to an apple. There is also a small, inedible pit found in the center of the pale green to white flesh. Jujubes vary in flavor from very sweet to a combination of sweet, tangy, and subtly tart.
Seasons/Availability
Jujubes are available in the late summer through fall.
Current Facts
Jujubes, botanically classified as Ziziphus jujuba, are drupes that grow on a small, deciduous tree belonging to the Rhamnaceae family. The ancient fruits are native to China, where they are prized as a medicinal ingredient and a food source. The Jujube tree is also valued for its ornamental properties, as the weight of the fruit on the tree gives the branches an artistic, drooping appearance. In China, Jujubes were traditionally grown to maturity and consumed when they were wrinkled and dried, containing a date-like consistency. As cultivation of Jujubes increased over time, many new varieties were developed to diversify the market, creating cultivars that could be eaten fresh in addition to drying. Today there are over 400 varieties of Jujubes, and the fruits are also known as Chinese dates, Korean dates, Red dates, and Tsao. Outside of Asia, Jujubes are considered rare fruits that are grown as a specialty item for local markets. Li and Lang Jujubes are the two most popular varieties in cultivation in the United States.
Nutritional Value
Jujubes are an excellent source of vitamin C, an antioxidant that strengthens the immune system and are a good source of fiber to regulate the digestive tract. The fruits also contain minerals, including potassium, to regulate fluid levels, zinc to fight off viruses, and phosphorus to help grow bones. In traditional Chinese medicine, Jujubes are used as a healing ingredient, primarily in teas, to soothe sore throats and reduce symptoms associated with stress.
Applications
Jujubes are best suited for raw applications as their sweet and crisp nature is showcased when consumed fresh, out-of-hand. The skin and flesh are edible with the central pit discarded, and the fruits can be eaten as a crisp snack, infused into beverages, or sliced and mixed into green salads. In addition to fresh eating, Jujubes can be cooked into honey, jams, and syrups, made into a paste for fillings in cakes and pastries, candied, or incorporated into stews, porridges, and rice dishes. The fruits are also commonly dried until they have a sticky, date-like consistency and are used in baked goods, teas, sauces, and soups. Beyond dried applications, Jujubes can be fermented into wine, smoked, or preserved in syrup for extended use. Jujubes pair well with honey, brown sugar, chocolate, nuts such as walnuts, almonds, pistachios, and pecans, citrus, coconut, and meats such as poultry, fish, and pork. Fresh whole Jujubes can be stored in a sealed container in the refrigerator for 2 to 4 weeks. Dried Jujubes will keep 6 to 12 months when stored in a cool place away from direct sunlight.
Ethnic/Cultural Info
Jujubes are consumed during the Chinese New Year celebration as a symbol of prosperity, good luck, and wealth. The fruits were initially given as offerings in Buddhist temples during the festival, but over time, Jujubes were valued for their sweet flavor, which was believed to bring happiness in the year to come. Jujubes are most popularly consumed dried, as the dark red coloring of the wrinkled fruit is considered to be lucky, and the date-like consistency of the fruit is primarily used for desserts, teas, and snacks. During the New Year's Eve reunion dinner, which is the most important event of the celebration, families reunite from all over the world to share an elaborate meal. Jujubes are traditionally incorporated into Jujube nian gao, a steamed cake filled with rice that is decorated with a single jujube or is filled with a mashed jujube paste. The cake has a sticky, creamy consistency that is customarily shaped into designs such as flowers or gold bricks. The name of the cake also sounds similar to the word for "high" or "higher" in Chinese, symbolically meaning that consuming the cake will elevate or bring higher levels of success in the next year.
Geography/History
Jujubes are native to China, where they have been cultivated for over 4,000 years. The small fruits were later transported along the silk road and introduced into the rest of Asia, the Middle East, and Europe sometime around 380 CE. Jujubes have been extensively cultivated in China, selected for improved growth characteristics and flavor, and were bred to be consumed in fresh and dried forms. In 1908, agricultural explorer Frank Meyers, in partnership with the USDA, visited China and gathered 67 samples of Jujube varieties to introduce into the United States. The cultivars were planted at the Plant Introduction Station in Chico, California, and were eventually distributed among other USDA stations, including Florida, New Mexico, Oklahoma, Texas, and Georgia. In 1926, after trialing the cultivars, the USDA recommended four main varieties for cultivation in the United States, which are still the major cultivars seen in production today. Jujubes are primarily found through fresh markets and specialty grocers in Asia, Europe, the Middle East, Australia, and the United States.
Recipe Ideas
Recipes that include JuJubes. One

is easiest, three is harder.
the other 1...