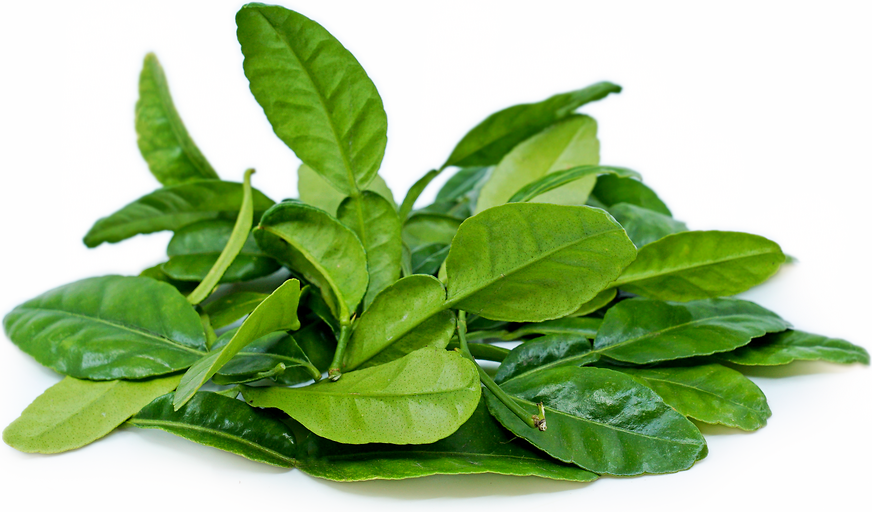 Makrut Lime Leaves
Inventory, lb : 74.57
This item was last sold on : 12/10/23
Description/Taste
Makrut lime leaves are small to medium in size, averaging 3 to 5 centimeters in diameter and 8 to 12 centimeters in length, and have an oval shape, tapering slightly at both ends. The leaves grow in a unique double-leaf formation, meaning the leaves form in pairs, creating two sets of mirrored leaves on either side of the stem. Makrut lime leaves are thick, leathery, and glossy, showcasing an emerald-green hue on the upper surface. The underside of the leaves is a matte, pale green and has a porous texture, releasing essential oils when rubbed or sliced. Each leaf has a prominent central rib that is fibrous, tough, and should be removed before consumption. Makrut lime leaves emit a potent, citrus-like aroma and a refreshing, bright, and subtly floral citrus flavor with strong lime notes mixed with subtle mandarin orange and lemon nuances.
Seasons/Availability
Makrut lime leaves are available year-round.
Current Facts
Makrut lime leaves, botanically classified as Citrus hystrix, are the aromatic, evergreen foliage of a small thorny shrub or tree reaching 1 to 10 meters in height, belonging to the Rutaceae or citrus family. The species is native to Southeast Asia, where the plant is valued for its fragrant leaves and scented fruit rind. Makrut lime leaves are also known as the Chanh Sac in Vietnamese, Bai Magrood, Thai lime leaves, Limau Purut in Malay, Mak Khi Hut in Laotian, Jeruk Purut in Indonesian, Kulubot and Kabuyaw in Filipino, and as Kaffir lime leaves in some countries. It is important to note that despite the limes being known as kaffir, the term is being removed as a name for the species as kaffir is a controversial and offensive slang word in South Africa and the Middle East. Makrut lime leaves are the most used portion of the plant and are sold in commercial markets in fresh, dried, and frozen forms. The leaves are popularly used as an aromatic culinary ingredient and can be infused or thinly sliced into various raw and cooked preparations.
Nutritional Value
Makrut lime leaves contain potassium to balance fluid levels within the body, calcium to build strong bones and teeth, and antioxidants to protect the cells against free radical damage. The leaves also provide vitamin A to maintain healthy organ functioning, iron to develop the protein hemoglobin for oxygen transport through the bloodstream, and other nutrients, including zinc, copper, manganese, and magnesium. In addition to vitamins and minerals, Makrut lime leaves contain limonene and citronellol, compounds that contribute to the flavor and fragrance of the leaves, also shown to have antimicrobial properties. In Southeast Asia, Makrut lime leaves are utilized for their refreshing scent in cleaning products, potpourri, and as a natural perfume rubbed on the skin. The essential oils within the leaves are also extracted and mixed into toothpaste and mouthwash as a breath freshener.
Applications
Makrut lime leaves have a bright, aromatic, and zesty citrus-like scent and flavor suited for raw and cooked preparations. The leaves are typically added to dishes whole, similar to bay leaves, and are removed before serving, or they are rolled and finely sliced into thin strips, added as an edible garnish. It is important to note that the central ribs should be removed if cutting the leaves as they are tough and will not soften with cooking. Makrut lime leaves are a flavor enhancement throughout Southeast Asian cuisine, especially in Thai, Vietnamese, Malaysian, Indonesian, Laotian, Cambodian, and Singaporean dishes. The leaves are often added to soups, curries, and stews, including tom yum and hot and sour soup, or they are infused into fried rice and stir-fries. Makrut lime leaves can also be boiled, steamed, or sauteed in main dishes, added fresh to salads, packed into fish cakes, or finely minced into spice pastes. The aromatic nature of the leaves helps mask fishy odors or pungent smells from snails, seafood, and other ingredients, and the leaves can also be used in dessert preparations, added to ice cream and custards. Beyond traditional recipes, Makrut lime leaves are used in modern adaptations, dried and minced into sea salt, sprinkled over desserts, added to cocktails, or rubbed over fish. The leaves can also be boiled with ginger root and lemongrass to make a soothing tea, thought to lessen the severity of colds. Makrut lime leaves pair well with aromatics such as lemongrass, basil, cardamom, chile peppers, curry leaves, mint, tamarind, turmeric, cumin, galangal, ginger, and garlic, soy sauce, sesame oil, jasmine rice, meats such as lamb, chicken and pork, mussels, other seafood, and coconut milk. Whole, unwashed Makrut lime leaves will keep for two weeks when stored fresh in the refrigerator in a sealed container. The leaves will also keep for one year when stored in a sealed container in the freezer, or they can be dried and kept away from direct sunlight at room temperature for 1 to 3 years.
Ethnic/Cultural Info
Makrut lime leaves are an integral cleansing element in the rituals of Feng Shui. The ancient Chinese practice of Feng Shui is a method of creating functional living spaces to balance yin and yang properties. Balancing these properties allows for positive chi flow, another term for the life force or spirit in living things. Feng Shui roughly translates to mean "the way of wind and water," and the idea of balancing positive and negative chi can be traced to Taoist traditions. In Feng Shui, Makrut lime leaves are praised for their cleansing properties and are believed to purify the mind, body, and spirit. The leaves are also thought to bring health and good luck. The leaves are traditionally dried and burned as incense, removing negative energy from living spaces, or the leaves are crushed and mixed with water, sprinkled on doorways, and used to clean surfaces in houses to invite purification. Makrut lime leaves are also believed to help remove unwanted negative energy or spirits from bodies, making room for positive chi to flow, bringing good luck. In Southeast Asia, it is a common practice to bathe in crushed Makrut lime leaves after experiencing death in a household or having a streak of bad luck. Some households also dip Makrut lime leaves in water and sprinkle the water over family members who have recently visited cemeteries. This practice is viewed as a cleansing and protective ritual to scare away lingering spirits who may have followed the family members from the cemetery. In addition to the leaves, two Makrut limes can be rubbed in between the palms of the hand for about ten minutes. While rubbing the limes, a chant is spoken to remove bad intentions, negative thoughts, and slander, expelling the bad energies into the limes. Once finished, the limes are tossed over the left and right shoulder into moving water, and this act of throwing the limes and not looking back is believed to remove and expel the negative chi.
Geography/History
Makrut lime leaves are native to Southeast Asia, specifically the Indo-Malayan region, and have been growing wild since ancient times. The small trees or shrubs were selected from the wild for their aromatic fragrance and were commercially cultivated, expanding the species through export across trade routes in Asia. Makrut limes have been hybridized and cultivated for centuries in Southeast Asia, and the citrus has also become a popular home garden tree, utilized for its culinary properties, fragrance, and essential oils. Today Makrut lime leaves are still harvested from wild trees and are also commercially grown, sold through local markets, specialty grocers, and online retailers. Fresh leaves are mainly offered in Southeast Asia, South Africa, and Australia, but small quantities are becoming increasingly available in Southern California and Florida in the United States.
Featured Restaurants
Restaurants currently purchasing this product as an ingredient for their menu.
| | | |
| --- | --- | --- |
| Sago | Encinitas CA | 858-382-4047 |
| Nolita Hall - Bar | San Diego CA | 619-618-8820 |
| Campfire Bar | Carlsbad CA | 858-231-0862 |
| Smoking Gun (Bar) | San Diego CA | 619-276-6700 |
| Secret Sister | San Diego CA | 619-281-0718 |
| La Costa Resort & Spa Main Kitchen | Carlsbad CA | 760-930-7063 |
| Jeune Et Jolie Bar | Carlsbad CA | 8582310862 |
| Dija Mara 2021 | Oceanside CA | 760-231-5376 |
| Mothership | San Diego CA | 858-342-3609 |
| Herb & Wood | San Diego CA | 520-205-1288 |
| Inn at Rancho Santa Fe (Banquet) | Rancho Santa Fe CA | 858-381-8289 |
| Seasoned Catering and Events | San Diego CA | 619-246-4909 |
| Addison Del Mar | Del Mar CA | 858-350-7600 |
| Duke's La Jolla | La Jolla CA | 858-454-1999 |
| Grass Skirt | San Diego CA | 858-412-5237 |
| Lost Cause Meadery | SAN DIEGO CA | 858-245-1911 |
| Cardellino (Bar) | San Diego CA | 619-722-3398 |
| WineSellar & Brasserie | San Diego CA | 858-450-9557 |
| Kingfisher | San Diego CA | 619-861-8074 |
| Royal Polaris Sportfishing | San Diego CA | 619-226-8030 |
the other 28...
| | | |
| --- | --- | --- |
| Mabel's Gone Fishing Bar | San Diego CA | 619-228-9851 |
| Pacific Coast Spirits Bar | Oceanside CA | 925-381-5392 |
| InterContinental Vistal Kitchen | San Diego CA | 619-501-9400 |
| Fort Oak | San Diego CA | 619-795-6901 |
| Ron Oliver | San Diego | 619-295-3172 |
| Books and Records | San Diego CA | 619-310-5298 |
| Paradisaea Restaurant | La Jolla CA | 732-915-6669 |
| Animae | San Diego CA | 619-925-7908 |
| Blue Ocean | Carlsbad CA | 760-434-4959 |
| Bridges at Rancho Santa Fe | Rancho Santa Fe CA | 858-759-6063 |
| Jeune Et Jolie | Carlsbad CA | 858-231-0862 |
| Lafayette Hotel | San Diego CA | 619-296-2101 |
| Snake Oil Cocktail Company LLC | San Diego CA | 619-754-4041 |
| Lafayette Hotel - Mississippi Kitchen | San Diego CA | 619-296-2101 |
| Boujiemana | San Diego CA | 925-980-9316 |
| Alila Marea Beach Resort | Encinitas CA | 805-539-9719 |
| Sandpiper Wood Fired Grill & Oysters | La Jolla CA | 858-228-5655 |
| Kona Kai Resort and Marina | San Diego CA | 619-221-8000 |
| Bar Same Same (Kitchen) | Carlsbad CA | 760-470-9143 |
| Artifact at Mingei | San Diego CA | 619-846-2164 |
| Toast Catering | San Diego CA | 858-208-9422 |
| Burgeon Beer Co. | San Diego CA | 760-814-2548 |
| Matsu | Oceanside CA | 760-717-5899 |
| Kettner Exchange Bar | San Diego CA | 909-915-9877 |
| Javier Plascencia | Bonita CA | 619-295-3172 |
| Trust Restaurant | San Diego CA | 609-780-7572 |
| Saiko Sushi-Coronado | Coronado CA | 619-435-0868 |
| Urbana Mexican Gastronomy | San Diego CA | 949-413-3352 |
Recipe Ideas
Recipes that include Makrut Lime Leaves. One

is easiest, three is harder.
the other 10...