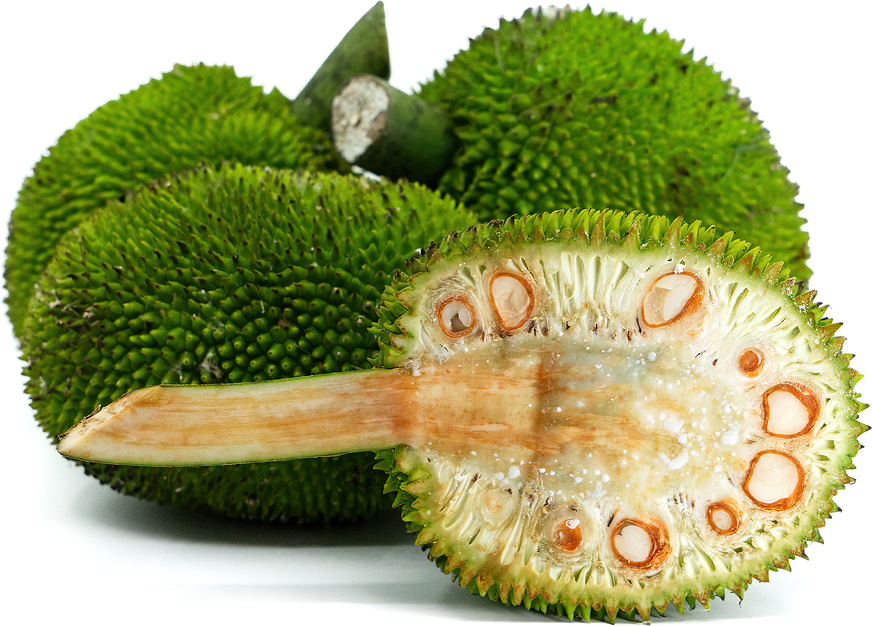 Kamansi
Inventory, lb : 0
Description/Taste

Kamansi fruit has an oblong shape and measures 3-7 inches in diameter. The exterior of the fruit has a dull green to yellow hue and is covered in spiky protrusions. Within the fruit is a small amount of sweet edible pulp that surrounds between 12 and 150 round, sometimes flattened seeds. Approximately 1 inch in size the seeds are covered with a thin brown skin and offer a taste and texture that has been compared to that of chestnuts.


Seasons/Availability

Depending upon location Kamansi fruits are available between the fall and the spring and in Hawaii during mid-summer.


Current Facts

Botanically known as Artocarpus camansi, the Kamansi fruit tree is an evergreen grown predominately for the edible seeds within its fruit. Often mistakenly referred to as a type of breadfruit Kamansi is actually the wild ancestor from which breadfruit originated and is known in English as Breadnut. Both the breadfruit and the Breadnut are made up of numerous individual fruits fused together to form one fruit or syncarp.


Nutritional Value

The seeds of the Kamansi have a highly nutritive value offering 13-20% protein. The seeds also offer niacin, minerals and the amino acids, leucine, methionine, serine, and isoleucine.


Applications

Both the pulp and seeds of the Kamansi fruit are edible though predominately the fruit is used for it's seeds. Kamansi seeds can be roasted, boiled, or baked and eaten as a snack food. Seeds can be cooked in savory preparations of soup or rice. The seeds can also be canned in brine or used to make nut butter, oils, paste, and flour. The pulp and seeds of the immature fruit can be cooked as a vegetable in soups, stews, and curries. Kamansi fruit should be stored in a cool and dark location until ready for use.


Ethnic/Cultural Info

In the Philippines, the pulp and seeds of the immature Kamansi are sliced thin and cooked like a vegetable often along with pork, coconut milk, and chili peppers. Studies are being conducted in the Philippines to utilize better the Kamansi and it's nutritionally dense seeds to produce a flour for use in commercial production of nutritionally improved cookies.


Geography/History

Kamansi fruit is native to New Guinea and Indonesia. In the late 1700's Kamansi was spread throughout the tropics by European explorers and traders. Today Kamansi is grown as an exotic fruit in the Philippines, Trinidad, New Caledonia, Central and South America, Tobago, and parts of West Africa. A handful of trees introduced by Philipino immigrants can also be found in Tahiti, the Marquesas, Pohnpei, and Hawaii. Kamansi trees can grow up to 50 feet in height and once established can withstand brief stints of drought as well as periodic flooding. Trees typically produce their first fruits when 8-10 years old and when mature can produce upwards of 600-800 fruits each season.