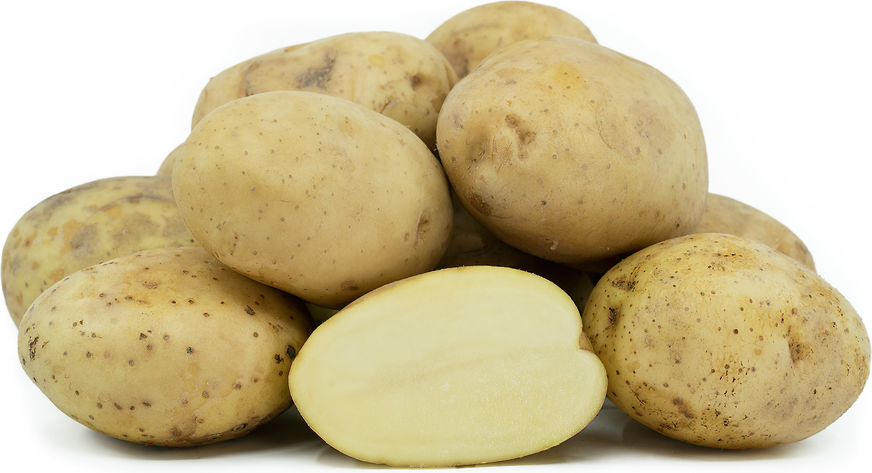 Kennebec Potatoes
Inventory, 50 lbs : 0
Description/Taste
Kennebec potatoes are medium to large varietal, averaging 5 to 7.5 centimeters in diameter, and have an oval, elliptical, oblong shape. The tubers are slightly flattened with curved, blunt, tapered edges, and the skin is thin, showcasing ivory, tan, brown, to cream shades. The skin also has a smooth appearance but exhibits a slightly rough texture, giving the surface a waxy, lightly bumpy, and easily bruised nature. The shallow eyes are intermixed with dark brown speckling and spots, and underneath the surface, the flesh ranges from ivory to cream-colored. The flesh is starchy, solid, dense, firm, and slippery, developing a soft, tender, and fluffy consistency when cooked. Kennebec potatoes are known for their high starch and sugar content. Starch allows the flesh to crumble and soak up accompanying cooking liquids, and the sugar content gives the flesh a sweeter taste than other commercial varieties. Kennebec potatoes are inedible when raw and must be cooked. The tubers developed a rich, earthy, nutty, and subtly sweet taste.
Seasons/Availability
Kennebec potatoes are available year-round, with peak season in the late summer through early winter.
Current Facts
Kennebec potatoes, botanically classified as Solanum tuberosum, are an American variety belonging to the Solanaceae or nightshade family. The mid to late-season cultivar was commercially released in the mid-20th century and was initially introduced as a frying and chipping potato. Kennebec potatoes develop a fluffy consistency and a sweet and nutty taste when fried, making them an ideal cultivar for restaurants and potato chip companies. Since their release, Kennebec potatoes have developed a niche following of chefs, foodies, and processors throughout the United States and Canada. Some chefs prize Kennebec's texture and flavor so much that they label the potatoes by name on menus to differentiate the cultivar from other potato varieties. Despite their ideal frying qualities, Kennebec potatoes have a shorter shelf life than other processing varieties, sometimes making them less popular than hardier commercial cultivars. Kennebec potatoes are a type of white potato that can be harvested young, approximately 70 to 80 days, or full-grown, picked around 90 to 120 days after sowing. Growers favor the variety for its high yields, fast-growing nature, and resistance to late blight. In the modern day, Kennebec potatoes have expanded beyond their reputation as frying and chipping potatoes and are now marketed as an all-purpose variety suitable for a wide range of cooked preparations. Kennebec potatoes have also become a popular home garden variety in the United States.
Nutritional Value
Kennebec potatoes are a source of potassium to balance fluid levels within the body, fiber to regulate the digestive tract, and vitamin C to strengthen the immune system while reducing inflammation. The tubers also provide vitamin A to maintain healthy organ functioning, vitamin K to assist in faster wound healing, calcium to build strong bones and teeth, and other nutrients, including folate, phosphorus, thiamin, riboflavin, and iron.
Applications
Kennebec potatoes have an earthy, nutty, and subtly sweet taste suited for cooked preparations. The variety's fluffy texture and sweet flavor are showcased when roasted, fried, boiled, baked, and stewed. Kennebec potatoes are popularly made into French fries, chips, shoestring potatoes, and hash browns. The tubers can also be used to make Hasselback potatoes. In addition to frying, Kennebec potatoes hold their shape well and can be tossed into soups, curries, and stews, boiled and served in salads, or shredded into latkes. In the United States, the famous California burger chain, In-N-Out, once used Kennebec as their go-to French fry potato. The variety can also be used in any recipe calling for starchy, white potatoes. Kennebec potatoes pair well with creamy and sharp cheeses such as cheddar, pepper jack, and Swiss, aromatics including garlic, caramelized onions, and shallots, savory herbs such as thyme, parsley, and sage, and spices including paprika, black pepper, and cayenne. Whole, unwashed Kennebec potatoes will keep for 1 to 4 weeks when stored in a cool and dry location away from direct sunlight. Sunlight exposure will cause the tubers to turn green. Avoid sunlight to preserve the potato's cream-colored nature.
Ethnic/Cultural Info
Kennebec potatoes were named after the famous Kennebec River in Maine. The 270-kilometer-long river flows through the western part of the state and eventually feeds into the Atlantic. The river's name is thought to be derived from Algonquian, a native language spoken among the indigenous tribes throughout northeastern North America. Kennebec is derived from an Algoquian term meaning "long, quiet water," and in Abenaki, an endangered dialect of Algoquian, it was taken from the word kinipek, meaning "bay," a descriptor for where the river emptied into the bay. Kennebec is also a name for an indigenous tribe in Maine that is divided into four bands that live in different regions. The potato variety received its Kennebec moniker as an homage to the tuber's development in Maine, as the Kennebec river is also one of the state's most famous and recognizable natural elements.
Geography/History
Kennebec potatoes are native to the United States and were developed at the Presque Isle Station in partnership with the United States Department of Agriculture, in Maine, in 1941. The variety was created from a cross between varieties known as USDA B127 and USDA 96-56 and was produced by breeder Kartoffelzucht Bohm. USDA B127 is a cross between Chippewa and Katahdin, and USDA 96-56 is a cross between Earlaine and USDA 3895-13. Kennebec potatoes were released to commercial growers in the United States in 1948 and were registered as a new variety in Canada in 1951. After its release, Kennebec potatoes became a successful chipping potato in Canada and the United States, where the tubers were sold domestically and exported as a processed chip ingredient. Today Kennebec potatoes are offered as a home garden variety, grown for fresh markets, and sold as a processing cultivar throughout the United States and Canada. The variety is also grown on a small scale in Europe.
Recipe Ideas
Recipes that include Kennebec Potatoes. One

is easiest, three is harder.