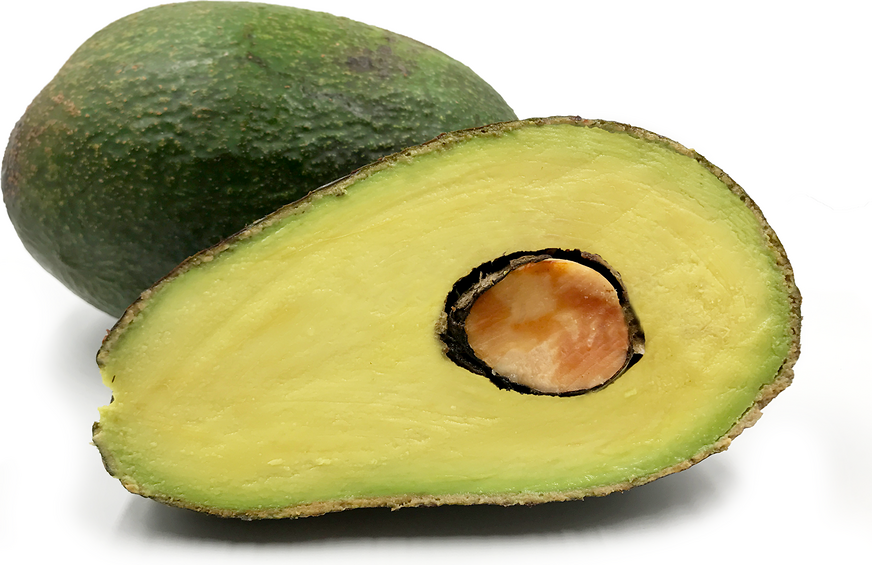 Linda Avocados
Inventory, lb : 0
Description/Taste
Linda avocados are large, weighing up to two pounds, with a round to oblong shape. Their skin is thick with a rough texture, and ripens to a deep purple color when mature. The flesh is primarily light yellow, though it's green against the rind, and it houses a small to medium seed. Linda avocados offer a mild nutty flavor with a buttery texture. Most avocado trees grow between 6 and 12 meters tall, though some cultivars can reach heights up to 24 meters. The Linda Avocado tree is a regular bearer with moderate to heavy yields. Like the banana, avocados are climacteric fruits, meaning that they mature on the tree but ripen only after they are harvested.
Seasons/Availability
Linda avocados are available in late winter through spring.
Current Facts
Avocados are scientifically known as Persea americana Mill. and are botanically classified as a berry. Avocados are a member of the Lauraceae family, and have often been nicknamed "alligator pears" due to their thick, pebbled skin. The Linda avocado has also been referred to as the "dieter's avocado" because of it's much lower oil content than other varieties, though it has the same good texture and flavor. . There are three distinct races of avocados: Mexican, Guatemalan and West Indian. Linda avocados are classified as a Guatemalan type. Avocado varieties are further identified as being either Type A or Type B, the Linda avocado being Type B. It is a common misconception that these indicate male and female plant types that must be planted together for successful pollination, when they actually refer to the life cycle of individual avocado flowers. However, the avocado's flowering behavior is thought to promote cross-pollination and boost the fruit yield by making pollen available.
Nutritional Value
Avocados contains more protein, potassium, magnesium, folic acid, thiamin, riboflavin, niacin, biotin, pantothenic acid, vitamin E, and vitamin K per ounce than any other fruit. They are also a good source of dietary fiber and vitamin C, and are very low in cholesterol and sodium. Avocados contain mono-unsaturated fats that actually help lower blood cholesterol levels in the body.
Applications
Avocados are typically eaten raw, as they do not stand up well to cooking. They are the primary ingredient in guacamole, one of the most popular dishes of Mexico, which is made by mashing avocados with chilies, onions, spices, and lime juice, with variations depending on the recipe. Use avocado atop salads, on sandwich, or spread on toast in lieu of butter. Avocados can even be used to make milkshakes and smoothies, ice cream, and other desserts. Once picked, avocados ripen in a few days at room temperature and will keep for two to three days. To accelerate ripening, store avocados in a paper bag with a banana, as the ethylene gas released from the banana will hasten the process. To halt the ripening of avocados, deprive them of oxygen, such as by storing them in a tightly sealed plastic bag. Only fully ripe avocados should be refrigerated.
Ethnic/Cultural Info
Hawaii is home to hundreds of avocado varieties, including the Linda avocado. Over the centuries, traders and travelers from all over the world brought a variety of avocado seeds to the Hawaiian Islands via ships from Mexico, Central and South America, Spain, Portugal, Brazil and Puerto Rico. The avocado seeds were planted in home gardens and farms, but local farmers quickly picked up on the value of the fruit. Many avocado trees were actually grafted and cultivated seriously by the Japanese coffee farmers on the Big Island in the Kona region. Avocados are still often inter-planted with coffee and macadamia nuts in Kona today.
Geography/History
The avocado is a native of Mexico and Central America but is now being cultivated in Mediterranean-like climates all over the world, including Hawaii. The avocado is among the earliest of the fruit trees brought to the Hawaiian Islands, and records indicate its introduction early in the nineteenth century by Don Francisco de Paulo Marin. By 1855, avocado trees believed to be of Guatemalan origin like the Linda avocado had become common on Oahu and were transported to the other islands. The Linda avocado is believed to have been introduced to the continental United States in 1914 by E.E. Knight in California.
Recipe Ideas
Recipes that include Linda Avocados. One

is easiest, three is harder.
Podcast