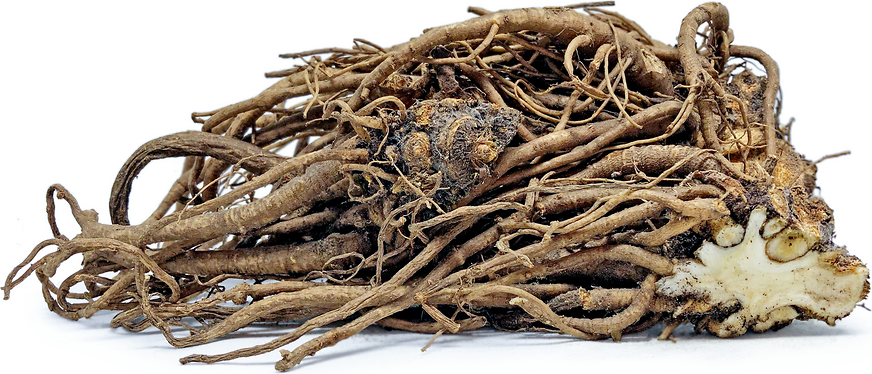 Lovage Roots
Inventory, lb : 0
Description/Taste
Lovage root has a bulbous, firm core with many long and slender, scraggly growths protruding from the central bulb. The skin is rough, firm, and knobby, often covered in dirt, but when scrubbed clean it has a rusty-brown hue. The off-white flesh is dense and fibrous with a sweet and earthy flavor reminiscent of parsley and celery. Above ground, the Lovage plant looks like a smaller and darker version of celery with a similar stalk and flat leaves. When the plant blooms in the summer, it produces pale yellow flowers and small brown seeds. Lovage also has a strong, musky odor that is similar to celery with notes of anise and lemon.
Seasons/Availability
Lovage root is available year-round.
Current Facts
Lovage, botanically classified as Levisticum officinal, is a leafy, perennial plant that is the only member of the Levisticum genus and belongs to the Apiaceae family along with carrots, parsley, and dill. The entire plant is edible, including the leaves, stems, seeds, and root, and the root is typically classified as a vegetable. Lovage used to be a popular home garden plant grown for its roots, but it has remained centralized to Europe where the consumption of the root as a culinary ingredient has mostly fallen out of favor. Today Lovage root is predominately utilized as a medicinal ingredient in Europe where it has been consumed as a home remedy for thousands of years.
Nutritional Value
Lovage root is high in vitamin K, calcium, and vitamin C, and contains a good amount of potassium and magnesium. It also offers a significant amount of the flavonoid known as quercetin, which can help with pain reduction and inflammation, lower blood pressure, boost the immune system, and ease skin irritations. Lovage is often encapsulated and taken medicinally; however, it is not recommended to consume if you are pregnant, due to its emmenagogue properties that encourages menstruation. Lovage may also prompt photodermatitis, a skin allergy that occurs after consumption and drastically increases sensitivity to the sun, leading to severe sunburn or skin rash. Research and discussion with a physician should be taken prior to consumption.
Applications
Lovage root is best suited for cooked applications such as roasting, sautéing, boiling, pureeing, or frying. The root can be substituted in any recipe that calls for celery root, such as soups or stews, or it can be used as a non-starchy substitute for potatoes. The scraggly ends of the root may also be used to infuse stocks, bone broth, or teas. Lovage root can be grated into salads, dried and pickled with cucumbers for added flavor, mixed into casseroles, or cooked and stirred into rice dishes. In addition to the root, the leaves can be infused into soup stocks or chopped into egg dishes, salads, and stews. Lovage root pairs well with meats such as poultry, pork, and white fish, potatoes, peas, carrots, zucchini, mushrooms, corn, tomatoes, parsley, anise, apples, and soft cheeses like cream cheese. The root will keep up to two weeks when stored whole in a brown paper bag in a cool and dry place. Once cut, the white flesh may oxidize after it is peeled. To prevent this, submerge the root in water with lemon or vinegar and use immediately, or store in the fridge submerged and covered in an airtight container for up to three days.
Ethnic/Cultural Info
The Lovage plant's medicinal and therapeutic capabilities were mentioned in the early works of ancient Greek and Roman authors like Galen, Dioscorides, Pliny the Elder, and Apicius. Ancient Greeks and Romans often used the plant in teas and infusions to help with sore throats and digestion. Later in the 12th century, St. Hildegard of Bingen, a German Benedictine Abbess, noted that Lovage could aid in relieving coughs, abdominal pains, and even heart problems. In Celtic tradition, Lovage was said to relieve exhaustion, and the leaves were often placed in the shoes of weary travelers or in baths with aromatic essential oils to help relieve muscle aches. Aside from its beneficial medicinal uses, Lovage has a history across many ancient cultures as an aphrodisiac. The "love" in the name stems back to its use in love potions that were rumored to make you more attractive and bring love your way.
Geography/History
Lovage can be traced to ancient Greek and Roman civilizations, however, scholars and botanists still debate over its date of cultivation and origin, believing the plant to be native to the Mediterranean region and Southwest Asia. Over time, Lovage became a popular plant due to its medicinal properties and was in abundant supply on the grounds of monasteries and gardens throughout Europe, even covering the grounds of Charlemagne's estate in the late 7th century. It is believed that the pilgrims brought Lovage to North America, where it is now grown in the gardens at Plimouth Plantation, a replication of the original pilgrim village in Plymouth, Massachusetts. Today, Lovage can be found growing wild and also cultivated on a minor scale throughout central Europe, especially in France and Greece, and in parts of Britain, Asia, and the eastern United States.
Recipe Ideas
Recipes that include Lovage Roots. One

is easiest, three is harder.