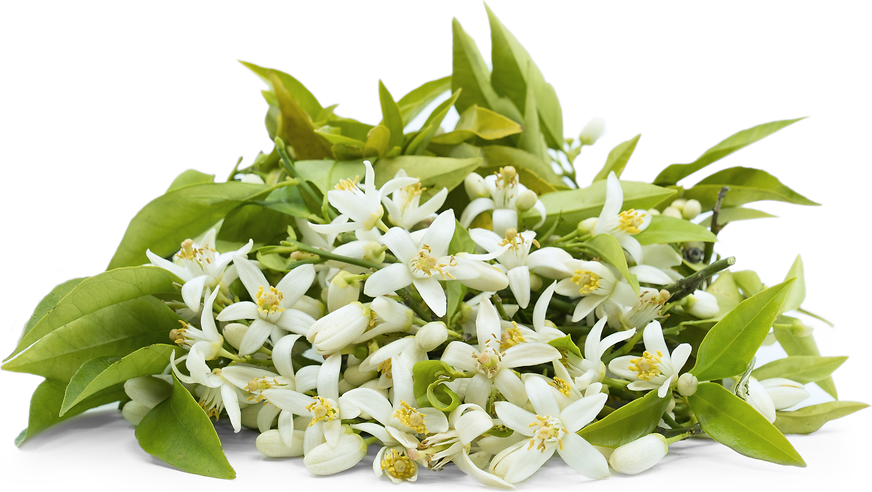 Orange Blossoms
Inventory, oz : 0
Description/Taste
Orange blossoms first appear on the tree in tightly closed, white round buds on the offshoots of branches and are very small, similar to the size of a pea. As the buds develop, the petals forming in the closed bud will begin to elongate its shape, creating an oval appearance. The bud eventually opens, revealing a white to ivory, star-shaped flower with five petals surrounding a central cluster of yellow to orange-tipped stamens. Each petal is lanceolate to oval in shape with a pointed tip and has a waxy, delicate, and soft feel. Orange blossoms average 2 to 3 centimeters in size and are known for their permeating fragrance comprised of sweet, citrusy notes mixed with floral undertones reminiscent of tuberose, jasmine, fresh grass, and nutmeg. The blooms can be consumed raw, but they have a floral, soapy flavor with a lingering bitter aftertaste often considered overpowering and unpleasant. Orange blossoms are most commonly infused into water to create a palatable flavoring. When infused, it contributes a fresh, robust, and floral, citrus-like taste.
Seasons/Availability
Orange blossoms typically appear in the winter through spring.
Current Facts
Orange blossoms, botanically a part of the Citrus genus, are fragrant flowers that grow in clusters on evergreen trees that reach between 8 to 15 meters in height, belonging to the Rutaceae family. The sweet orange, or Citrus sinensis, and the bitter orange, Citrus aurantium, are the two main types of oranges harvested for their white, delicate blooms. Orange blossoms have been gathered and used in perfumes, essential oils, aromatized water, culinary dishes, and mixology for thousands of years. The flower's intoxicating fragrance is considered a luxurious, premium scent, often favored by chefs and perfumers for its complexity, and commercially harvested blooms are gathered under strict rules to ensure quality. Orange blossoms can be eaten on their own, but they are primarily boiled in water due to their bitter, soapy nature, and the steam is captured and condensed to create a palatable essence.
Nutritional Value
Orange blossoms are a source of vitamin C to strengthen the immune system while reducing inflammation and potassium to balance fluid levels within the body. The flowers also provide low levels of calcium to protect bones and teeth, magnesium to maintain optimum nerve functioning, and other nutrients, including phosphorus, copper, B vitamins, and folate. In natural medicines, Orange blossoms are distilled into toners to soothe skin irritations, infused into oil and used as a skin treatment, sprinkled into bathwater as a scent to reduce stress, or incorporated into a fragrant dipping water for houseguests to place their fingertips into as a therapeutic practice. Orange blossoms are also combined into water and consumed as a natural aid for indigestion in the Middle East.
Applications
Orange blossoms are edible, but they are not traditionally consumed raw due to their bitter, lingering aftertaste. The blooms are popularly distilled into water and incorporated into sweet and savory culinary dishes. Orange blossom water adds a bright, aromatic flavor to desserts and can be infused into cookies, macaroons, baklava, cupcakes, muffins, scones, and tarts. In France, madeleines, or small buttery sponge cakes, are often flavored with Orange blossoms. The scented water also complements dried fruits and white chocolate flavors, commonly mixed into rice puddings, custards, and panna cotta or used in syrups, compotes, and jams. Try using Orange blossom water to flavor marshmallows and ice cream, or incorporate it into honey for a dynamic combination. In addition to sweet preparations, Orange blossoms can add complexity to savory dishes, including mixing into brioche, pancakes, and crepes. The flower water can also be sprinkled over a glazed carrot salad, lightly tossed with cucumbers and lemon juice, or blended into a vinaigrette for salads. In Morocco, Orange blossoms are famously used to flavor chicken bastille, a chicken, egg, spice, and Orange blossom-infused dish cooked in a light pastry shell. Beyond culinary dishes, Orange blossom water is combined into cocktails, lemonade, mineral water, and matcha to create varying, sweet and floral beverages. The blossoms are also dried and infused into a tea. Orange blossoms pair well with fruits such as strawberries, blueberries, raspberries, coconut, and apricots, carrots, spices including anise, cinnamon, and cloves, honey, nuts such as pistachios, almonds, macadamia, and walnuts, dates, salted caramel, vanilla, and cheeses such as feta, brie, manchego, goat, and mascarpone. Whole Orange blossoms should be immediately distilled and processed to capture the best aroma and flavor.
Ethnic/Cultural Info
Orange blossoms are famously used to make neroli oil, a scented essential oil created from bitter orange flowers. The oil is produced from steaming the flowers and distilling the steam to extract the fragrant oil. The extracting process is complex, and it takes over 2,000 pounds of Orange blossoms to develop around 36 ounces of oil. Neroli oil is considered one of the costliest essential oils and is sold as a luxury product used in perfumes, aromatherapy, and bath products. The oil has been produced for thousands of years, used as a scent to improve health and well-being, and was first made in Tunisia, later introduced to Ancient Egypt. The name Neroli is derived from the Italian Princess of Nerola, Anne Marie Orsini, and was named for the princess in the 16th century. Legend has it that the princess became enamored with the oil's bright, citrusy, peppery, and floral fragrance and purchased the oil to scent her bathwater, gloves, and hair. Princess Anne Marie Orsini is credited with introducing the oil into the upper class of Italy, and soon after, many other women began searching for the oil to use as a fragrance.
Geography/History
Orange blossoms are native to Asia, specifically southern China, India, and Southeast Asia, and grow on hybrid trees that have been naturally bred and cultivated since ancient times. The flowers were mainly gathered for their visually beautiful nature and permeating fragrance, traditionally used at weddings in China. Orange blossoms were viewed as a symbol of everlasting love, adorned in bouquets, woven into hair, embroidered onto gowns, and incorporated as decorations at weddings, celebrated for their pure and virtuous appearance. Orange blossoms are also among the few citruses to produce flowers simultaneously with the fruits, leading the blooms to become a symbol of fertility. This symbolism was adopted by cultures throughout Asia, including India, and was later shared with civilizations in the Middle East and Europe. Orange blossoms were spread to the Mediterranean in the 1400s via traders returning from voyages to Asia, and the flowers received notable recognition when they were incorporated into culinary dishes at Versailles in France. In the 1500s, Spanish explorers introduced oranges to South America and Mexico, and the fruits were spread up into North America with French explorers. Today Orange blossoms are found across almost every continent and are gathered as a secondary crop in South America, North America, Europe, Asia, Southeast Asa, Africa, and Australia.
Recipe Ideas
Recipes that include Orange Blossoms. One

is easiest, three is harder.