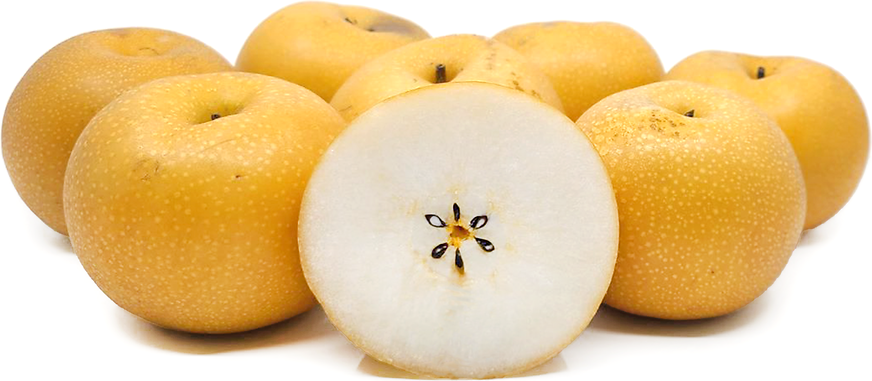 Qiuyue® Asian Pears
Inventory, lb : 0
Description/Taste

Qiuyue® pears are a medium to large varietal, averaging 9 to 10 centimeters in diameter, and have a round to oblate shape with flat shoulders and a bulbous, curved base. The pear's skin is thin, delicate, and semi-rough with a sandy texture, being easily damaged, marked, or punctured with the pressure of a finger. The skin also displays caramel to golden brown hues and is covered in raised, cream-colored to pale yellow dots. Underneath the surface, the white flesh oxidizes fairly quickly, turning brown, and is aqueous, dense, succulent, and grainy with a crisp, crunchy consistency. The flesh also contains a small central cavity filled with tiny black-brown seeds. Qiuyue® pears should feel heavy for their size and release a subtle, fruity, and floral aroma. The flesh is high in sugar and low in acidity, creating a mild, sweet, floral, and refreshing flavor.


Seasons/Availability

Qiuyue® pears are available in the fall through early winter.


Current Facts

Qiuyue® pears, botanically classified as Pyrus pyrifolia, are an Asian pear variety belonging to the Rosaceae family. The mid to late-season pear was created in Japan in the late 20th century and was introduced to China in the early 21st, where it became a widespread commercial cultivar. Qiuyue® pears are a hybrid cultivar highly favored for their extended storage capabilities, high yields, and crisp, aqueous texture. The variety is known as Akizuki pears in Japan and is grown under strict cultivation standards, often hand-harvested to protect the fruit's delicate, easily damaged skin. Qiuyue® pears are also commonly placed in a protective, breathable bag while growing on the tree to shield the fruits from pests, sunburn, and disease. Qiuyue® pears are left to fully ripen on the tree and are commercially produced throughout Eastern Asia. The pears are typically sold as a premium fruit at luxury prices and are offered domestically and exported to other regions worldwide, mainly Southeast Asia.


Nutritional Value

Qiuyue® pears are an excellent source of fiber to stimulate the digestive tract and vitamin C to strengthen the immune system, boost collagen production within the skin, and reduce inflammation. The pears are also a source of calcium and phosphorus to build strong bones and teeth, potassium to balance fluid levels within the body, and contain other amounts of copper, vitamin K, and manganese. In China, Qiuyue® pears are cooked with monk fruit, rock sugar, herbs, jujubes, and ginger into a thick paste. This paste is used as a remedy to relieve coughs and sore throats and is customarily mixed into hot water as a warm beverage.


Applications

Qiuyue® pears have a sweet flavor and crisp, juicy nature well suited for fresh or cooked preparations. The pears are typically consumed straight, out of hand, peeled or unpeeled, depending on preference. The pears are also sliced and displayed on charcuterie boards, chopped into salads, mixed into fruit medleys, or served as a fresh topping over breakfast dishes. In addition to fresh preparations, Qiuyue® pears have dense flesh, allowing them to hold their shape well when heated. The pears can be simmered into a sweet, soup-like dessert, cooked with jujubes, mushrooms, and goji berries for added flavor, or they can be incorporated into savory soups. In China, Qiuyue® pears are peeled, hollowed, and steamed with sugar. Once steamed, the juices and the sugar mix in the hollowed portion of the pear, creating a very sweet liquid in the center of the soft flesh. Steamed pears are a typical dessert in the fall as the fruits are believed to help coat the throat and reduce irritation. Warm pear juice is also used to soothe the throat, and the boiled pears are cooked with ginger for added nutritional properties. Beyond dessert preparations, Qiuyue® pears can be added to congee to contribute added texture, or they can be cooked into tarts, simmered into compotes, or infused into syrups. Qiuyue® pears complement other ingredients, including vanilla, chocolate, maple syrup, sugar, jujubes, goji berries, ginger, whiskey, mulled wine, and bourbon. Whole, unpeeled Qiuyue® pears will keep up to ten days when stored in a plastic bag in the refrigerator's crisper drawer.


Ethnic/Cultural Info

The name Qiuyue® roughly translates from Chinese to mean "Autumn Moon® pear." The fruits were given this name for their round, moon-like shape, golden coloring, and peak availability in the fall season. Qiuyue® pears are also known as Akizuki pears in Japan, a name that translates similarly to "Autumn Moon®." In China, Asian pears are a popular fruit during the Mid-Autumn Festival, also known as the Moon Festival. The annual celebration is a national holiday in China in September and is a time for family and friends to gather, commemorating the fall harvest and honoring the moon. Qiuyue® pears are a favored variety as their moon moniker is a festive addition to Mid-Autumn Festival gatherings. The word for pear in Chinese, "li," also has a similar pronunciation with the word separate, creating symbolism between pears and separation. During the Mid-Autumn Festival, pears are eaten in the belief that consuming the fruits will bring blessings to avoid separation from loved ones, but the fruits are never shared out of superstition that sharing will cause a divide. It is also customary to make or purchase mooncakes, as the small, ornately decorated cakes symbolize family unity and the moon. These cakes can be filled with many different ingredients and tend to be very dense, sweet, and rich. Mooncakes are sometimes served with pears as the fruit's fiber content will help to cleanse the digestive tract. The pear's juicy nature will also help counteract greasy or heavy foods in the stomach.


Geography/History

Qiuyue® pears were developed in Japan and were bred by the Ministry of Agriculture, Forestry, and Fisheries at their Fruit Experiment Station in the late 20th century. The variety was created from a cross between niitaka and hosui pears, and the product of that experiment was crossed with kosui pears. In 1987, the seedlings were planted in fields, and the trees produced their first fruits in 1990. The new variety was initially named Pear Tsukuba No. 47 in 1992 and was trialed for several years before it was registered as an official variety in 2001 under the name Akizuki. The pears were introduced into China in 2002 and were renamed Qiuyue® pears, where they eventually became widely cultivated, favored for their sweet and crisp flesh. Today Qiuyue® pears are grown in regions including Jiaodong, Laiyang, Laixi, and Hebei in China and in the Chiba, Kumamoto, Tochigi, Ibaraki, Oita, Kumamoto, Kanto, and Fukushima Prefectures in Japan. The Qiuyue® pears featured in the photograph above were sourced from FairPrice Supermarket in Singapore.