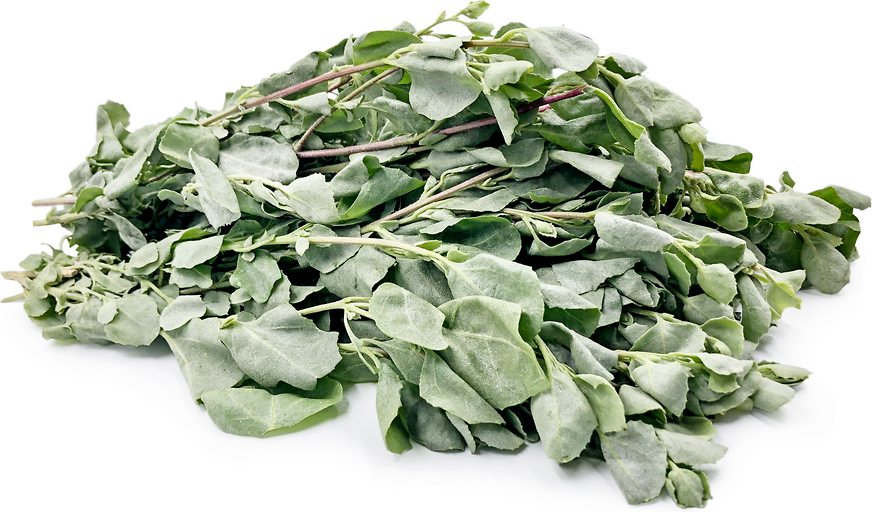 Saltbush
Inventory, lb : 0
Description/Taste
Saltbush is a multi-branched plant growing in a bush-like habitat, growing up to 3 meters tall and 5 meters wide. Each branch is covered with tooth-edged grey-blue leaves that are either spear or diamond-shaped, measuring 4 to 5 centimeters wide or narrower, depending on the species and growing conditions. Some species have wider leaves that have the appearance of a goosefoot. During the summer, the plant produces large bracts of flowers which will produce small, red seeds. The thick, semi-succulent Saltbush leaves offer an herbaceous and salty flavor.
Seasons/Availability
Saltbush can be found year-round in Australia and in the spring through fall months elsewhere.
Current Facts
Saltbush, also known as Old Man Saltbush, Creeping Saltbush or Tjilyi-tjilyi by the indigenous people of Australia, refers to the plants of the Atriplex genus. The genus name comes from an ancient Latin name for the plant, atriplexum, which means "orach" or saltbush. The two predominant species include Atriplex semibaccata and A. nummularia, which is called Bluegreen or Giant Saltbush. There are 52 different species of Saltbush in Australia alone, all of which have similar characteristics and attributes. The plant was historically used by the Aboriginal tribes in Southern Australia and is considered an important bush food. One grower in South Australia has developed a hybrid variety for production and sale to restaurants.
Nutritional Value
Saltbush is an excellent source of protein and contains beneficial calcium and trace minerals. It also contains 20% less sodium than table salt and is a rich source of antioxidants.
Applications
Saltbush is used both raw, cooked and dried and ground as a spice. It can be substituted for spinach in salads, sautees, pastas or soups. The leaves can be added to meat dishes or brines, quiches, lentil or bean salads. Restaurants in Sydney, Australia lightly batter the leaves while still on the stem and fry them for an appetizer. Other chefs in the region have fried the leaves for native 'potato chips'. Larger leaves can be used fresh or blanched and wrapped around fish or meats and can be used as a leafy bedding for grilled meats or vegetables. Dried leaves are ground and used as a salt substitute for a variety of dishes or baked goods or combined with other herbs for a spice mix. Add the dried, ground leaves to aolis or dressings. Traditionally, Saltbush has been used in breads for both its flavor and nutritive value. Store fresh Saltbush stems and leaves loosely in a bag in the refrigerator for up to 5 days. Dried Saltbush can be kept in an airtight container for up to 4 months.
Ethnic/Cultural Info
Saltbush has been used by the native Aborigines of Australia for centuries for both culinary and medicinal purposes. The indigenous people collected the seeds to roast and grind for adding to damper, a traditional bush bread cooked over an open fire. They used the ashes of the burnt leaves like baking soda and ground the seeds as a flour substitute. Leaves were used as a poultice for burns or wounds. Saltbush has been used as grazing fodder for sheep and cattle by both natives and settlers. Today, the national park service in New South Wales considers Saltbush a threatened species due to trampling, invasive weeds and excessive clearing.
Geography/History
Saltbush is native to southern Australia, where it grows primarily in the sub-arid and dry regions, though some species are found closer to the coast. The plant can be found throughout Western Australia, New South Wales, Victoria and Queensland. Saltbush is a part of the ecosystem in Australia, drawing salt from the soil wherever it is grown. Excessive clearing by early settlers led to an imbalance in the soil, dying crops, and land degradation. The plant is now being strategically planted in regions of Southern Australia to help revitalize the land and reduce soil salinity. Saltbush was introduced to the United States, though it is not cultivated at present. It grows wild in coastal areas near Monterey, California as well as in the desert near Indio. It can also be found in the central portion of the United States and south into Mexico. One species native to the Mediterranean can be found throughout Europe and the British Isles. Saltbush is a long living plant and can live for decades despite foraging or grazing.
Recipe Ideas
Recipes that include Saltbush. One

is easiest, three is harder.