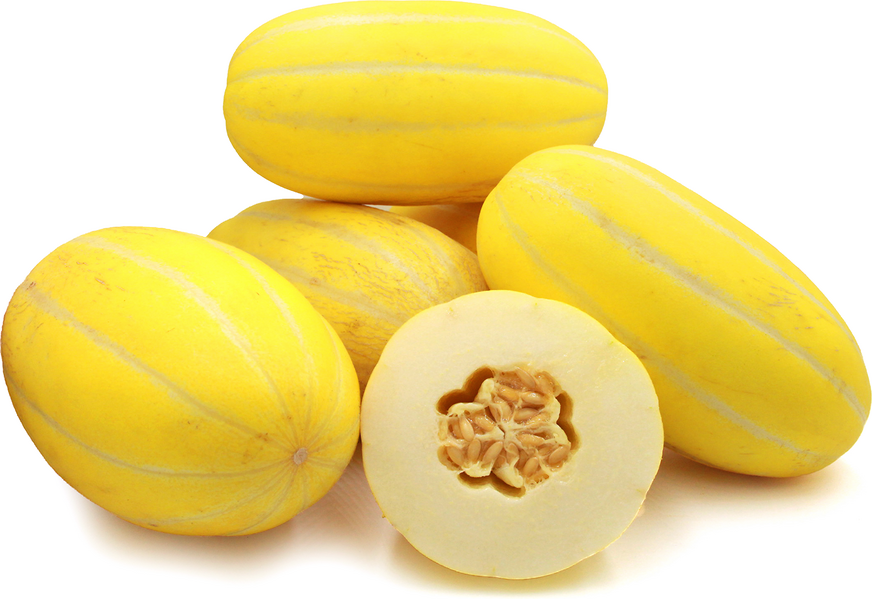 Sun Jewel Melon
Inventory, ea : 0
Description/Taste
Sun Jewel melons are a small to medium-sized varietal, averaging 10 to 20 centimeters in length, and have an oval to a cylindrical shape with curved, blunt ends. The melon's rind is thin, matte, smooth, and waxy, showcasing shallow, white sutures that extend from the stem to the blossom end. The rind also ripens from green to bright yellow. Underneath the surface, the ivory to white flesh is dense, aqueous, and crisp with a crunchy, succulent consistency. The flesh also encases a small central elongated cavity filled with oval seeds suspended in yellow fibers and a gelatinous liquid. Sun Jewel melons emit a faint, sugary aroma when ripe, and the melons will feel heavy for their size. The entire melon is edible, and the rind tastes bitter, while the seed cavity is said to have the sweetest flavor. The crisp flesh is low in sugar, ranging from 7 to 8 Brix, creating a subtly sweet, mild, floral, and slightly vegetal taste reminiscent of a combination of honeydew and cucumber.
Seasons/Availability
Sun Jewel melons are available in the summer through early fall.
Current Facts
Sun Jewel melons, botanically classified as Cucumis melo, are a variety of Korean melon belonging to the Cucurbitaceae family. The small, bright yellow melons are a type of sweet melon favored for their crisp, juicy flesh. There are many varieties of Korean melons cultivated worldwide, and the melons are generally known as Golden melon, Korean Sweet melon, Yellow melon, Chamoe, Chameh, Chamae, and Chanwae in Korea, Dura Gan in Vietnam, Huangjingua or Tian Gua in China, and Makuwa in Japan. Sun Jewel melons are entirely edible, including the skin, rind, and seeds, and the melons are versatile, consumed in sweet and savory preparations, similar to cucumbers. The melons are commercially cultivated in Asia and are grown on a smaller scale in North America and Europe. The variety is also sown in home gardens as an easy-to-grow, drought tolerant, and compact novelty melon.
Nutritional Value
Sun Jewel melons are a source of fiber to regulate the digestive tract, vitamin A to maintain healthy organ functioning, and calcium to build strong bones and teeth. The melons also provide potassium to balance fluid levels within the body, vitamin C to strengthen the immune system while reducing inflammation, and vitamin K to assist in faster wound healing. In Korea, melons are consumed as a natural digestive aid and added source of hydration.
Applications
Sun Jewel melons have a subtly sweet and vegetal taste suited for fresh and cooked preparations. The melon's firm flesh and neutral flavor allow it to be incorporated into sweet or savory recipes, and the flesh is savored for its crisp, succulent nature. Sun Jewel melons are entirely edible, including the rind, flesh, and seeds, but some consumers choose to discard the skin due to its bitter nature. The melons are traditionally peeled, chilled, and sliced as a refreshing snack, or they can be chopped into dips, salads, and grain bowls. Sun Jewel melons can also be stirred into yogurt, halved and filled with cottage cheese, dried fruits and nuts, and other fillings, or sliced and topped with cured meats, spreads, and fresh herbs. The melon's neutral flavor can be combined with sweeteners and added to smoothies, sorbet, popsicles, and ice cream, or they can be chopped into salsa or shredded into slaws. They can also be simmered into jams, preserves, and fillings for pastries. Beyond fresh preparations, Sun Jewel melons can be pickled for extended use or used as a variation of kimchi. In Korea, Sun Jewel melons are pickled in a dish called Chamoe jangaji, served as a chilled side or tangy condiment. Sun Jewel melons pair well with fruits such as lychee, berries, citrus, watermelon, pears, apples, and coconut, cheeses including feta, ricotta, and mascarpone, spices such as ginger, garlic, cumin, or curry powder, and herbs including mint, tarragon, and cilantro. Whole, unopened Sun Jewel melons are highly perishable and will only last about a week after harvesting. The melons should be stored in the refrigerator, and once sliced, the pieces should be kept in a sealed container for no more than 2 to 3 days.
Ethnic/Cultural Info
Korean melons, known as Chamoe, are primarily cultivated in Seongju County, a region in Korea's southwest portion of the North Gyeongsang Province. The agriculturally based county is surrounded by mountains and is known for its rich silty soil, sunny climate, and pure water sourced from the Gaya mountains. These cultivation traits are said to produce juicy, crisp, and mildly sweet melons, and Seongju County has become famous for its Korean melon production. Over 70% of Chamoe grown in Korea is cultivated in Seongju, and the melons even have their own visitor center. The Chamoe Cultivation Learning Institute features a museum documenting the history of the melon, various cultivation methods implemented throughout the region, and sample gastronomic preparations involving the melons. The institute also has a giant, bright yellow melon statue on top of the building. Chamoe is considered one of the most popular summertime fruits in Korea, and the institute was established to share the importance of the melons to the region as well as celebrate the melon's continued success in commercial markets.
Geography/History
Sun Jewel melons are descendants of Golden melon varieties native to India. Ancient melons were transported along the Silk Road for trade and were introduced into Vietnam, Korea, China, and Japan, where they were planted for cultivation. Golden melons were brought to Korea sometime during the Three Kingdoms Period, from 57 BCE to 668 CE. Several written records and images of the bright yellow melons were also recorded throughout the Goryeo Dynasty from 918 CE to 1392 CE. Over time, new varieties of Golden melons were selectively bred in Korea, and the melons became so popular that they were rebranded as Korean melons and Chamoe. Historically, Chamoe were regionally named after their growing regions in Korea, but in the 1960s, when Japan introduced its own Golden melon variety, the Korean melons were crossed with the Japanese melon to create more universal and mainstream cultivars. Today Sun Jewel melons are grown in open fields and greenhouses in Korea and are sold in brightly colored piles throughout local markets, supermarkets, and grocery stores in villages and metropolitan cities. The melons have also been planted worldwide as a specialty, especially in Southeast Asia, Europe, Australia, and North America, including California and Hawaii.
Recipe Ideas
Recipes that include Sun Jewel Melon. One

is easiest, three is harder.